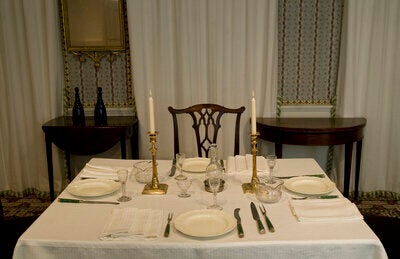 Well, we do seem to talk about it all the time, watch it all the time, pour over glossy cookbooks and make jokes about soggy bottoms. Food -what we buy, where we chose to buy it from, how we prepare cook and present it - seems to have become a national obsession since the early telly days of Fanny Craddock and then Delia. Is it just a media thing asks ?
Well, no, actually. It may have taken us a while to emerging from the cloud of the nineteenth century and the enforced kitchen drudgery of two wars - over-cooked meat, lumpy gravy, canned or soggy vegetables and lots of white sauce or curry with leftovers - but as a nation we have heaps to be proud of when it comes to our culinary heritage. And that's not just the quality of our meat and game - thriving, as even the Romans noted, on this misty island's lush grass.
We are an island, and a magpie nation at that, coveting the bright and beautiful (and tasty) from all around the world, sucking it in and making it our own. We've been invaded, twice, by countries that introduced their own styles, languages and tastes. We've forged an empire, industrialised, welcomed immigration and long lusted after the new. And the 'problem' therefore is that on the one hand our culinary traditions are rich, varied and changing; but it also means that - unlike, say, Far Eastern, Arabic or even Mediterranean food cultures that stretch almost unbroken back into the midsts of time - it's harder to put one's finger on what 'English' food really means.
Yet take a look at the way dining room furniture has changed from Tudor to Georgian to modern times. Think about the impact of electric light on meal times, or what the enclosed oven (rather than the spit) allowed cooks to do, at home. Unpick the meaning of the commonest Anglo-Saxon words, scrutinise all those early still life paintings of artichokes, asparagus, lemons and oysters or wonder why there are so many eighteenth-century cream jugs littering antique shops today. All of these are clues about the ways our ancestors lived, what they thought about food, theimportance that cooking (rather than simply for sustenance) played in theirlives.
These elements are ideas are explored and discussed in great detail during The Geffrye Museum's Food Through The Ages supper club I'm working on with Matthew Phelps from Funthyme. A historical dinner with meals prepared from seventeenth, eighteenth and early twentieth century recipes.
Recipes have always peddled dreams as well as reality. What they do not describe are the endless water carting, scrubbing of pots with sand, the chapped hands (though there are recipes for ointments), chimneys that would not draw, spits that shed their loads, guttering candles in the kitchen gloom or the uphill struggle to keep things fresh and vermin free. Food, artefacts and so on from our culinary and domestic past can, though, provide an opportunity for us to punch a hole in time - so to speak - and thus to get a bit closer to the life behind the ideas.
John Ruskin wrote that 'cookery means the knowledge of Medea and Circe, and of Helen and the Queen of Sheba. It means the knowledge of all herbs and fruits and balms and spices, and all that is healing and sweet in the fields and groves and savoury in meats. It means carefulness and inventiveness and willingness and readiness of appliances. It means the economy of your grandmothers and the science of the modern chemist; it means much testing and no wasting; it means English thoroughness and French art and Arabian hospitality". He understood how uniquely rich and varied our food past has been, how it continued to be shaped by its present, and that it - as it does today - reflected thestate of the nation as a whole.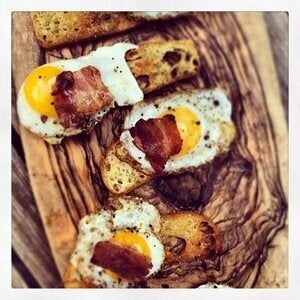 Chill the ciabatta in the fridge for an hour so it's firm. This allows you to cut very thin slices (you'll need 12 for this recipe) with a sharp bread knife. Fry the pancetta slices in some butter until the fat runs off and the pancetta is crispy then drain on kitchen roll. Don't throw the fat away! Use it to fry your ciabatta slices until golden and set aside on the same kitchen roll as the pancetta. Add more butter to the same pain and carefully break the quail's eggs into the oil. To finish the canapés, place the fried quail's eggs onto the toasted ciabatta slices and top with a piece of the crispy pancetta.
Whole Braised Beef Shins to Share with Turnips and Toasted Bread
3 Stalks Celery, Finely Diced,
3 Cloves Garlic, Finely Diced
1 Bay Leaf, Thyme and Rosemary tied together
15 Baby Turnips, whole or halved
1 Loaf of Sourdough Bread
Preheat your oven to 200 degrees.
Prepare all your vegetables and sweat slowly in plenty of butter in a deep saucepan with the bay leaf and herbs. Once the vegetables have softened add the wine and reduce off the alcohol - then add the beef stock.
Generously season your shin of beef with salt and pepper and dust with flour. Roast for half an hour in a deep baking dish. Pour your vegetables and stock into the same baking dish as the beef, cover with foil and place back in the oven. Turn the oven down to 150 degrees and braised slowly. Check the beef after 4 hours. It should be tender, If not then cover and continue to braise. Once tender take off the foil and continue to roast for a further 45 minutes basting regularly until the beef is well glazed and sauce reduced.
Cut your sourdough into large croutons and fry in plenty of beef fat or butter until crispy and golden.
Transfer the beef, vegetables and juices into a serving dish and finish with the fried sourdough
Late 19th, Early 20th Century
Ideally homemade but good quality vanilla ice cream will suffice
2 Litres Stock syrup (1 Litre water and 1kg caster sugar boiled together with vanilla and bay)
Leaving whole, carefully core the pears from the bottom with a corer then peel. Leave the stalk on the top intact! Slice the bottom of each pear so they can stand upright.
Gently braise the pears in the stock syrup until tender. Timing will depend on ripeness of the pears. Remove the pears and leave to cool. Reserve the syrup. The pears can be prepared ahead of time and stored in the syrup in the fridge.
Break the chocolate up into small pieces (ideally with a food processor) then transfer to a bowl. Bring the cream gently to the boil. Pour the cream into the chocolate and leave to stand for 3 minutes. Stir in a few tablespoons of the pear syrup and stir together until the sauce is shiny.
Place a pear into a bowl and spoon a portion of ice cream alongside. Pour over warm chocolate sauce and serve.