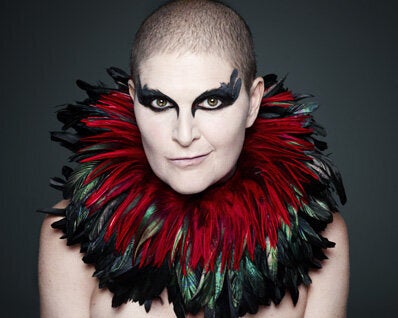 To quote Woody Allen, "I'm not afraid of death; I just don't want to be there when it happens."
Staring death right in the face though is the theme of photographer Rankin's new project 'ALIVE', which is part exhibit and part documentary, exploring the personal stories of subjects across the UK who have dealt with the prospect of dying or been survivors of terminal illnesses, living to tell their tale - the result being a poignant yet raw account of these individual stories, visually expressed through a series of unique portraits.
As Rankin says, "Whenever I've been near mortality - whether in the Congo or witnessing a fatal accident - it just immediately crystallises everything that is important in life...it makes you see your priorities clearly. Following the death of my parents six years ago I have had a strange relationship with death; only recently did it dawn on me quite how scared I am of it. I really wanted to challenge myself and confront these fears through ALIVE, and document that journey."
Described by the photographer as "one of the most challenging projects I've ever been involved in", Rankin has been capturing people's encounters with death and their celebration of life for three months already - you can follow the stories and share your own via the official website alivexrankin.co.uk. The project will culminate in a BBC documentary to be aired in the summer and an exhibition "Alive: In the Face of Death", which has just opened at Liverpool's Walker Art Gallery and will run until September 15, 2013.
Watch a short film below in which Rankin discusses the project - and the amazing image at the top of this page is of Sandra Barber, Rankin's first portrait subject in the series - a mother of one who survived breast cancer and is currently on her fourth round of chemotherapy while also battling a brain tumor. The wild colourful feathers and make-up are almost like warpaint in her personal battle with the grim reaper.
This project will certainly make you think about your own mortality, and perhaps even alter the way you feel and act in relation to what really is most important in life.