Last Thursday my ears (and eyes) fell in love with four hot Frenchmen who go by the names of Greem, Atom, Pfel and 20Syl, aka, the DJ phenomenon known as C2C - or 'Coup2Cross' - which is a term used to describe what happens when you use a mixing deck's cross-fader.
I know I know, I'm going all technical on you, but with good reason, because C2C have become globally renowned as the Kings of 'Turntablism', or scratching - and as I was told last week at their show at KoKo in London, scratching is what you're doing when you hit the cross-fader. Hence 'Coup2Cross'. See? You learn something new everyday.
Hailing from Nantes in France, the fourpiece came together in 1998 as members of the emerging 'turntablism' movement to create a unique collective where each DJ uses his turntable as an instrument - scratching and recreating sounds from other tracks such as riffs, drum beats etc, each interpreting their own musical identity and fusing it together to create a collective harmony.
The four turntablists have (in my opinion) stolen the crown from the likes of Daft Punk in their mix of electronic-funk-meets-hip-hop with an occasional French twist, using a mix of traditional vinyl and digital sound and video. Visually, their shows are an electrifying mix of graphics created using tailor-made LED display systems which represent each of their dynamic scratching acrobatics.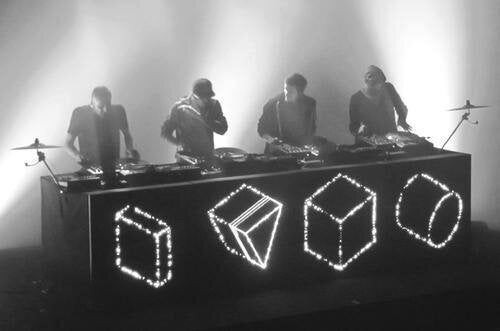 Last week at KoKo, the crowd packed in (and got down) to their sold-out show which featured a mix of heavy beats that transcends styles and generations, proving that C2C's music is not just about communicating with an eclectic audience, but that their handy-work on those turntables really is an art form.
You can download their debut album "Tetra" via iTunes now - your ears will love you for it and you can thank me later.
Popular in the Community