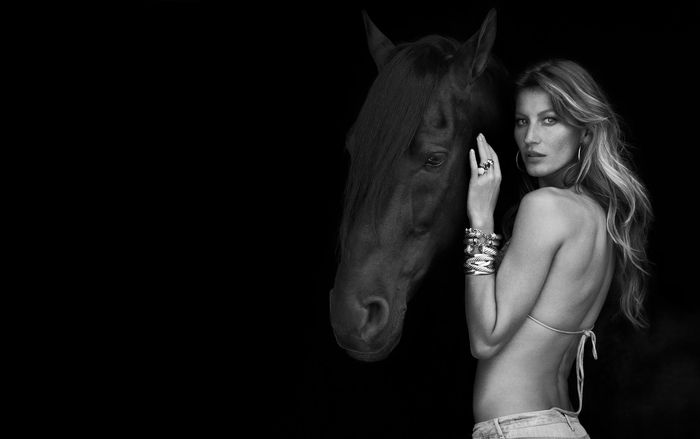 I don't really know anyone who wears bling on the beach apart from models in the pages of the fashion glossies - mainly because statement jewellery doesn't translate well from a magazine to real life (try lounging in chunky bling and not ending up with equally chunky white marks). And even with smaller more understated pieces, finding designs which withstand salt water and pool chlorine is a test in itself - anything plated oxidises immediately from the sea and silvery-type beach bling soon turns a lovely shade of black. Not to mention the heat of the sun x metal against your skin = Burn baby burn!
But it's that time again when a US designer fills our head with images of rolling waves, sun-soaked beaches, a beautiful horse and a make-up free model in slowmo wearing lots of joolree joolree (spot the clichés).
This time it's Gisele Bundchen who stars in US designer David Yurman's AW12 video campaign, clad in all sorts of necklaces, bracelets and rings, shot in classic B&W by photographer Peter Lindbergh.
"We approached this campaign as a collaboration among artists looking, as always, for a creative and inspirational way to tell our unique story -- this year highlighting the DNA of the brand" says Yurman.
And just to set the mood, there's even the obligatory slow-paced backing track which sounds like every song they ever played in TV's Laguna Beach and The Hills - the one when the main couple in lovedom are having a deep and meaningful moment (it's actually the Czars' cover of Tim Buckley's Song To The Siren).
It's really not that difficult to pout and walk on a beach at the same time (you see it frequently in LA as you think to yourself, 'someone needs to stop with the surgery now'), and somehow in the case of horse vs Gisele....the horse wins in the pout-off. Watch below:
Image © Peter Lindbergh