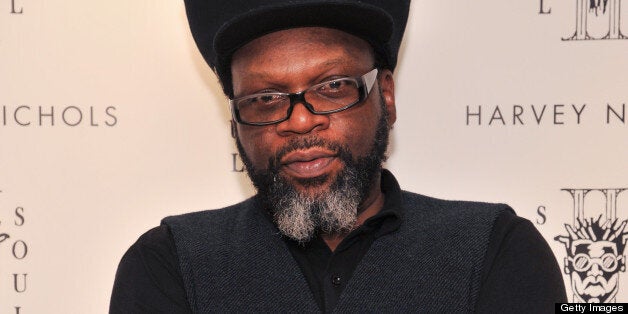 If I was to sing "Back to life, back to reality", you'll instantly recognise those lyrics as being from one of the biggest hits of 1989 by RnB, funk and reggae collective, Soul II Soul - the group who also gave us "Keep On Movin" and my personal favourite, "Get A Life" - tunes which still sound just as fresh today as they did back in the 80s.
Soul II Soul are not just credited with creating club classics though - their vision was to bring subcultures of music and style to the masses - where music had always referenced fashion, and vice versa, Soul II Soul were about fusing the two, in a unique and groundbreaking way - now that fusion is the norm in societal trends.
Perhaps the most recognised symbol of their fashion revolution was the 'Funki Dred' - a cartoon design by illustrator Derek Yates which became synonymous with the group and with club culture as a whole in the late 80s and early 90s.
Now the Funki Dred has made its way into London's Harvey Nichols, as part of the 'Classics Collection' - a range of appliqué jersey T-shirts and embroidered sweatshirts, all emblazoned with the iconic image.
With his very own funki dred's once appearing on the cover of style & Pop culture bible, The Face, Jazzie B is widely considered a cultural pioneer who helped to define British black music and style.
I met the international legend ahead of his launch at Harvey Nichols, during Soul II Soul's World Tour, for a quick chat about the collection and who he rates in music right now.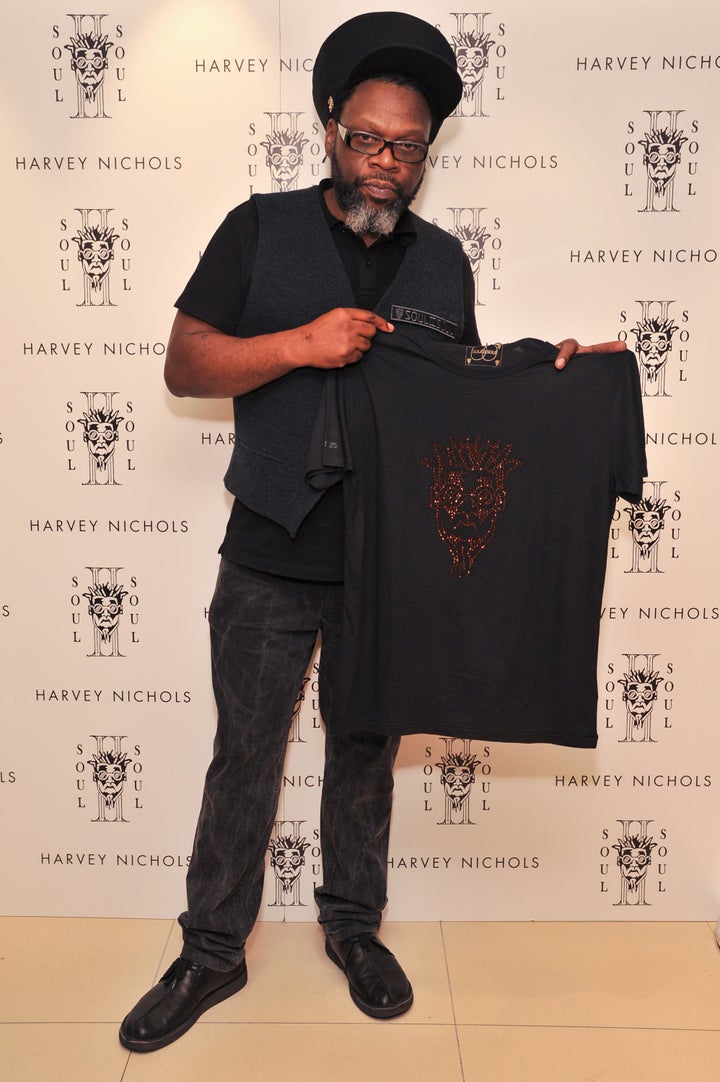 Jazzie B Image © Harvey Nichols
Q: Soul II Soul were born from a community sound system, what is that?
Jazzie B: Well hypothetically it comes from the Caribbean. In our communities growing up in the 60s and 70s, we weren't into teddy boys, and mods didn't wanna know us, and the only people we were really friends with were skin heads and punk rockers. So what happened over the years was that I was influenced by my older brothers growing up who all had their own sound systems, and the concept behind Soul II Soul was that we wanted to be the biggest sound system in the world, a work in progress as they say, ha! But basically it's a mobile DJ who travels around with his own followers, playing his own music and his own sounds.
Q: Is that where the Funki Dred also originated from then?
Jazzie B: The idea behind it was that we came from the planet Ard, and we were sent to earth as pleasure-givers to create the fun and the funk! The design is by Derek Yates and it first appeared on T-shirts in the early 90s. It was about everyone joining in with our vibe, that's why our motto was and still is "A happy face, a thumpin' bass, for a lovin' race."
Q: Tell us about the collection for Harvey Nichols?
Jazzie B: It's the original collection, nothing has changed. We've become a heritage brand now and the designs are all still about that combination of club culture and fashion. We've re-created elements of the original Camden shop we had in the late 80s and early 90s in the Harvey Nichols Menswear space so people can get a feel for our vibe (the space features some of Jazzie's very own record boxes and vinyl). It's about that combination of music and style, it was always natural to us and now everyone is doing it.
Q: Who is on your radar in music right now?
Jazzie B: Wretch 32. There are lots of names I could give you, but he is the one who stands out for me right now. He's doing good stuff.
Q: Alongside your OBE, you are to be honoured with a life-size steel figure / installation in London's Finsbury Park, which was voted for by the public. That homage cements your contribution to British music culture - how does it make you feel?
Jazzie B: I'm honoured. It's a great feeling to know people respect what I and Soul II Soul did and what London meant to us. I feel very lucky.
The 'Classics Collection' is available now at Harvey Nichols in store and online. Prices range from £55 to £195.