Spring Summer 14 at MBFW Stockholm was dominated by the usual fashion heavyweights who continue to impress each season, but the three day event also continued to uncover an emerging generation of raw and fresh design talent casting their own vision over the ever-evolving Scandi fashion scene.
From the iconic Berns Hotel and the MBFW Pavilion in the beautiful Kungsträdgården, to the new venue addition of renowned auction house Bukowskis for smaller presentations and an exhibition by deconstructivist designer Maison Martin Margiela - the close promiximity of the venues gave press, buyers, stylists and photographers a chance to walk the walk and see the city's streets at their most fashionable.
Talking of the street, BACK's SS14 collection fused many streetwear elements such as sweat tops, raw denim, workwear-style tops in high vis neon orange with reflective silver trims, velcro-fastening details and black leather skirts and trousers with the BACK logo across wide elastics (think 90s Calvin Klein underwear and 90s DKNY). A leather biker with an exaggerated oversize belt made me almost squeal with delight (who doesn't love a good biker), unlike the pairing up of skin tone support socks with plastic sports shoes - they called it "senile sports", I called it, "interesting", and I dare you to rock that look on your local high street. The overall look was spontanenous but sophisticated with a cool feminine edge, enjoyed by an equally cool front row which included BLK DNM founder Johan Lindeberg, model Kenza Fourati, stylist Catherine Baba and Waris Ahluwalia (House of Waris). The show proved that Ann-Sofie Back is one of the leading pioneers in bringing a provocative and experimental stance on fashion to the mid-market.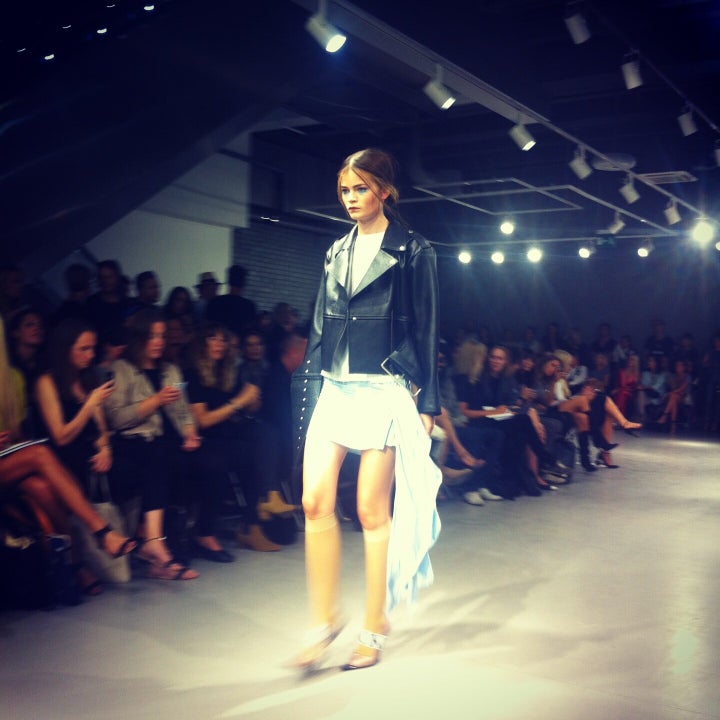 Continuing on a street style theme, and in particular a fusion of Stockholm's luxe neighbourhoods with its more rough 'n' tough areas, the Queens of knitwear, Dagmar of course, drew inspiration from 'Nolli Sthlm' a work by artist Rebecka Andersson which explores the flexibility of moving around her environment. Referencing the map in her work, Dagmar's prints and patterns reflected the city's map and graffiti with lighter and darker tones contrasting to its different areas. There were streetwear elements seen in panelled short v-neck knit dresses with mesh detailing paired with milliner Melinda Damgaard's pillarbox cap, the entire look reminded me a little of Neneh Cherry in the 90s (just add a Buffalo Stance). Wide leather belts on jackets and tops brought a darker urban edge to the look, while long and flowing robes, loose trousers and transparent tops in soft colours took us back to the lighter side of life. Monochromic fringed knits could work across all seasons, as could the mellow soundtrack by Swedish DJ La Fleur, created especially for Dagmar, which enhanced the sound and vision factor.
The ever-progressive Altewaisaome's reimagining of elements of the male suit for women was dark, edgy and completely took their collection in a more mature direction than previous seasons. Always one to see because you'll never quite know what you'll see, SS14 was ultra modern and ran with a mostly black, midnight blue and white colour palette. Tailoring was slick, with oversized untied bow ties worked into various looks which also transformed into a leather wrap on tops. It was a sultry sexy mix of feminine and masculine which completely thought outside the box.
Ingmar Bergman's 1961 film "Through A Glass Darkly" provided the inspiration for the light and colour tones in Whyred's SS14 show, seen across clean silhouettes inspired by progressive Dutch architect Rem Koolhaas and his signature geometric cuts. Minerals, stone, glass and steel were key prints, with linen and cotton giving a natural edge to airy shapes, while leather and nylon contrasted in a darker tailored finish - all of which created a strong visual landscape on the catwalk.
Across town, and The Local Firm's SS14 show was an intimate affair in the courtyard at Galleri Nordin, which began with one of the label's two founders Richard Hutchinson playing the flute to usher in the models (and then forgetting to take his mic stand with him afterwards).
Once an assistant cleared the obstruction, models began to appear in a show entitled 'White Concrete', which was an experimental clash of cropped and layered tailoring and denim, paired with edgy knits prints and bomber jackets or denim jackets. It was moody, monochromic and completely fitted into their signature minimalism meets functionalism and streetwear aesthetic.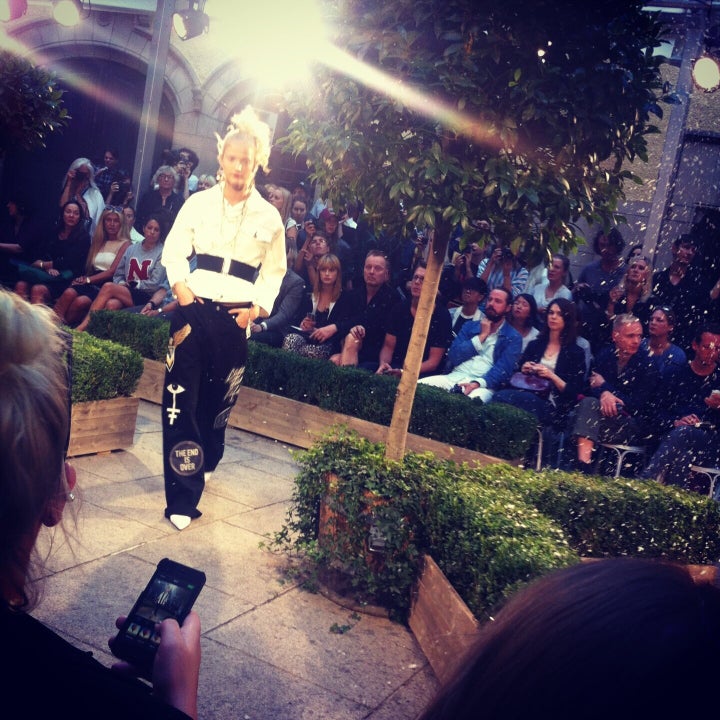 I feel like I'm using the term streetwear quite a bit in this round-up, that's because I am, so here it is again, as Cheap Monday took the urban vibe and inflated confidence (aka swag) of 90s hip hop youth culture, and blended them both with narcissistic graphics and denim for their SS14 offering. The collection ran with three main themes: exaggerated silhouettes, fragmented reality, and buffalo riot. It was tribal street style supersized with kick-ass attitude, and I loved it!
Closing the event in the usual tradition was Tiger of Sweden, in a show entitled 'Poetic-Punk', which was less about D-I-Y and safety pins and more about minimal menswear and womenswear tailoring across a muted colour palette with contemporary cuts. There was a definite balance between edgy attitude and a sublime, Scandi silhouette, a clash of anti-fit and traditional tailored garments.
The "Irvine" jacket in a unique tartan, kilts paired with leather trousers (very BraveheartmeetsKanye West) and a nylon bomber jacket were key pieces for the boys, while the women's collection worked with a lean silhouette juxtaposed with oversized, boxy garments and raw tailoring. Zip detailing and leather played against leopard, checks and stripes. Strong, cool and very commercial, but what else would you expect from Tiger?
Of course with any fashion week it's always interesting to check out the emerging names on the schedule, and those who are still growers on the radar. This season for MBFW Stockholm, names to note included Mayla, with her timeless and elegant mix of chic styles inspired by the Parisian Riviera. Ida Sjöstedt's season of "reflection, recycling and reusing" which explains why SS14 was entitled "Dream Girls Part 2" following on from SS13's "Dream Girls Part 1" (it's all about reusing!). Ida knows girls just want to have fun and this season she matured her uber-feminine aesthetic so women could have fun too, with intricate lace gowns, delicate pastel dresses and an injection of darker tailoring.
Newcomer Caroline Kummelstedt's Italian-inspired mix of soft cool femininity also caught my eye, but by far the stand-out designer for me was Isabell Yalda Hellysaz, with her futuristic vision and mix of experimental fabrics. The Swedish / Persian designer graduated from the London College of Fashion in 2012 and works to explore mobility within comfortable tailoring, while putting the female form in touch with masculine shapes.
Her 'Antidote Visor' was also custom designed for Lady Gaga which can be seen on the cover of her 'Artpop' album. Definitely a designer to watch!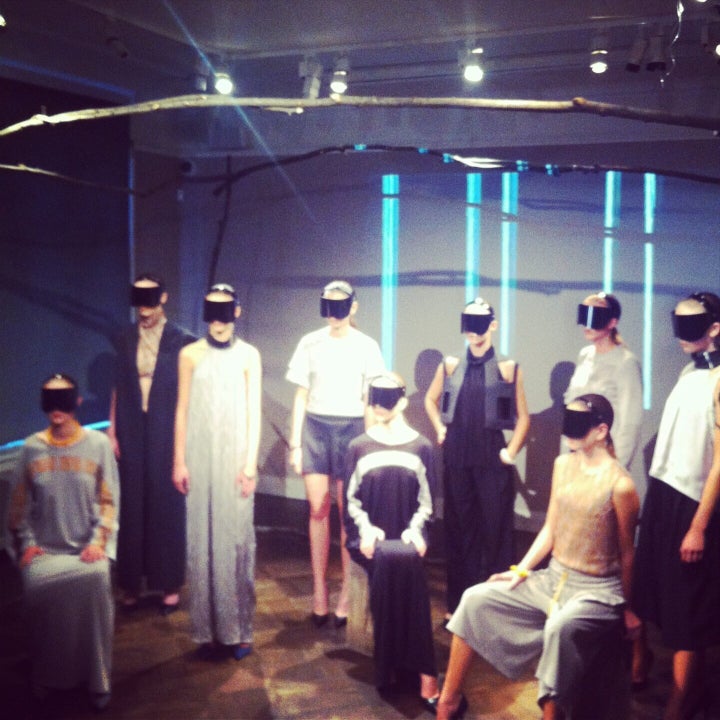 Isabell Yalda Hellysaz SS14
Scandinavian fashion always impresses me with its stellar array of design talent, dominated by the usual edgy stream of minimal, clean-cuts and sometimes avant-garde style, with the odd surprise moment thrown in for excitement (yes I'm talking about you Bea Szenfeld with your crazy wearable paper designs) - and this season proved yet again that Sweden's capital stepped up to own it.
But don't worry if you missed all of the fashion action, because you can see some of the SS14 collections by Altewaisaome, BACK, Carin Wester, Dagmar, Minimarket, Rodebjer and Stylein during a three day exhibition and showroom at the Institute of Contemporary Arts here in London. Re Present will launch from 15th-17th September, during London Fashion Week, and is a new initiative to raise brand awareness and build relationships between Scandi designers and press / buyers here in the UK. For more info, contact press@representshowroom.com.