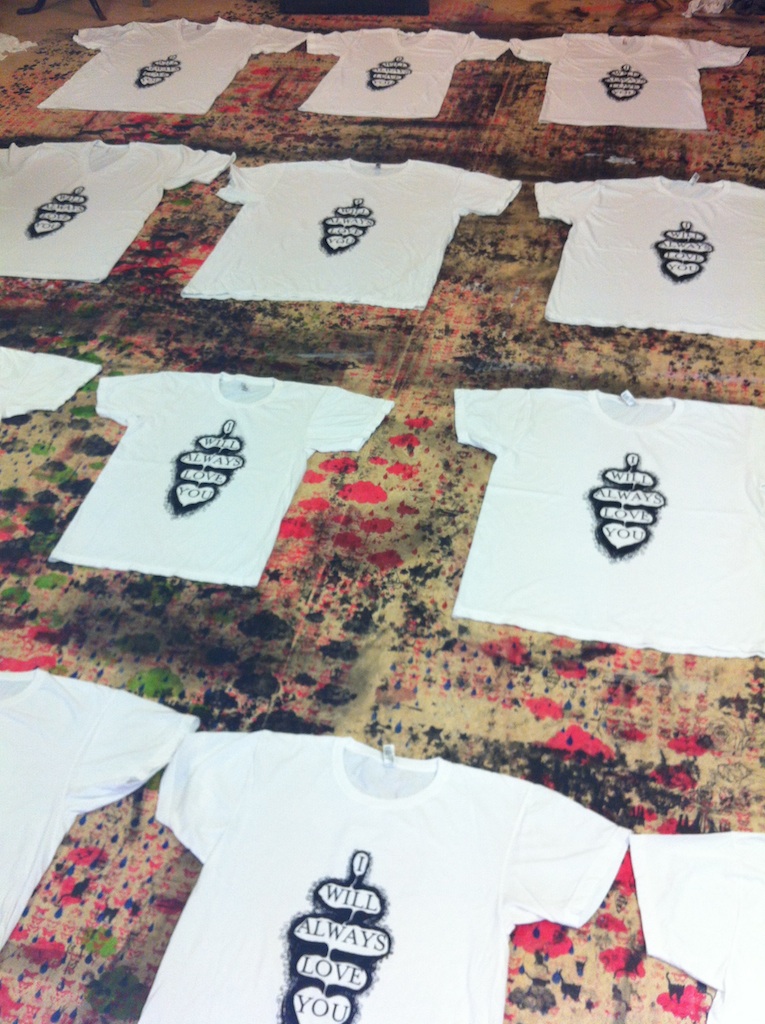 Simeon Farrar is my kind of designer. Trained in fine art, he stumbled into fashion after exploring the lifespan of his screen prints by adding them on to T-shirts and showcasing them at London Fashion Week's exhibition. That early vision to transfer his art on to clothing proved to be such a hit that the orders flooded in (despite the lack of an order book) and well, the rest is history - in 2004 Simeon Farrar the brand was born, as was his first men's and women's ready-to-wear collection.
Discussing that lightbulb moment when he decided to paint on to T-shirts, Farrar explains, "It became this living surface that was more alive than a canvas. You could paint around the side and the back, and then someone would go off and wear it, and it would kind of live without you. It was an art decision, more than a change of career decision, it was just another thing to paint on".
Where Farrar saw T-shirts as canvases, the Fashion industry saw the next big thing - with his experimental foray into design later earning him international acclaim, three NEWGEN awards and his lines stocked in iconic stores such as Lane Crawford in Hong Kong, Liberty's in London and premium denim indie website, Donna Ida. He also now regularly shows at Tranoï (translated as "between us"), a trade event and artistic platform in Paris which features exhibitions and installations from the hottest designers and most influential fashion ambassadors.
Farrar's blend of fashion and art embraces pop-culture and style trends, but then does its own thing anyway - an element of genius from the trailblazing designer which sets the brand apart from everyone else, and reflects the unique and directional edge which has made the label so popular.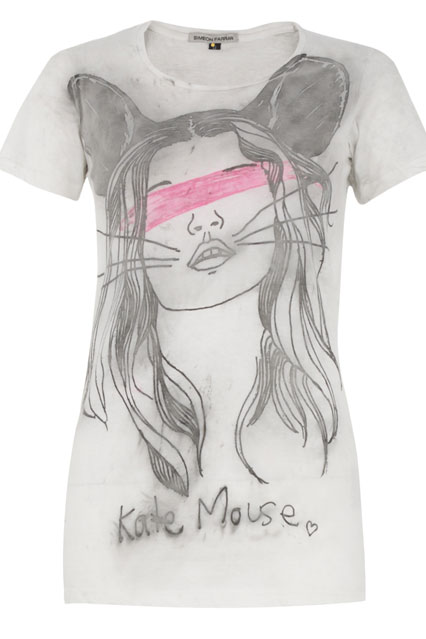 His motif tees have earned him a cult following with styles such as 'Kate Mouse', an accidental design that came about when Farrar was creating a collection based around nursery rhymes (in particular 'The Three Blind Mice'), "I drew two mice with exes for eyes, and the third one (a female), happened to have Kate Moss' face", he explains, "and then I saved the file to my computer as Kate Mouse". The tongue-in-cheek print became an instant hit with fashionistas who joined a waiting list of hundreds to own the sold-out tee, and was later part of a collaboration with Net-a-Porter to raise funds for the Japan Earthquake Relief appeal - since its conception the design has been reworked every season apart from AW12.
Other link-ups have included a 'Raining Cats and Dogs' umbrella for British rainwear specialist Fulton Umbrellas; and a range of hats for conceptual Japanese label CA4LA, which featured Farrar's geometric cloudy sky, owl, and Kate Mouse prints across CA4LA's caps and trilby styles. It was an expansion that Farrar credits to his Japanese pattern cutter, Mika, who introduced him to the label. His in-house collective are, as he describes them, "a melting pot of different ideas - the more people that work with me the more ideas that come into the mix, and that's how I like it".
More recently his own collections have been an eclectic fusion of influences, with the SS12 range paying homage to the Great British Summertime, as clothing and accessories featured bright neon colour pops, and a raindrop print - a cute and clever nod to those lovely downpours that spoil BBQ's everywhere!
For AW12 the mood (like our cloudy, stormy Summers), is a darker affair, with a Haunted House-inspired collection which features ghostly drawings, cobweb-laced chandeliers and howling wolves. No room for cute little mice here.
As if to lay Kate Mouse to rest (for now anyway), Farrar's latest must-have is 'The Great Britain Kitten', a sketch of a cat wearing a Union Jack tee with a pierced ear and the words 'Punk' and 'Rock' tattooed across its paws. The design was created specifically to mark the Queen's Diamond Jubilee, and celebrates the origins of Brit Punk while also loosely being inspired by the iconic Sex Pistols album artwork 'God Save The Queen'.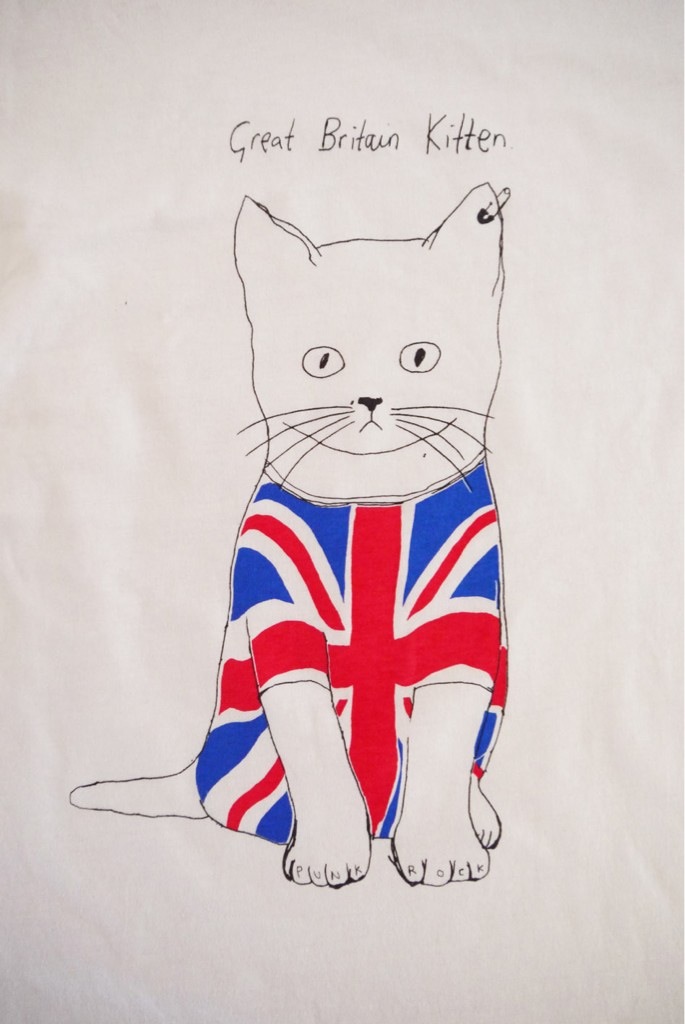 I met Simeon at his studio in East London which is an archive of some of his artworks - as small and larger screen prints and canvases share floor, wall and stair space - and also doubles as the location for his design and printing studio. Downstairs in the basement remnants of past screen-printing graphics are forever etched on to the floor, adding to the decoration of colour and vibrancy around the place - it's definitely the kind of office that inspires a creative flow.
It's also refreshing to see that art is still a great love in his life, and as we talked, he explained to me that abstract expressionists like Jackson Pollock were early influencers of his work; along with "the crossover of art, music and literature in the 50s", the non-conformist movement characterised by writer Jack Kerouac, known as the 'Beat Generation'.
More recently he's been inspired by a US collective known as 'The Beautiful Losers', a series of gallery artists with roots in street culture who began in New York in the late 80s /early 90s.
Farrar explains,"It started from artists that were never recognised as artists. They were either bums or graffiti artists or skateboarders - a kind of forgotten culture at that time. They took on the arts scene on their own terms and I find that really fascinating because that's the kind of thing I used to be into. Musicians were making art, skateboarders were making art, graffiti artists were making art, and that was long, long before the whole street art thing began. It was real and true, and it was done for pure expression".
This love of self-expression through art and other mediums, and particularly Farrar's love of 'skate culture', is now the catalyst behind his latest organic fashion venture - Black Score (you read about it here first folks!) - a new unisex line of strictly printed T-shirts which will make its debut at Farrar's men's show in Paris at the end of this month.
The range is the more daring and 'punk' edged little Brother of the Simeon Farrar label, which captures the designs, "that weren't really right for our customer", Farrar explains, "the designs I had to shelve the ideas for, and so I thought it would be great to do a label that just includes all of those".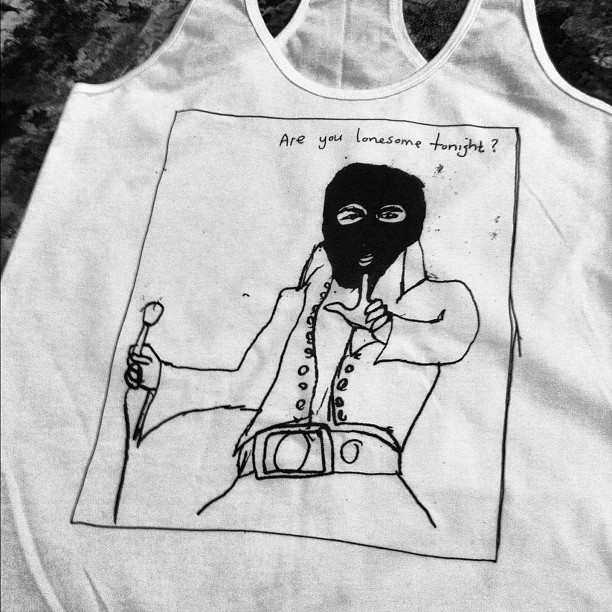 Featuring mainly music and art references, the designs are "based on an old DIY punk type T-shirt or flyer," says Farrar, "from back in the 80s - that whole print and sell it on the street vibe".
Designs include sketches and slogans like 'The Gonz is God' (an homage to legendary skateboarder and artist Mark Gonzales), and also a series of dead singers who have come back in disguise including Michael Jackson, Freddie Mercury and my personal favourite - Elvis in a balaclava, with the line 'Are you lonesome tonight?'. Slightly macabre? Yes, but funny too.
Farrar may have accidentally tapped into what the fashion industry wanted all those years ago, but his intention to just have fun with his creations is ultimately what has made him one of the UK's most successful contemporary designers - and what still lies at the core of his design signature. "If I do a drawing and I can't stop laughing at it because it's so funny, then that's a good sign that other people are going to find that funny", he says.
And I did laugh, out loud, at one of the designs in his Black Score collection which features a punk rocker lying on the floor, with the slogan, 'Punk's Not Dead...it's just having a lie-down'. Brilliant!
For more info on Simeon Farrar and Black Score, head to:
www.facebook/simeonfarrar
www.blackscore.co.uk
You can also follow both on Twitter @simeonfarrar and @blackscore_
All Images © Simeon Farrar / Kate Lawson 2012