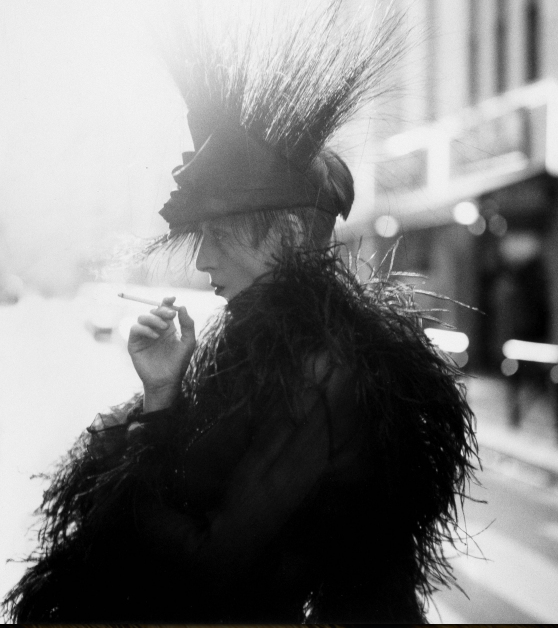 "Fashion is a vampiric thing, it's the hoover on your brain. That's why I wear the hats, to keep everyone away from me. They say, 'Oh, can I kiss you?' I say, 'No, thank you very much. That's why I've worn the hat. Goodbye.' I don't want to be kissed by all and sundry. I want to be kissed by the people I love." - Isabella Blow
The exhibition of all exhibitions (in my humble opinion) is coming to Somerset House this autumn, in a celebration of the work of the late great Isabella Blow - the enigmatic fashion editor, consultant, muse, nurturer of young fashion talent and style icon.
In partnership with the Isabella Blow Foundation and Central Saint Martins, Somerset House will present Isabella Blow: Fashion Galore!, an exhibition which will explore the dramatic yet doomed life, and eclectic wardrobe of Blow, who was renowned for her avant garde and outlandish dress sense.
The exhibition will be designed by theme, beginning with her background, including her time at Vogue US in the 80s as Anna Wintour's assistant, and her work for publications including The Sunday Times, Vogue UK and Tatler.
It will then move into the graduate collections of designers she championed including the late Alexander McQueen and ambitious headpiece master, Philip Treacy - the exhibit will also visually tell the tale of her love of the English countryside - for many she was the ultimate embodiment of the English eccentric.
The exhibition, curated by Alistair O'Neill and Shonagh Marshall, will also focus on Blow's urban life and aesthetic which included a relationship with hats and shoes that no other woman could quite possibly match - apart from Daphne Guinness that is, herself a creative force with a fearless curiosity for adorning herself in the most extreme of fashion and accessories.
Guinness has loaned clothes to the exhibition which she acquired in an auction of Blow's wardrobe - the pair were famously close friends.
"This exhibition is, to me, a bittersweet event" says Guinness, "Isabella Blow made our world more vivid...I'm doing this in memory of a dear friend in the hope her legacy may continue."
The exhibition will feature 100 pieces from Blow's wardrobe, including items from Jeremy Scott, Julien Macdonald, Viktor & Rolf, Fendi, Escada, Prada, and Marni, along with pieces from Philip Treacy and McQueen's SS08 collaboration show which paid tribute to Blow, entitled 'La Dame Bleue'.
Blow's legacy has taught us to always push the boundaries, believe in your personal goals, keep a strong mind and follow your own passions and intuition. She was undoubtedly a tour de force in the fashion industry, and like McQueen, there will never be another like her.
Isabella Blow: Fashion Galore! opens on 20 November and will run until 2 March 2014.
For more info and to book tickets, head HERE.
Related