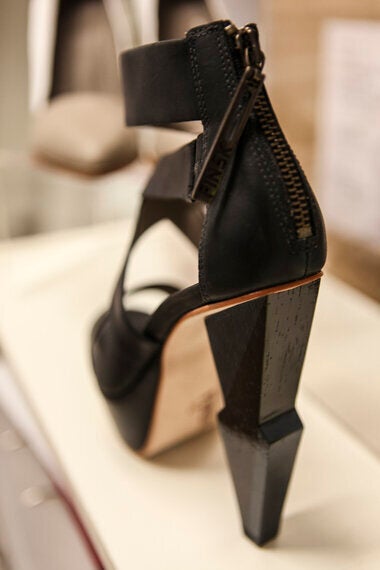 A graduate of London's Royal College of Art, Finnish-born Julia Lundsten is known for her experimental and avant-garde creative vision, most commonly associated with her high-end footwear brand, FINSK. Lundsten's core signature comprises impeccable craftsmanship and unique detailing fused with her Finnish heritage, translated into cool contemporary designs.
With accolades including the Manolo Blahnik Award in 2002 and 2003 and Elle Finland's Accessories Designer of the Year in 2010, Lundsten recently collaborated with Nokian Footwear, a company with more than 100 years of experience in manufacturing flexible natural rubber made boots. Creating a new range for the brand, her collection fuses a mixture of both modern urban fashion trends and Nordic street style, with every design working across all seasons.
I met up with Julia to speak about artsy heels, and those boots which were most definitely made for walking.
How did it all begin for you?
I started designing properly in S/S 2004 after taking a consultancy job where I had access to a factory and sample room, and it just started that way really. My ideas were a mixture of everything I liked in design, not just shoes, but furniture design, architecture and buildings, different references of things which were natural, modern and not too cold. I like Finnish architects such as Alva Aalto, so a lot of that style has influenced the FINSK pieces, and I've stayed true to those core design inspirations - but then sometimes I'll see a film and certain colours within it will influence me too.
What kind of creative collaborations have you been involved with since launching FINSK?
I do all kinds of collaborations, and Nokian was great because I got to keep to my main design style, but where I usually work with leather and wood on FINSK, with Nokian I worked with rubber for the first time, so it was nice to have that change in materials. With Nokian it was also nice to reference the everyday urban side of life, especially living in London, with my old style Finnish heritage. I've also worked with Basso & Brooke at London Fashion Week a couple of times, and most recently Lulu Liu for her SS14 show. She's Chinese and I am really into the Chinese culture and aesthetic, so that was fun.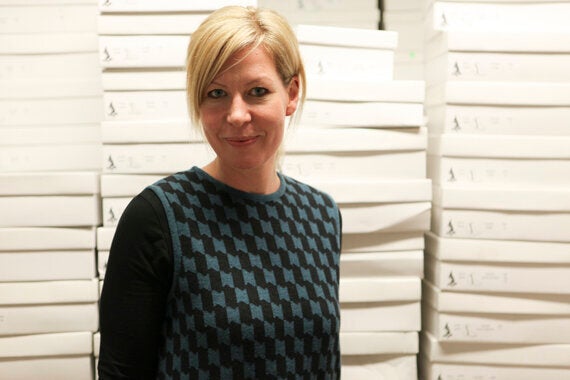 Tell us about your creative process?
I carry alot of little sketchbooks in my pockets and bags, I always carry one with me, and sometimes when I look at them I think 'oh no, I have to put this together now!'. It's the editing side which is difficult as you have all of these ideas, but then you have to make them into a collection. So I work closely with a Development Manager in Brazil at the sample factory, and she shows me everything, and she always knows from my sketches how I want things to be which is really nice. We also have an older artist who hand paints all of the heels, so it's like a little family, 16 people are involved in the entire process.
I'm not into muses, my designs are more about women - an intelligent woman who appreciates good design, I don't really care about celebrities wearing my creations.
You obviously have a love of art, which can been seen throughout your FINSK designs - how does it inspire your work in general?
I love art, particularly colour combinations in art, which can be really dynamic and interesting, and that influences many of the FINSK designs. I would like to work with some artists on a really cool installation or project for FINSK, as I think aside from being shoes, they have that other artsy side to them. Sometimes I think I would like the designs to be in an art gallery, it's the space that is inspiring to me.
What are your favourite of all your designs to date?
The FINSK designs will always be my favourite, but in terms of comfort, I prefer to wear Skin by FINSK or the Nokian boots. It's fun to see other people being daring and wearing FINSK because I know if I did, I would probaby fall over! [laughs].
What's your vision for the future, would you like to expand the brand, perhaps into clothing?
Not clothing, not for now anyway. I want to keep FINSK to what it is, but with Skin by FINSK, yes we may expand into more accessory lines.
I think we are building a good client base around the world, and we want to focus on our own online shop and catering to our customers and their needs. But obviously it would be nice to be in Barney's New York too!
For more information on FINSK, Skin by FINSK and Nokian Footwear, head to www.finsk.com