Once upon a time (in the 19th Century), in a land far, far away (Australia), sheep-farmers would use surplus sheepskins to make boots to keep their tootsies warm. Fast forward to the year 2000, and boots of a similar design were being worn by just about every celebrity in Hollywood-land and the UK.
When Oprah first endorsed the boot-to-be-seen-in back in 2000, as everyone from Paris Hilton (in her pink version), Britney (in her studded style), Kate Moss, Sienna Miller, Gwyneth Paltrow and Sarah Jessica Parker were papped crossing the street in them - the Ugg became the ultimate 'power boot'.
But just because winter is here again does not mean it's acceptable to raid the back of your wardrobe for that pair you recycle every year.
The Ugg is no longer the footwear fantasy that celebrities paid homage with their feet to, and let's be honest, it was only really ever celebs (who were gifted them for free), or teenagers copying their idols poor footwear choices, who wore them.
The rest of us broke out into a cold sweat at the sight of the boots, along with most of the fashion elite who shun comfort, warmth and versatility for painful high heels which cripple their feet and cause lifelong backache.
The Daily Telegraph once reported that the fashion world's response to Uggs "ranged from tepid to suspicious" and last year the Guardian declared them officially "over" (unless you live in Islington and are under 18 years old that is).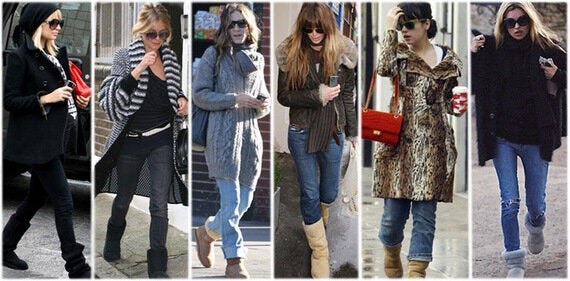 Of course we can forgive the farmers way back when, because their feet were cold and ASOS didn't exist. But the main culprit to blame is Aussie Surfer Brian Smith, who brought the Ugg boot style to Southern California in 1978, showcasing it as the footwear of choice for boarders when they exited the ocean and sought warmth and comfort for their damp, cold feet. The rest is history as they say, a bit like Lindsay Lohan's career, who was also one of the first celebrities to champion the footwear in Los Angeles.
Over a decade since skyrocketing to popularity, there have been many re-workings of the classic boot design, from knitted and sequined versions to biker style and even a bridal range (synchronise side-eyes now). The brand has also expanded into handbags and cold weather accessories such as hats, gloves, scarves and earmuffs, but unsurprisingly, sales have continued to decline, while other footwear brands such as Hunter have become the new footwear phenomenon, accepted and loved by fashionistas everywhere.
Even Justin Bieber, who once tweeted a picture of his Uggs, has swapped sheepskin for sporty Gucci flip flops with socks (an urban streetstyle trend for SS13/14) or designer hi-tops by Rick Owens - Aww Ugg, not even the Beliebers belibe in you anymore.
If you're still in the minority of people who continue to be fans of the boot though - yes I'm talking about you Michelle Keegan, the Corrie actress who was voted soap's sexiest female, which I'm assuming applies to when her feet aren't clad in Uggs - then you might like to know there are still many imitations of the boot design.
In fact, the alternative brands are proving to be as popular as the original boot was back in its heyday. EMU's 'Stinger Lo' ranges from £72 - £92, Whooga's 'short' or 'mini's' come in at £85 - 89, Just Sheepskin's 'short classic' version is available in 3 different colours at £130 and Fitflop's best-selling boot, the 'MUKLUK' has just landed for Winter with a 'Moc 2' version incorporating a new moccasin-style design twist, priced at £145.
There are of course many Fuggs still circulating too, more commonly known as the fake versions of Ugg boots, which you can spot straight away because the person wearing them is usually doing a lop-sided or pigeon-toed walk. Even The Daily Mail proclaimed in 2010 that generic Uggs were "crippling a nation of fashion victim women" because they didn't provide adequate foot support and could cause back and leg problems - imagine what Fuggs with zero heel support are doing to a nation of ankles then?!
There is of course an ethical argument about fake Uggs too, as several makers of the knock-off styles have been found to use fur from animals who were beaten and skinned alive (Peta, 2011). Tests conducted on products which were labeled as "Australian sheepskin" actually turned out to be racoon fur or from animals confined to barbaric Chinese fur farms - yes, it's possible for Uggs to get even ugglier.
So my advice if you must wear them, is buy directly from the brand's website, or from one of the alternative brands I mentioned earlier in this article. Don't risk fakes for the sake of your health, and for those poor animals sent to their death just to keep your feet warm-ish.
Like Crocs (those hideous rubber devil hooves people wear in airports and Little Chef's in the Summer), Uggs are only for the brave, or for those who don't own a mirror.
Perhaps we should take a tip from the Aussie's who first introduced them to us, they now wear the boots as slippers, indoors, which is basically the best place for them.
Related