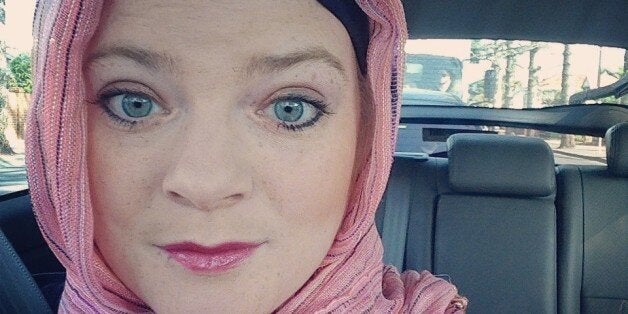 I'm a Christian woman who spent last week wearing a hijab - why?
I didn't do it as a social experiment or with the purpose of an opinion piece for a newspaper.
I didn't do it to elicit responses from the community, whether they be positive or negative.
I spent the week wearing a hijab in order to stand in solidarity with people tainted by a brush of hatred they do not deserve.
It's not the first time I've done so and I can almost definitively say it won't be the last. The first time I donned a hijab nine years ago, I clearly needed some more lessons in styling as I ended up looking more like a pirate than anything like the beautiful hijabi women surrounding me! Nine years later I've learnt a thing or two and have even mastered the art of wearing a head covering in such a way as to ensure it doesn't fall off within ten minutes.
I stand in solidarity with the Muslim community because some of the greatest examples of love, hospitality and compassion have been modelled to me by good friends who happen to also be Muslim, but unfortunately this is not the view of Islam or its followers that is championed through our media sources of late.
It breaks my heart to hear stories of my friends, once again, as the target of prejudiced attacks based not on their own personality and actions but based on the activities of a few who do not represent them nor their faith. It's ludicrous to think that in a country that espouses the idea of a "fair go" that certain members of our communities live in fear because of their religion or culture.
I spoke with friends determined to hide their faith because they were scared of the verbal, emotional, physical and psychological retributions they may face from the Australian community should they outwardly display their adherence to Islam. I heard from sisters all over the country who were contemplating removing their hijab for the first time in decades - because the fear of facing racial attacks was so strong.
As a white, middle class Christian, I know that I am a woman of relative privilege in this country. I feel called to do what I can to stand in solidarity and love with people so dear to my heart. Like many non-Muslim supporters who stand in opposition to the racial attacks thrown at our friends, I chose to wear a piece of clothing that is automatically recognisable and associated with Muslim women to visibly represent my stance of solidarity.
The first thing I did was consult with my Muslim sisters about their view on my plan to wear the hijab for a week and I was also very conscious of my behaviour and dress and how that could negatively impact the Muslim community. The last thing I would want to do is for an act of good intention to instead cause more pain to a community already hurting.
Although I did receive negative feedback, the majority of my interactions for the week were overwhelmingly positive. The outpouring of gratitude from friends and people I've never met every day cemented for me the need for everyday Australians from all walks of life to demonstrate a belief in love over fear.
This week gave me the tiniest insight into what life could be like as a hijabi - beautiful, confronting, scary, empowering. I don't presume to understand the complexities of what life is like for someone walking a path so different to mine, instead this journey was a personal response to the fear my friends are feeling and a way to walk alongside them.
My Australia is one that respects and honours each and every person; regardless of our differences. The nation I want to be part of is one where no one lives in fear, where no matter who you are, what you believe in and where you come from; you are welcome.
We can be that nation, right?