We've all heard stories of 'honeymoon heaven' and 'honeymoon hell'. Well, I grew up with tales of my mum and dad's 'non-honeymoon' being spent in their hometown of south London - 'on my grandparents' living room floor.'
It was 1967 and, like most couples of their time, they hadn't lived together before they tied the knot. When they could at last afford a honeymoon, some four years later, they ended up going to sunny and exotic Scotland; it rained.
In the sixties and before, most couples without a grand income would expect to honeymoon in the UK, at a pretty seaside resort or in the country, hoping for summer sunshine and a chance to be together without the distractions of everyday life, not to mention the opportunity for romance and perhaps even the chance to create a honeymoon baby!
HoneyMoney for a MoneyMoon
Nowadays we are travelling further afield, spending infinitely more money than our parents did, and going for a 'memorable' rather than simply romantic honeymoon. An estimated 70% of newlyweds are now choosing to honeymoon overseas, with only one in 33 couples planning a UK honeymoon. So, with the current recession, how can we have that exotic honeymoon holiday of a lifetime without getting into debt? Enter the aptly named 'Moneymoon'...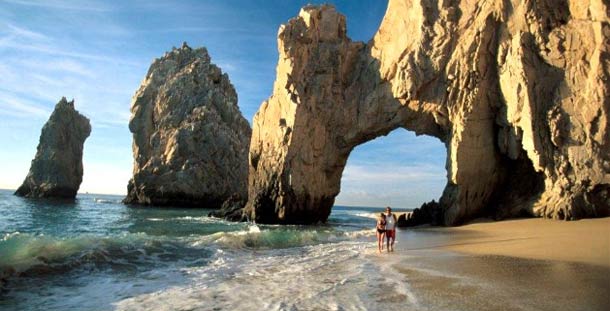 Traditional wedding etiquette is evolving. The days of the word-of-mouth gift list have all but disappeared and after modern itemised gift registries, the honeymoon fund is fast becoming the most popular way of funding an exotic or far-flung honeymoon.
It's a great way to get help paying for a holiday of a lifetime, so if you've always dreamed of travelling across America, flying to Australia, or going on safari in Kenya, but know you could never afford it - this is the way. There are companies that can help you do it by providing an online payment service and guest cards to make it easier to manage.
If you want to organise it yourself then the simplest way is to set up a separate bank account for your honeymoon fund, put a note in with your invitations explaining that if anyone would like to give a gift, a contribution to the honeymoon would be very gratefully received. Or if you like to be a bit different (and perhaps just a little twee) add a poem like this to your invitations...
Make Our Day!
We've lived together quite a while

with all our pots and pans,

and as we don't need homely gifts
we've got another plan!


We know it's not traditional
but an awful lot more fun,
to have items on our wedding list
to help us catch some sun!
So if you'd like to give a gift
and send us on our way
a donation to our honeymoon
would really make our day!
For the safekeeping of the cheques and cash you'll receive on your wedding day, you could put up a lovely posting box or wishing well at your reception.
If you're not completely comfortable asking for hard cash, a honeymoon list of all the flights and excursions you plan to do instead, with various options to appeal to every pocket and a cost alongside each (bearing in mind the average wedding gift spend is around £55). Simply send the list of options to your guests with details of who they should make the cheque out to, or bank details for them to pay money straight in.
According to Travel Tweaks, the most popular honeymoon destinations last year were: Hawaii, Mexico, Saint Lucia, The Bahamas and the Dominican Republic, with an increase in adventure, safaris and watersports. We're no longer going abroad to lie on a beach all day, or honeymooning just to gaze into each other's eyes in bed all day - not when you can windsurf, white water raft and generally see the sights together. We walked up an active volcano on our honeymoon!
The WeddingMoon
The 'WeddingMoon' as it has come to be called, is another quirky term for what is actually a wedding and honeymoon combined. If your budget is tight and you can't afford a wedding reception in the UK and a honeymoon abroad then a WeddingMoon could be the answer. The WeddingMoon is a destination wedding with a honeymoon built in. As air travel is relatively cheap and many overseas destinations are extremely affordable, it can cut costs if you do it right.
You could top up your tan before your wedding so you look bronzed and beautiful in your wedding photos, marry outside on a romantic beach with a glorious backdrop of mountains or the sea, and wake up the next day already on your honeymoon. Sounds too good to be true, right? Well, maybe it is...
The main drawbacks to the WeddingMoon are that many of your guests, particularly older ones (and perhaps those with babies and young children) may not be able to come. If you want to keep costs down and only invite a small number of guests it may not be an issue for you, but do be prepared for some of your family and perhaps even some close friends to feel upset at missing out. They may suggest you put on another reception in this country just so your grandma can see you in your wedding dress! There's also the issue of wanting some togetherness with your new husband/wife on your honeymoon. If you've invited your parents, siblings and best friends to your WeddingMoon, you may not get to be alone as much as you wish - there is a chance they may decide to stay around for a convenient holiday, instead of staying home to wave you off at the airport!
Wherever you choose to spend your honeymoon and however you decide to organise it, it's worth getting expert advice from recommended honeymoon suppliers available in the Confetti.co.uk wedding directory. Your honeymoon doesn't have to be the windsurfing holiday of a lifetime, as long as you're together - you could just spend a rainy week in the Scottish Highlands and if you're truly in love you won't even mind the rain!