Meet the artist who will turn your sex organs into sculpture, or any body parts you fancy. Welcome to the weird world of alternative art - and the ultimate wedding present.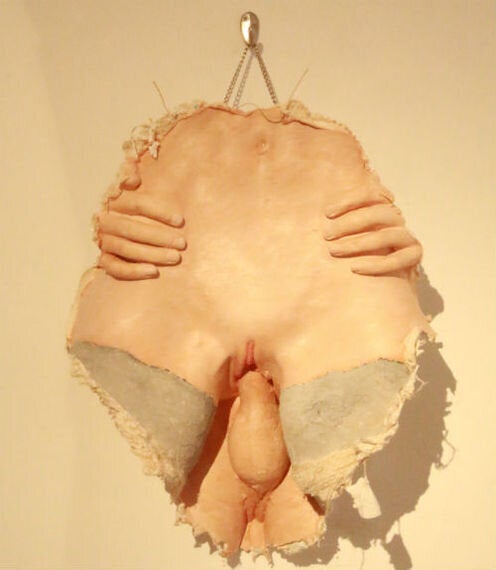 Fancy having your rude bits cast mid-act with your lover? It certainly beats giving your new wife jewellery on your wedding day. Meet the artist who is causing a storm in the art world with his latest exhibition and offering couples a lasting and tangible expression of their love.
I met artist, Paul Stafford in his studio and watched him in action as he got to work at casting a model, an attractive man of six foot tall, who just happens to be a cross-dresser, his long, slim legs in delicate lace-top stockings and pretty red satin high heels. The model's body was cast from waist to shoes and the whole piece was finished in under an hour. The result was instantly impressive and once dry Paul paints the castings for display at Gallery Different, in the heart of London's fashionable Fitzrovia.
This piece is another for his latest exhibition, entitled 'Sex in the City': a ground breaking art event Paul describes as a sculptural exploration into the sexuality of Londoners in 2014. He told me how his latest project had been inspired:
"Sex in the City" looks into how far individuals will go in search of a sexual encounter - to investigate, in the year 2014, just what we all get up to in the dark (and sometimes the light). With cross dressers, gay couples, couples into 'pegging' (look it up), single men and women and a man who likes to wear his socks, shoes, garters - nothing else. All manner of people: strangers, couples, singles, gay, bisexual and straight, are having sex, often uncomplicated, non-committal, every day in every way, or as Gilbert and George would say, "Love allways and always".
Paul Stafford is already a respected sculptor in the art world, elected a member of the Royal Society of Sculptors in 2011 in recognition of his contribution to British Sculpture. Despite the racy subject, I found Paul to be a surprisingly unassuming man, and he was extremely professional, friendly and welcoming as we chatted at length about his life and work. He told me of his near-death experience six years ago when he survived a plane crash when BA038 crash landed at Heathrow, an experience which, in his words, led him to 'a truly creative place where the barriers between madness and creativity lie very close together'.
Some of the sculptures in this exhibition will raise eyebrows, several will shock whilst others are even more thought-provoking... And I have no doubt that the kind of thoughts they provoke will be different for us all.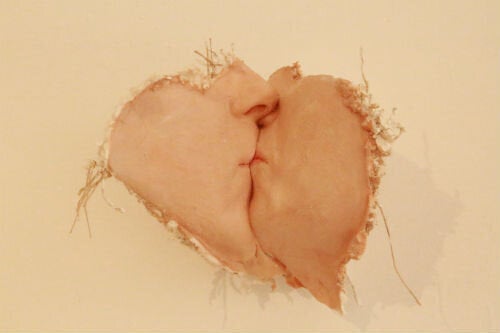 Arguably the most beautiful piece in this exhibition is entitled 'The Kiss'. It is a study of the lower parts of a couple's face as they kiss and cut roughly into the shape of a love heart. The couple, who prefer to remain anonymous, are in their early thirties and simply replied to the artist's advert for life models. They saw the casting as a once in a lifetime experience, a unique opportunity to see the artistic process from the other side. It captures their love for one another at this moment in time, in a beautiful and enduring way.
The kissing couple are due to be married next weekend, and they love the piece so much Paul has given it to them as a wedding gift. It's likely to be the most treasured and indeed personal keepsake they receive. The newly weds are planning to display it on their living room wall, and perhaps in years to come they will have another unique piece of art produced for their nursery, or one for the dungeon...
The Sex in the City exhibition is running until 10th Aug at:
"Sex in the City" - Will you dare to cum?