You are unique. You have a style of your own, be it fashionably on-trend for each season, rebelliously 'alternative', Goth, Biker or Boho... These days, even Geek is chic! We are all one of a kind, and we want our wedding to be different and memorable in its own right, to reflect our own personal style. Why then is the ubiquitous ivory, strapless bridal gown still the choice for most brides today?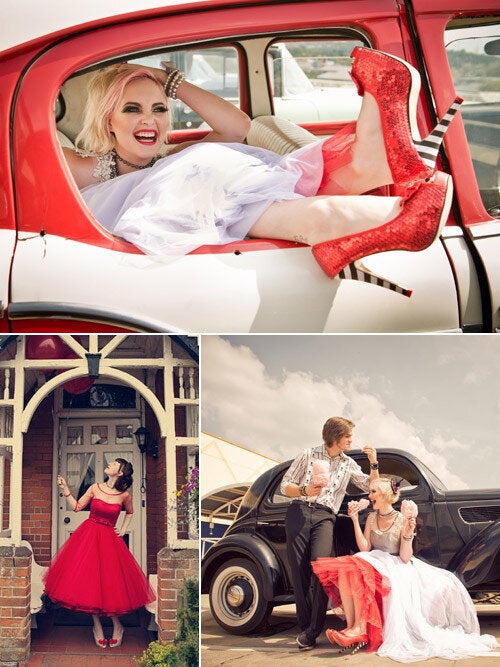 Do we feel a pressure to conform or is it a rite of passage we long for - to wear the classic, long white wedding dress just like our mothers did? As the etiquette rebel of the wedding world, I am all for breaking with tradition and rewriting the rules. Here's how to celebrate being true to yourself on your wedding day (or how not to, if you're a real rebel!)
The rocketing success of Kat Williams' Blog Rock n Roll Bride has shown the amazing and colourful diversity of modern day weddings. Kat has featured some very different, some might say 'outlandish' wedding style. When I asked her which was the most unusual or outrageous wedding dress she had featured, she told me:
"I'm not sure if 'outrageous' is the right word but there was an almost 80s inspired dress that was pretty damn amazing! It wouldn't be for everyone but was perfect for that particular bride and her own personal style." The wedding she described as 'artistic and wacky' and the beautiful pink-haired bride, just like Kat, certainly knew how to express herself.
Our personal style is often the first thing that attracts us to our partner. A shared love of the bohemian, his leather jacket or her brightly coloured hair, love of body art, whatever it is, it can bond us together from the start. How many times have you seen a heavily tattooed girl with wild, pink hair walking hand in hand with a straight looking man in a beige anorak? See what I mean?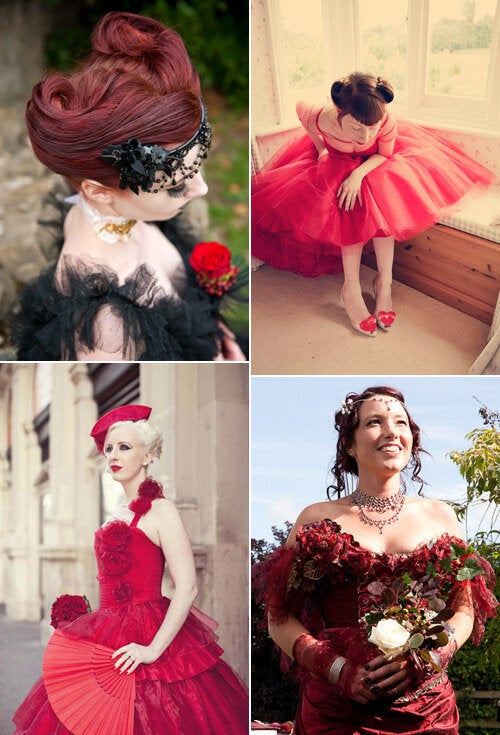 Colour , texture and style
If you want to break all the rules on your wedding day then wear colour and wear it short. A vibrant red or pink mini-dress shows off more than your legs, it shows you're not afraid to be different, you're confident in your look and you know how to brighten up a room. Don't be afraid to mix colours for clashing effect if that's the look you want to go for. Pink, orange and red or blues and greens are not often seen together but can be gorgeous in the right mix and altogether more interesting than the lilac and ivory or peach and off-white of the last wedding you went to.
Mixing shades and textures can create an amazing spectacle but do be careful how far you take it. You want your wedding day to be memorable for all the right reasons! And yes there is a certain joy to be had in shocking onlookers but your friends and family will want to be able to put your wedding photos up on their mantelpiece too. Sometimes less is more and colourful underskirts or shoes peeping out from below a classic white dress is just enough to make a statement and get that wow factor you may crave. And who says you have to wear duchess satin or vintage lace just because that's what is expected on your wedding day? If you want to wear velvet or leather then do. Textures and fabrics can sometimes say just as much as the colour and the shape of a gown. It is amazing what you can find online and have made. The sky really is the limit. So, if you want to wear black, go for it and do it in style.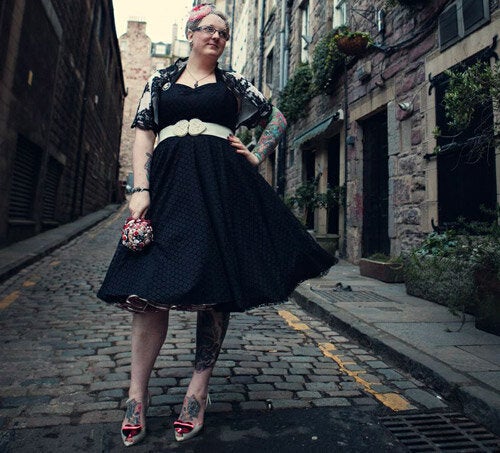 Wedding dresses and tattoos
When I first started out in the wedding industry, brides were asking me how to cover their tattoos and were looking for gowns with high backs or sleeves so their body art would not be visible. I used to recommend body makeup to cover their tattoos, all the while thinking to myself what a shame to feel the need to cover up. In some cases the bride didn't want their dad or their grandmother to see their tattoo and for other brides it simply felt like a day to look classic and more Grace Kelly than... er 'Tattoo Lil'.
Now I find many brides are keen to wear their body art with pride and only recently I had a letter to my Agony Aunt column from a bride asking me to source her a low-backed bridal gown to show off her tattooed back and indeed make a feature of her body art on her wedding day. Good for her.
Twenty years ago vintage meant second hand and was something to steer clear of. It meant you couldn't afford a designer dress or your taste was 'old fashioned' and that made you different. Now that vintage has become fashionable in its own right, it's no longer seen as alternative. Yes, even Vintage has become contemporary!
Singer Lily Allen chose a Vintage look for her wedding. Not a classic corseted Victorian gown, a slinky 1930s bias-cut dress or wasp-waisted 1950s tea-length number, instead she chose a funky drop-waisted boyish style of the 1920s complete with unusual vintage lace 20s style veil and headdress. 1920s is very much back in vogue now with plenty of Great Gatsby style everywhere and short, flirty wedding dresses making a real comeback for the first time since the '60s.
Taking alternative to the next level
Making sure your wedding reflects what's most important to you both can, for some couples, mean throwing shared passions into their wedding day. So bikers may want to have their motorbikes play a part in their big day which could mean more than just a cute biker cake topper but a leather jacket over a wedding dress without a train or even something more bike-friendly like a slinky leather catsuit... Miaow! And if you're serious Star Trek fans then it may seem only right that you have a Klingon wedding... It has been done.
Whatever you choose to wear on your wedding day, make your statement - this is the one time in your life you get to be the star of the show. Shine on your wedding day and capture it all in your everlasting wedding photos and film. Make it reflect a little of your personality, your personal style - your true colours. That never goes out of fashion.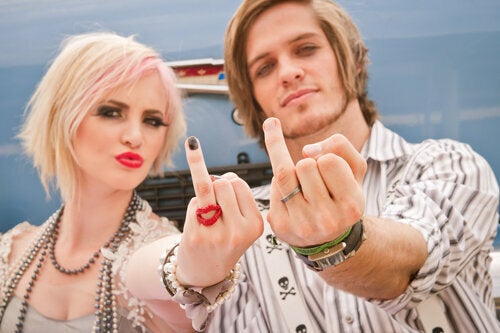 Montage 1: Clockwise: 1 and 2 Kat Forsyth Photography *, 3 Assassynation Photography
Montage 2: Clockwise: 1 Kat Forsyth Photography, 2 Assassynation Photography, 3 Gown by Elisabeth Armstrong, Laura McClusky Photography 4 Gown by The Handmade Corset Company
Photo 3: Assassynation Photography
Photo 4: Kat Forsyth Photography *
* As featured on Rock n Roll Bride