A Tarzan style tree-house and an Arabian tent were probably not on the list when you came to booking your wedding reception. These days, anything goes and you don't have to hire the local snooker hall or stately home to entertain your guests. If you want something that reflects a little of your own personal style, be it Bo-Ho or Bollywood, then dare to be different with a unique venue befitting the occasion of your life. Here's my pick of the best to inspire you for your wedding or event.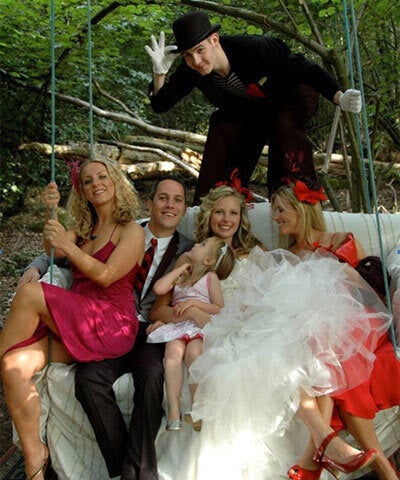 Tree huggers, eco warriors and hippy chicks, you will love this! Hidden away amidst established oak and silver birch trees, open grassy clearings and reed lakes is the gorgeous Wise Wedding Venue which offers an amazing range of unusual features. A natural woodland setting with lanterns hanging from the branches of trees, swinging sofas and a treehouse from which you can look out onto various lighting installations set up within the woods. There's even a tree-top bridal suite with its own en suite! You'll feel like Tarzan and Jane!
The Converted Gothic Church in London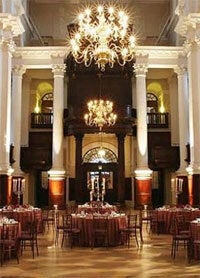 If your style is a little grander than a tree house and you're looking for magnificence in your wedding venue then this uber-stylish converted church has it in spades. It's the kind of impressive Gothic masterpiece that will create uniquely jaw-dropping wedding photos and leave a lasting impression on all who enter the grand front doors. With its majestic high ceilings, dramatic pillars and stunning chandeliers, Christ Church in London's Spitalfields has one large main space with two overlooking mezzanine galleries and is big enough to hold 600 standing! It takes on an 'other worldly' aura when lit up at night.
The Arabian Tent, for hire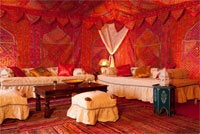 From a grand church to an unusual Arabian style tent. With sumptuous styling enhanced by atmospheric lighting and the most luxurious of fabrics and textures, this is a tent with a difference. The Arabian Tent Company design, create and develop the most extraordinary tents for people who want to celebrate in style. They offer a collection of eight beautiful interiors to suit the desired mood of your celebration, whether it's earthy 'hippy chick' or Indian Princess. Don't miss the eye-catching Bollywood tent covered in mirror-work and embroidery for a dance area with real 'wow'!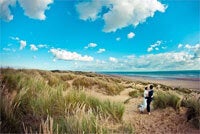 You could pitch a tent on the beach or you could book the beachside Gallivant Hotel and bring the reception right by the sea. Celebrate in the sand dunes by the hypnotic, rolling waves of the sea and take cover from the elements at this beautiful beach house hotel set overlooking five miles of pristine sand beyond. Pretty coastal, beach themed rooms and fine dining is provided by a small team of Marco Pierre White trained chefs. You'll feel like a Victorian romantic celebrating in formal dress on the beach in real old fashioned style.
The Boat, off Southampton shores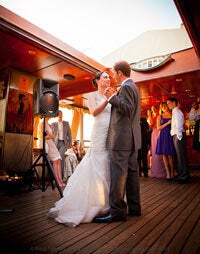 The only thing more enchanting than celebrating your marriage on the sand dunes by the sea is to be on the water itself in a boat just big enough for your wedding party. If you truly love the sea, celebrate on a boat or ship for a real wow factor! Your day will turn into an adventure quite different to any other wedding party! The gently lulling rock of the boat on the water is so precious and the changing views, spectacular. The Princess Caroline, with flags fluttering in the breeze, will seat over 100 guests. The top deck is for dancing, and with the roof and canopies open on a warm night your guests will love the feeling of the sea and sun all around them, then, as it starts to get cooler they can be closed to make the atmosphere just right whatever the weather outside. For true romantics, have your wedding video set to the song, 'Sea of Love'. *Sigh*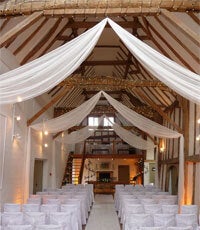 If you'd rather stay on dry land but the natural elements of the woodlands and the beach have inspired you to go for a more informal and traditional wedding venue with organic roots for a country style wedding, then you may want to consider this beautiful converted barn. Well hidden and worth finding, the timber-framed Dove Barn sits amidst rolling wheat fields of rural Suffolk. Light and airy barns with a sheltered courtyard and pretty gardens create a gorgeous relaxed summer venue while a large hall with blazing open fires is wonderful in winter. Eco- conscious and Pagan, Humanist and multi-faith couples will be drawn to the natural and traditional styling of this pretty place.
The Botanical Garden in London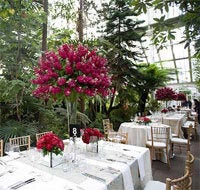 If you love flowers and impressive architecture then Kew Gardens has a variety of stunning and indeed awe-inspiring venues. There's a range of places to choose from, including the Orangery, a beautiful 19th century glasshouse conservatory and a striking, partly subterranean space overlooking the surrounding lake at water level! You can entertain 400 guests and wine, dine and dance the night away surrounded by tropical plants and stunning natural beauty.
The Roman Baths in... um Bath funnily enough (hence the place name!)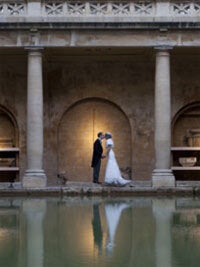 Beautiful historic Bath with its elegant Georgian architecture and the steaming waters of the ancient Roman Baths is a picturesque setting unlike any other. The Pump Room, with its magnificent Georgian interiors and sparkling crystal chandeliers is just one option in a gorgeous historic place of interest that can hold up to 500 guests!
And if none of these weird and wonderful venues tickle your fancy and you want something seriously memorable and out of this world in an Elvis and Marilyn kind of a way, Fly to Vegas, Baby!