Following a frustrating and fruitless search for a London Olympics ticket, I shared my waning enthusiasm for the 2012 Games on this site back in June in a post entitled 'In Hot Pursuit of an Olympics Ticket, But My Patience is Running Short'.
Seven weeks on and I can barely contain my excitement.
Why the turnaround? Firstly, my persistence paid off. I'd tried and failed over again to buy seats for Olympics events via the official website and was close to throwing in the towel. But on a random day earlier this month, I gave it one more shot and got two tickets to the men's hockey.
Now, I'm not the world's biggest hockey fan and I'd rather see athletics, swimming, cycling or diving. But I wanted to be part of the Games and to see an event inside the Olympic Park. As it turns out, the first hockey game I'll get to watch will be Great Britain versus Argentina. Not a bad result for a lucky dip. And a friend has since offered me a seat at the quarterfinals of the handball. So that's twice I get to watch sport inside the Park.
But the biggest surprise came on Monday night when I found myself sat inside the Olympics Stadium watching the first public rehearsal of the opening ceremony after another friend offered me a free ticket, out of the blue. That's when my Olympic fever really took hold.
Of course, I could spill the beans on the 'Isles of Wonder' ceremony but to my amazement, I'm sold on the idea of keeping the details under wraps (#savethesecret) as requested by Artistic Director Danny Boyle, as it seems is most of the Twitterati.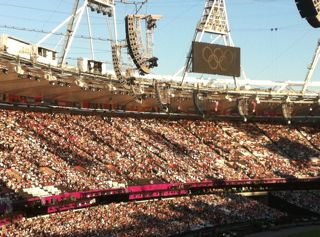 Suffice it to say - and I apologise in advance for what's going to sound like a string of clichés - it was stunning. I felt proud to be British, proud of our heritage, proud to be a Londoner and very excited about the next few weeks. I confess I was moved almost to tears and while my friends will attest that crying is something I do quite often, I've been a journalist for 17 years so also possess a healthy dose of cynicism. And to prove it wasn't just me being sentimental, I was sat next to two other seasoned hacks who also had lumps in their throats.
Then yesterday I heard I had a ticket to the opening ceremony concert in Hyde Park - starring my childhood heroes Duran Duran along with the Stereophonics, Paolo Nutini, Snow Patrol - and big screens showing the action from the Olympic stadium.
And to top it all, the torch will be passing close to my street tomorrow morning. Oh yes, and the sun is shining. I love it when a plan comes together.
Now I realise at this point that I'm incredibly lucky. I live on the doorstep and I finally have a couple of tickets. But even if that weren't the case, I'd hope I'd still be caught up in the atmosphere by now.
Because whatever you think of London Mayor Boris Johnson, he had a point when he told us all to stop moaning about the Olympics and get on and enjoy it.
As a journalist, I know we like to focus on what goes wrong: the huge cost, the transport delays, the security cock-ups, the questionable legacy and so forth. And there has to be room for that.
In fact, if you'd have asked me how I felt about the Games on Monday evening as I tried to get to the Olympic Park, I might have been less effusive. Ordinarily, it's about 20 minutes and five stops with no changes from my neighbourhood to Stratford. But the hot sun had apparently caused the rail tracks to buckle and trains to the Olympics had been cancelled.
Not only that, but nobody told us what was going on. I stood on the platform, with scores of tourists (by the looks of them) waiting for our train to Stratford, encouraged by the electronic display that told us we had just two minutes to wait. Until, that is, a train driver going in the opposite direction stuck his head out the window to tell us there'd be no trains to Stratford for about an hour.
As I rushed to take an alternative route, changing twice and squashing myself onto a hot, packed Central Line train, wedged in under a fellow commuter's armpit, I did wonder whether I should have listened to that voice that told me, back in June, to rent my flat out for a large sum of money and go somewhere exotic for the duration of the Games.
Earlier that same morning, I'd been walking along a beach in North Wales at the end of a weekend away, dreading the thought of the London Olympic crowds and the transport network. My worst fears - cancelled trains, packed tubes, stifling heat, long queues - were starting to materialise and the Games hadn't even begun.
But as soon as I entered the Olympic Park, my fraught journey became a distant memory. Suddenly I wanted to be there all the time, every day, for all the events. I wanted to be part of this amazing atmosphere, among all these friendly people from all over the world (granted, the sunshine probably helped). Spare tickets, anyone?
It seems all the hype is true - there is something magical about the greatest show on earth.
Yes, of course it was ridiculous that the rail tracks buckled in the sun and the Central Line was closed late on Monday night as tens of thousands of people tried to get home after the opening ceremony rehearsal. And yes, there'll be plenty more transport and overcrowding stories told over the next few weeks.
But I, for one, am pleased I didn't listen to that voice that told me to give up and get out. Instead, I'm delighted I listened to the one that told me the London Olympics is once in a lifetime so stay put and join in.