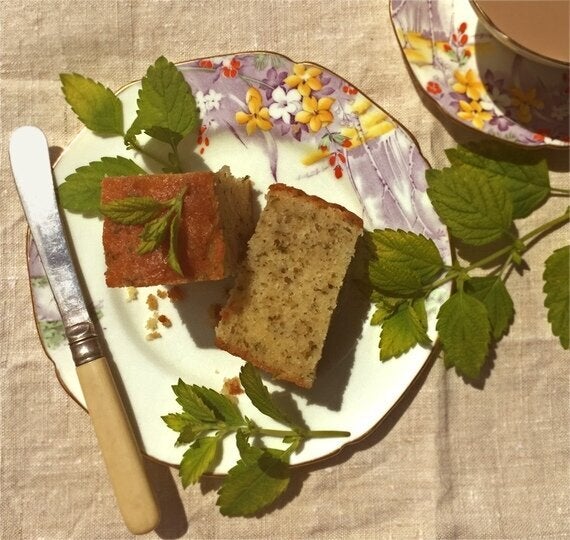 Love an odd herb like lemon balm, me. Yes, the thymes and sages of the world are fine and all, but it's the weird ones I like. The un-buyables - chervil, lovage, sweet cicily - all unique in flavour, all virtually impossible to buy from anywhere other than a specialist. If you want them, you'll just have to grow them.
Lemon balm is an un-buyable. At least in most food shops. It does crop up at garden centres sometimes. Usually slightly yellowing and bedraggled, stuck in the 50% off section looking forlorn. I found one such plant a couple of years ago, felt sorry for it, bought it, bunged it in the ground, forgot about it (as usual) and it's gone bonkers. Huge and vigorous with green-gold leaves, it has taken over one corner of the flower bed. Lemon balm, let me tell you, is a grateful plant.
However, it is so often relegated to the discount aisle in plant shops because, let's be frank about this, it smells of Jif (or Cif, to those under 25). And what is anyone going to cook that they would want, intentionally, to smell of toilet cleaner?
Well, this. With such a singular fragrance, lemon balm doesn't play nicely with other flavours, so it needs to be centre stage. It also needs a far whack of sugar to balance out the citronella vibes. This, fortunately, makes it perfect for an adaptation of lemon drizzle cake.
The recipe below is adapted from a Mary 'National Treasure' Berry recipe for lemon drizzle and it's a lovely, quick way of using up your lemon drizzle glut.
LOTS of lemon balm (one big handful of leaves)
225g unsalted butter, softened
1 big handful of lemon balm leaves
Start by making the syrup. Mix the caster sugar with 70g water, add a big handful of lemon balm leaves and set over a low heat. Once the sugar has dissolved, bring the syrup to the boil then take it off the heat and leave to steep until the cake is ready for glazing.
For the cake, beat together the butter and caster sugar until light. This is best done in a free-standing mixer.
Add the eggs one at a time, beating well between each addition.
Fold in the flour and baking powder.
Add enough milk to create a dropping consistency. In other words, until the mixture falls off a tapped spoon with only the slightly hint of resistance.
Finely chop one large handful of lemon balm leaves and stir into the cake mix.
Pour/spoon the mixture into a lined 900g loaf tin and bake at 160 degrees C for 45 minutes or until a skewer comes out clean having been inserted into the middle of the cake.
Leave the cake to cool for 10 minutes then poke a few holes in the top of the cake with a cocktail stick. Pour the syrup over the top and leave to cool completely in the tin.
Serve with a nice cup of tea and the crossword.
If you like this you might also like my courgette and lime cake recipe which has a similar citrus vibe. Plus it helps work through the current National Courgette Mountain we're all experiencing.