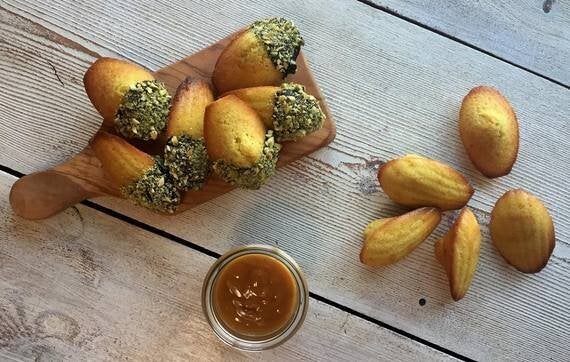 Proust has a lot to answer for. All that chat about madeleines. It's elevated them to 'mysterious French delicacy' status, given them a rarified air of complexity. In fact, they are the work of mere moments and can be knocked out by the dozen with minimal effort.
As I've been demonstrating this week. 621 orange madeleines. That's how many were made during 3 baking classes I taught at Taste of London Festive Edition this weekend in the AEG Take Taste Further pop up cookery school. Each class is only 30 minutes long so it's a true illustration of how simple and quick madeleines are to make.
The weather promises to be dank and miserable this week, so I'll be steering clear of the veg patch and warming myself up with a little spot of baking and some festive flavour madeleines...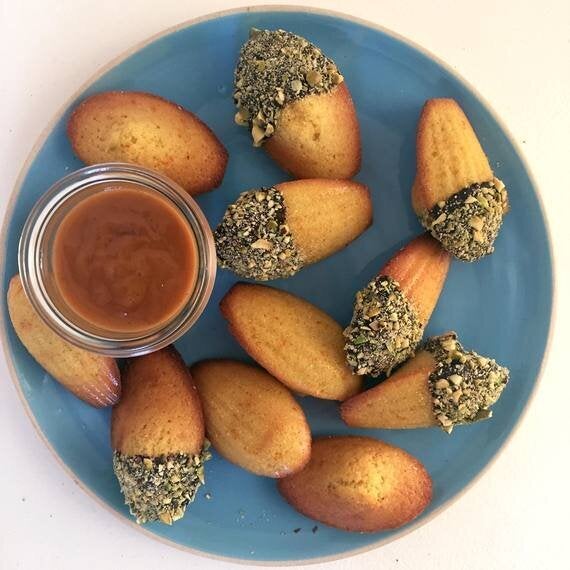 25g finely chopped pistachios
30g unsalted butter, cubed
½ tsp crushed cardamom seeds or powdered cardamom
Melt the butter over a low heat and allow to cool slightly.
Meanwhile, beat the eggs and sugar in a free-standing mixer for at least 5 minutes until very thick and pale.
Whilst the eggs are whipping, measure the flour, ground almonds and orange zest into a large bowl and squeeze the orange juice into the butter.
When thick, add the egg mixture to the flour mixture then pour in the butter and orange juice. Fold together gently.
If you can, cover the mixture and rest in the fridge for 30 minutes. However, if your need for madeleines is urgent, simply spoon 1 tbsp into each non-stick madeleine case and bake for 8-10 minutes at 200oC until golden brown.
Whilst the madeleines cook, make the butterscotch. Dissolve the sugar in 2 tbsp of water over a medium heat. When the sugar has dissolved, turn the heat up and leave to bubble, without stirring, until the sugar goes brown. Remove from the heat and whisk in the butter. Once fully combined, pour in the cream and cardamom and whisk until smooth. Set aside to cool.
Melt the chocolate by breaking it into pieces and placing in small bowl on a very low setting on your induction hob. (If you are not using induction, you will need to melt the chocolate in a bowl sat over a saucepan of just simmering water.) Once melted, remove from the heat.
When baked, remove the madeleines from the oven and allow to cool slightly before removing from the tin. Dip the ends of each madeleine in melted chocolate and then sprinkle the chocolate with crushed pistachios. Place on a non-stick surface to set then serve with a bowl of butterscotch on the side.