Cactu-cide. Succulent assassination. The Ferninator. I could do this all day. Anyway, call it what you will. The title is fairly self-explanatory but just in case ... hi, my name's Katty, and I'm a plant killer. I mean, I could almost put it on my resume I'm so adept at it.
How I long for that Victorian parlour vibe. Huge, leafy plants in over-sized urns. For that bohemian, Bali-inspired space that brings the outside in and gives an exotic edge to your rather un-exotic home. But alas, Charlie Dimmock I am not. Never mind that the police would be immediately called should I try to carry off the braless, semi-permed, shovel-wielding look.
I've come up with a few solutions as to how to introduce the illusion of life into a hostile environment like my own. So whether you use this as a hint list for your nearest and dearest or a guide for your mates, I hope it serves you well. Kicking things off with the number one gift for a Jungalow Wannabe with Grim Reaper fingers.
I used to think, 'Pffft, who buys fake plants?! They're so ridiculous!'. And then I single-handedly killed every plant I ever owned. So yeah, big old poly-plant convert over here. Artificial greenery has come on leaps and bounds though since I first scoffed at the idea. Now there's everything from giant Cacti to String of Pearls to lush indoor grasses.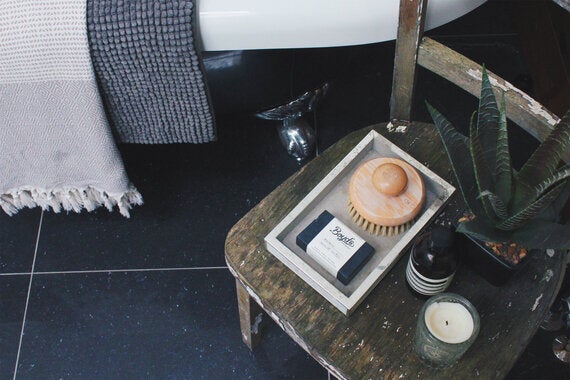 There is still a huge variety in expense and quality across the board so it's generally best to purchase in person or at least have experience of the brand you're buying into. Cox & Cox, Abigail Ahern and even Ikea have a really great selection, but I would always recommend approaching your local independent interiors shops first to see what they can source for you.
No matter what you go for, the key to seamlessly blending is depth and perspective, ie: smoke and mirrors. Cultivate a strong mix of real and fake in a well-finished space and no one will even question the legitimacy. Your bud will be the new King or Queen of Green in no time.
2 ] A Death-Defying Bouquet
If you don't want to go faux, but still want to give the gift of longevity to your unfortunate friend, this is the route to follow. You can do it two ways. Get out there and forage something yourself or approach your local florist and ask them what they can pull together. You're looking for simple stems and foliage that dry beautifully and preferably don't smell like cat wee while they're doing so.
Think eucalyptus, thistles, pampa grass, protea and - my personal favourite - honesty seed cases seen jammed in the jar below. Modern bouquets like this are bohemian minimalism at its absolute finest. Yet swathed in reams of brown paper and twine they look like a million bucks. And your buddy gets the added benefit of some nonchalant, boho decor for your efforts.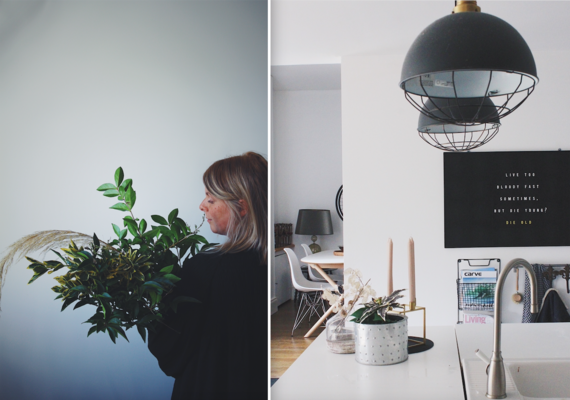 3 ] An Ironic Coffee Table Book
If they can't live the Jungalow life, you can at least gift them the Jungalow book to torture themselves with. I know. It's cruel. But to be fair, it really is a beautiful book and (with a couple of artificial plant babies thrown on top) will give the slightest impression that they know what they're doing. And surely having even a photo of interior goddess, Justina Blakeney, in your home has got to be good for the green vibes. Wordery, £21.99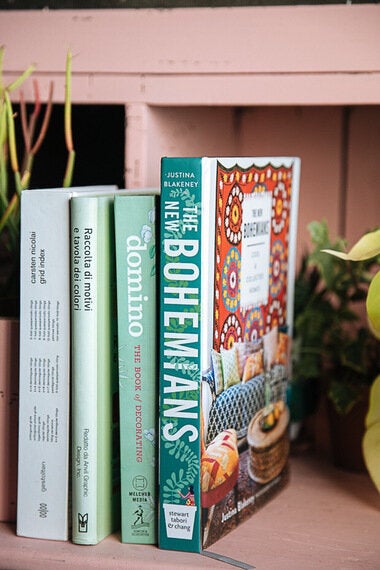 Image courtesy of Justina Blakeney
4 ] An Adult Colouring Book
I realise this heading could lead you down a very murky path so I'll clarify quickly. Colouring books for grown-ups have seriously hit the ground running in recent years in line with striving towards a more mindful existence. Ryn Frank's gorgeous illustrations are all pulled together in one delightful package that will allow your friend both some bonding time with 2D botanicals and encourage some much need down time. Blackwells, £7.79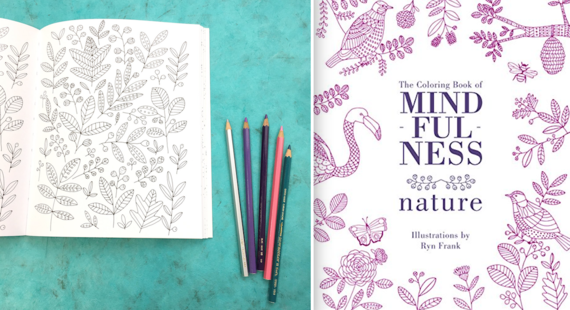 Image courtesy of Ryn Frank
Finally, a smoosh-friendly cactus. You can give these guys a squeeze and say sorry for all the cousins who met their makers at your hands. Backed with faux leather and fronted in super-soft, sweatshirt jersey these stuffies aren't just for kids. hunter's bohemia: £18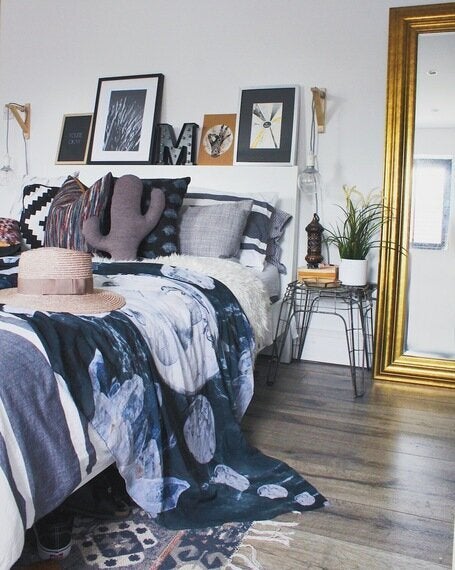 Image courtesy of hunter's bohemia
Apologies to any men among us at this point but this is the only one that excludes you, I promise. I love these simple banners for lifting a space. There are a host to choose from but one of my favourites has to be this Monstera leaf printed beauty by AnouckPlume over on Etsy. Although probably not intended to be read as such, the slightly sarcastic 'Crazy Plant Lady' message on the front wins it for me. AnouckPlume, £23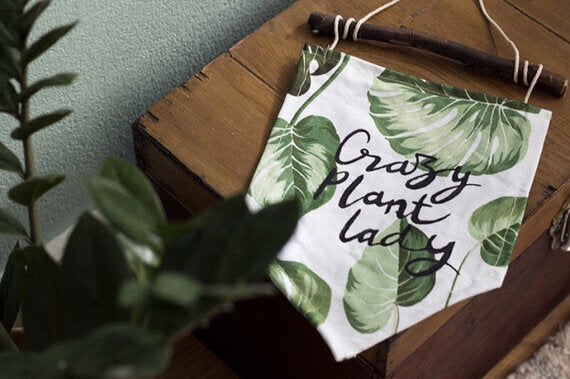 Image courtesy of Anouck Plume
7 ] A Ceramic Alternative
Ah, the irony of buying a vase for someone who kills plants. But the beauty of this one is that it's a statement in itself. Empty it brings the botanical vibes all on its own or it would look equally as cool decorated with a couple of dead branches for some extra oompf. London Garden Trading, from £29.95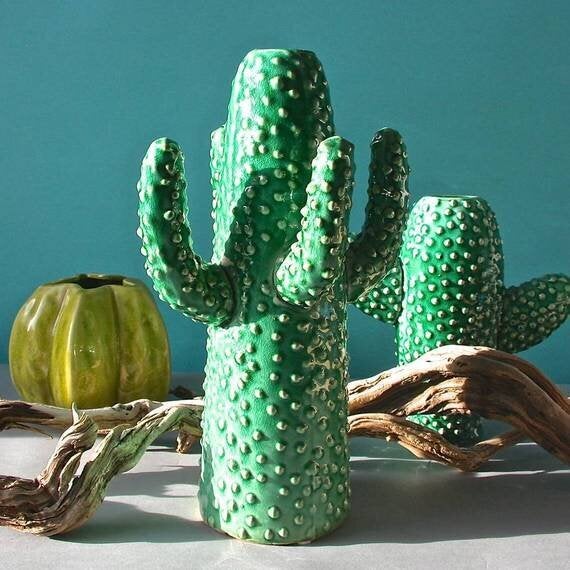 Image courtesy of London Garden Trading
Otherwise known as somewhere your friend can hang up their indoor gardening gloves for good. It's a subtle suggestion. These beautiful hooks from this understated Danish brand would make the perfect addition to a boho bed or bathroom. That's Mine, €16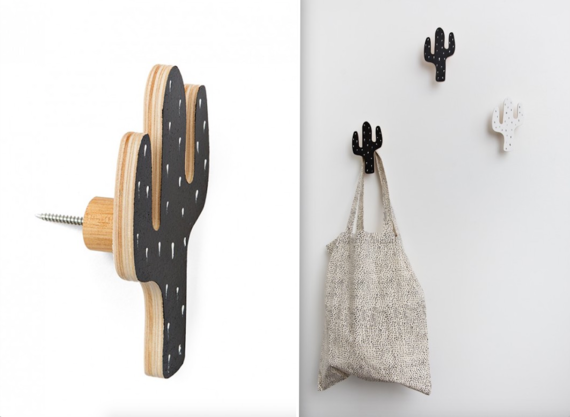 Image courtesy of That's Mine
Embracing texture and print is one of the easiest ways to incorporate a theme and none so simple as the humble tea-towel. Maybe it's the merchandiser in me but I feel like it's an unfairly underestimated tool in kitchen decor. A couple of choice picks can make all the difference and make even the deadliest plant nemesis feel like part of the gang.
l - r: Heleen van den Thillart, (set of 2) £28 // verysarie, £21 // hunter's bohemia, (made to order linens) from £15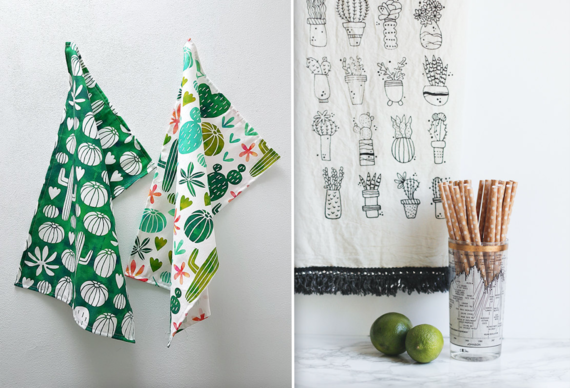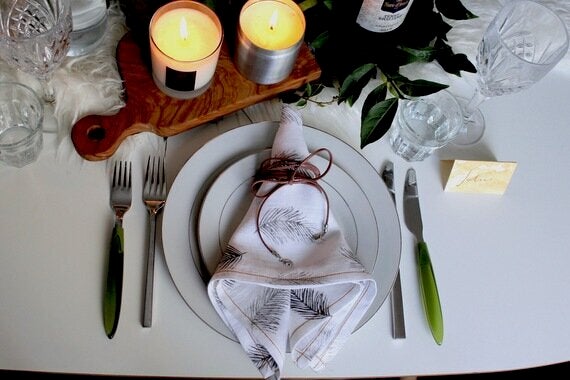 Images courtesy of Heleen van Thillart / verysarie / hunter's bohemia
Kitsch stationery knows no bounds and who doesn't love a fresh new notebook in which to unload your creativity or plans? Fox + Star's field notes style pad has a gorgeous luxe feel and Katrina Sophia's succulent shelfie might be the closest thing your friend is ever going to get to reality. KatrinaSophiaArt, £4 // Fox + Star, £9.99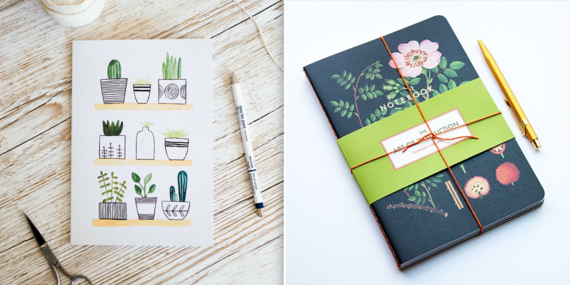 Images courtesy of Katrina Sophia / Fox + Star
And there you have it. If you've got any more suggestions for botanical gifts or tips for my ongoing plant survival issues, I'd love to hear them. You view the full article over on my blog or find me on Instagram!
This post has been published on HuffPost's blogging platform. The views and opinions expressed in this blog are those of the author and should not be taken as those of HuffPost. HuffPost does not allow bloggers to acquire products, access or accommodation for review in the site's name.