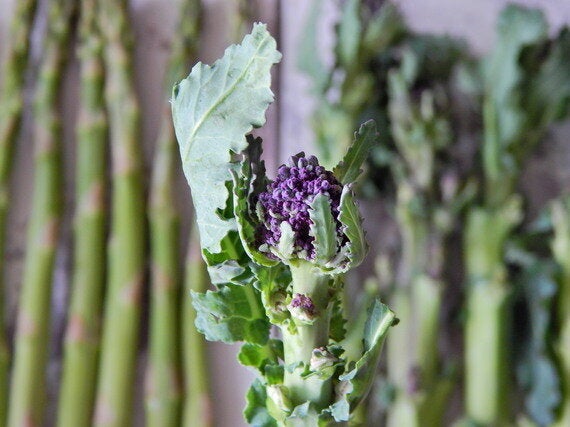 At this time of year, it's easy to become tired of eating roasted root vegetables. In our- post Christmas search of something fresher, greener and lighter, purple sprouting broccoli is a welcome taster of what Spring is to deliver.
Purple sprouting broccoli is no longer exclusive home growers and farmer's markets; I've recently bought the British-grown vegetable from Aldi. With year- long seasonality in the UK, availability is good and the price is moderate for what's fast becoming a fashionable vegetable.
Although purple sprouting broccoli is now widely available, it still keeps an artisan charm due to its vibrant colours, rustic appearance and nutty flavour. It feels special to eat; more textured than standard broccoli whilst adding an instant burst of colour to any dish. Purple sprouting broccoli doesn't look out of place served on minimalist plates in a restaurant, nor is it out of place served in the middle of the family table.
When buying, palpate the stems to ensure they are firm (bendy broccoli never ends well). Look for dark green leaves and a vibrant purple tip. Purple sprouting broccoli is available all year round, but the flavour is more pronounced from January until May. Just like any vegetable, don't leave it lurking around in the fridge for a week, enjoy the unique flavour whilst it is still fresh.
To prepare, simply remove the thicker tough stem but leave the inner stems intact, as these are edible and delicious. No need to remove the leaves, they contain lots of flavour and look luscious when cooked. For simplicity, you can steam it for a few minutes until tender. My favourite way of eating purple sprouting broccoli is stir-fried with black kale, sugarsnap peas, toasted nuts, chilli flakes and lime juice. The natural bite of the vegetable withstands the hot cooking process and the earthy, nutty flavour holds up to the chilli and lime juice. Serve as a side dish, or with rice noodles for a ten-minute dinner.
Purple sprouting broccoli with charred black kale and toasted nuts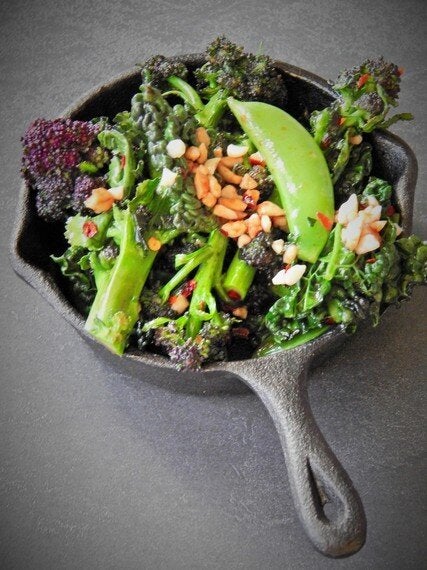 8 stems of purple sprouting broccoli
Generous handful of black kale (calvoro nero)
Handful of sugar snap peas
1 tbsp chopped peanuts and almonds
1 tbsp fresh coriander leaves, chopped roughly
Juice of 1/2 unwaxed lime
1. Heat the sunflower oil in a wok over a high heat until hot
2. Toss in the purple sprouting broccoli and black kale and stir- fry for 2-3 minutes. Add in the sugar snap peas, chopped nuts and chilli flakes and stir-fry for a further minute.
3. Reduce the heat to medium and pour over the soy sauce . Allow to reduce down for 2 minutes.
4. Remove from the heat and stir through the chopped coriander leaves and lime juice. Season with sea salt to taste.