While excitedly trying to squeeze half of all my worldly belongings into a rucksack the night before for Latitude, I remembered my old 'packing light' trick (honed after many years of flying Ryanair). It's simple - pack, then take half of everything you have packed out and leave it behind. I do the same with my make-up bag. Here's what made the cut:
Facial wipes: As they are probably the only things you will be washing your face with all weekend, I like to go a little upmarket with Elemis Make-up Away Cleansing Wipes. For *ahem* all other body parts, only the cheapest will do. Boots Essentials Cucumber Wipes are the ticket.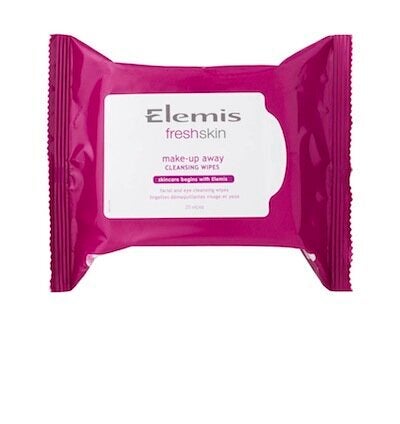 Dry Shampoo: Batiste is the best seller, but honestly, I don't notice much difference between any of them. The one in my bag is Klorane Oat Milk Dry Shampoo for Frequent Use.
Glitter: Festivals are about the only time it's acceptable for women over 17 to wear glitter so why not. Go bananas and apply it all over the eyelid - just don't be mad at me if it all goes a bit Avril Lavigne meets Alice Cooper at 3am. I like to layer a coat of Bobbi Brown Sparkle Eye Shadow in Black Velvet over black eyeliner instead and pretend I'm in a band.
Suncream: I fry like a piece of bacon but have never been sun burnt since using Piz Buin Tan Intensifier Lotion SPF30. Bible.
Mulitaskers: A man who is willing to put up your tent, carry your rucksack and fetch you ice is the ultimate festival multitasker, but in the piercing of absence of that, Bourjois Cream Blush in 01 or 03 go beautifully on cheeks and lips. Korres Lip Butter Stick Spf15 in Peach also saves space on packing lippy. I think I may have hinted that I like black eyeliner and lots of it, but for festivals Superdrug B. Smokey Kohl eyeliner is the job. A blendable pencil at one end, and a smudger thingie at the other, because let's face it, no one can pull off a perfect cat's eye flick with a two day hangover and the shakes.
A mirror: Make sure one of your compacts has a mirror for tent touch ups (that sounds filthier than I intended).
Facial spritz: If like me, you tend to abstain from showering for the duration of your stay at a festival and instead choose to practice the ancient ritual of the bird bath (a quick splash under the armpits) then the cooling mist of thermal spring water might be all the refreshment you get (unless you count cider...and I do). I love Eau Thermale Avene. It comes in a mini size, helps to set or refresh make-up, cools you down, is brilliant on bites and stings and makes a hangover in a sticky tent more bearable.
Eye drops: Honestly - such sweet relief in the morning when your eyeballs feel like they have been sandpapered. Thank me, or sweet baby Jesus later.
Minis: I'm a big fan of Dermalogica's Normal/Dry Skin Kit. It contains a travel sized cleansing gel, toner, skin smoothing cream, exfoliant and eye cream.
Condoms: Not really a 'beauty product', but still an essential. Seriously though, who says I'm not optimistic?
As for the non-essentials - people who pack hand santisers were clearly not hugged enough as children. And as for anything labour intensive like false eyelashes, why bother? They are finicky enough to put on with a steady hand and a magnifying mirror, but near impossible to get right in a tent or Portaloo.
The same goes for real shampoo, unless you are one of those people who HAS to wash their hair every day (i.e. uptight) then I say a good blow dry on the day you leave should last you the 3/4 days with the aid of dry shampoo, so embrace your inner hippy, save yourself queuing for the showers and then have the best damn bath of your life when you get hone.