The annual European festival of kitsch is back, with 42 countries competing for the Grand Prix in two semi-finals and a grand final, taking place this week in Ukraine's capital, Kiev.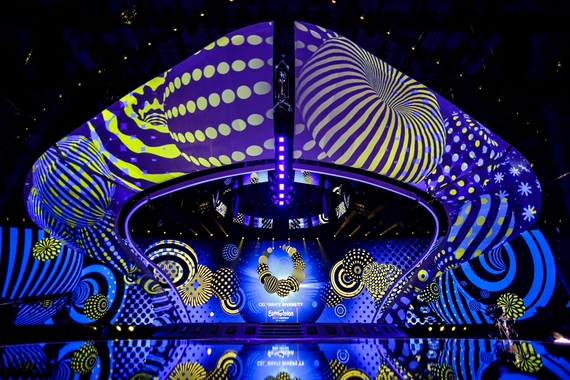 This year's Eurovision stage
Politics as usual
This year's contest has been notable for the proxy propaganda war being fought between Russia and Ukraine (far less serious than the actual hostilities that continue to percolate on Ukraine's eastern front but newsworthy nonetheless). Russia chose an artist, the singer Yulia Samoylova, and a dreary ballad called Flame is Burning. Wheelchair-bound after a childhood illness, choosing Yulia was seemingly a nod to the theme of this year's contest - "Celebrate Diversity". Cynics viewed it as a ploy to lessen any boos or anti-Russian sentiment on stage. In any event, Yulia was not granted a Ukrainian visa, having previously performed in the Russian-annexed Crimea. Despite protestations by Eurovision's governing body, the EBU, Ukraine refused to budge and Russia will not take part this year. The EBU, as an apolitical organisation, feels used. Ukraine may have scored something of a pyrrhic victory if its actions this year lead to future actions against it (by Russia or the EBU). Russia however may be breathing a sigh of relief in not having to attend the contest. After its entry won the public vote last year, it was nonetheless beaten to first place by Ukraine's anti-Stalinist anthem by the jury vote. Face-saving all round perhaps, but Eurovision's claim and desire to remain apolitical remains sorely tested.
But it's a song contest, right?
Apparently so. Though this year, you may be forgiven for thinking that all Europe can churn out is butter mountains and middle-of-the-road ballads. As usual though, there are some good songs and the promise of enough ridiculous moments to keep the contest deliciously watchable.
Ballad days
There are an unusually large number of ballads this year. Some are great - but after an assault of 26 songs in just over two hours - you'd be forgiven for not remembering many of them.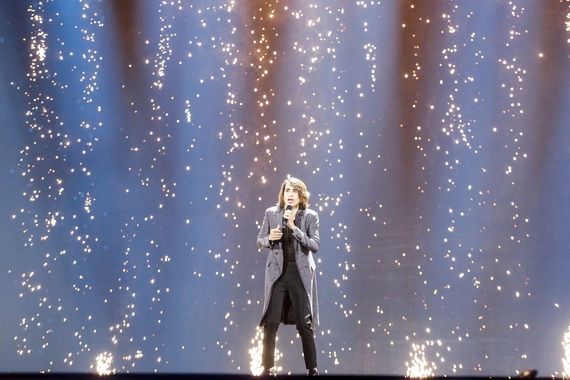 Australia is back again with singer Isaiah
Finland'sBlackbird is a superlative number; slow but emotional. Australia - seemingly now a regular competitor pending the imminent creation of the Asiavision contest - continues its celebration of diversity with indigineous star Isaiah Firebrace singing a powerful and heartfelt lovesong. Portugal's singer has been too ill to rehearse for the contest; he needs a heart transplant before the end of the year. His gentle Amar Pelos Dois has a cult following - whether he will connect with a Europe-wide audience remains to be seen. With a music video replete with Mediterranean drama is Maltese diva Claudia Faniello with the beautiful ballad Breathlessly. I've had it on repeat (though I can't see her making the final). A truly great ballad is the Bulgarian entry, Beautiful Mess, sung by the androgynous young Kristian Kostov.
There are still yodellers, gypsies and men with plaits down to their waists, right?
Yep! How did you guess? Not only that, Estonia have a whopping 80s power ballad about getting lost in Verona like Romeo and Juliet, having a reckless love that turns to drama because of "Western" types of men and women. I personally like Romania's yodel-rap and Hungary's Romani-inspired paean to hope in the face of ethnic discrimination. (Please re-read the last two sentences: honestly, you couldn't make this stuff up.)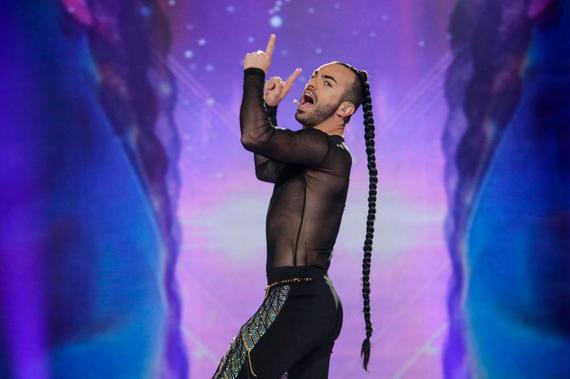 Slavko Kalezić serving Montenegran realness. Only at Eurovision.
Anything I might actually buy?
Let's face it, nobody - neither record producers nor the record-buying public - is watching Eurovision looking for a global star. The days of global successes like ABBA and Céline Dion launching their careers from Eurovision seems long gone, though that's not to diminish the great exposure for a winner if they're able to capitalise on the success.
Worth checking out though are the videos for Belgium and FYR Macedonia. France'sRequiem manages to be peppy, modern and French at the same time. Sweden's "I Can't Go On" is slick Scandi-pop. Azerbaijan's powerful "Skeletons" is a decent track too.
Tips for the Top
The standout entry this year is Italy's Francesco Gabbani with "Occidentali's Karma" - a catchy ditty with a clever message about how intelligence has become so unfashionable in the selfie-obsessed West whilst the corresponding uptake of some watered-down version of Eastern mysticism may lead to man devolving back to his simian roots. For those not interested in contemporary philosophy, there's a dancing ape, a silly dance and lots of shouted "Namastés!" and "Alés!".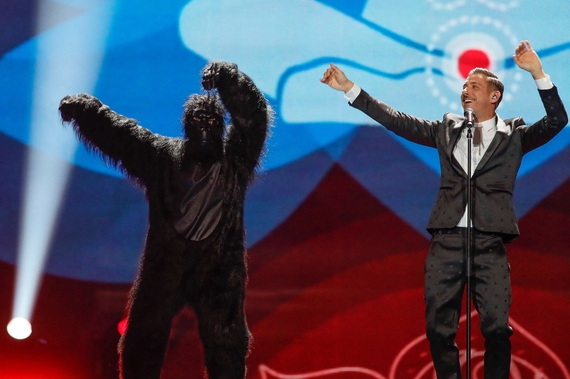 Italy's Francesco Gabbani (R) and dancing ape (L)
I can't see anyone but Italy walking it this year - though I think we all know now not to trust pundits when it comes to predicting voting results.
Bulgaria, Sweden, Azerbaijan and Armenia should trouble the top 5. France should make the top 10 and I'd be surprised if Romania, Finland, Portugal, Poland and Australia weren't also highly placed.
What about us?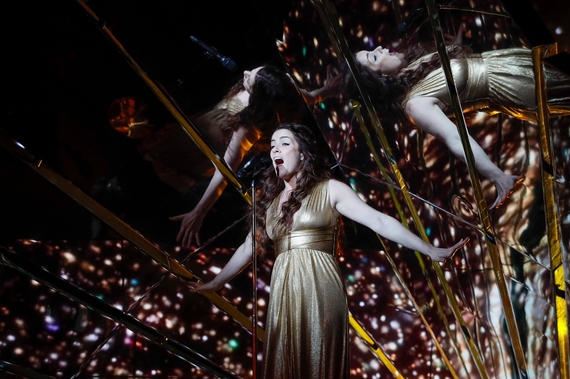 Lucie Jones representing the UK
As for the UK, we've probably got our best chance for years in Lucie Jones. She can sing; the staging is beautiful and it's a haunting ballad. Sadly, it may get lost in amongst all the other ballads but we should steer clear of the bottom of the table, though in our first contest post-Brexit, politics may well prevent that. As an aside, you can almost hear Nick Clegg singing its lyrics as a pro-Remain prayer:
"I don't care what I've got to lose

Just give me your hand and hold on

Together we'll dance through this storm

I will never give up on EU*

You're the one that I'm running to

"
*you in the original - but try un-hearing that in the performance now!
In the UK, the Eurovision Song Contest is broadcast on BBC Four on Tuesday 9th and Thursday 11th May 2017 at 8pm and on BBC One on Saturday 13th at 8pm and on eurovision.tv
Pictures courtesy EBU: Andres Putting and Thomas Hanses