I was reading through the morning papers when the office rang: "Kate is in Labour. Can you make your way down to the Lindo Wing as soon as possible?"
It's the call I had been waiting almost a month for. My baby bag was packed and had been cluttering up the hall since the start of July. It was crammed with everything I could possibly need for an open ended job. I had been in labour for three days with my son so I was prepared for a long wait...
Notes, autocue, make-up, iPad, chargers, changes of clothing, wet weather gear, sun screen, comfy shoes, biscuits, canned drinks everything I could possibly think of for this type of assignment. What an assignment it turned out to be. Thirty hours of broadcasting on just a couple of hours sleep. It was a marathon stint but worth every challenging second to have a front row seat on a moment in history.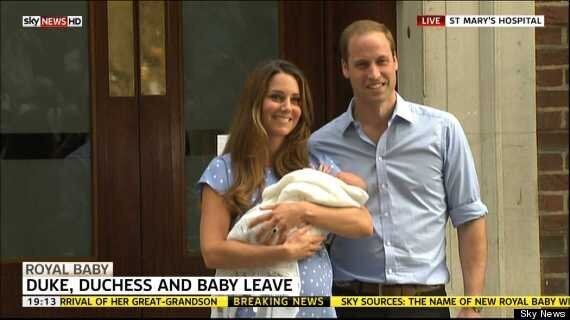 Having presented more live television than most, I'm used to ad-libbing for as long as necessary. Generally though I do have a few more facts to work with than on this story. All we knew for certain was that the Duchess was at the hospital with William and that she was in established labour.
Arriving at the Lindo Wing at 8.30am on Monday, I was live from 9am. The press pen quickly filling up as reporters, producers, photographers and cameramen from around the world rushed to the scene.
The atmosphere was crackling with excitement. After weeks of endless waiting, today was the day the third in line to the throne would be born. Or would they? How would we find out the news? When would the royal couple leave with their new baby? What names might they consider? Who would visit? The Queen perhaps?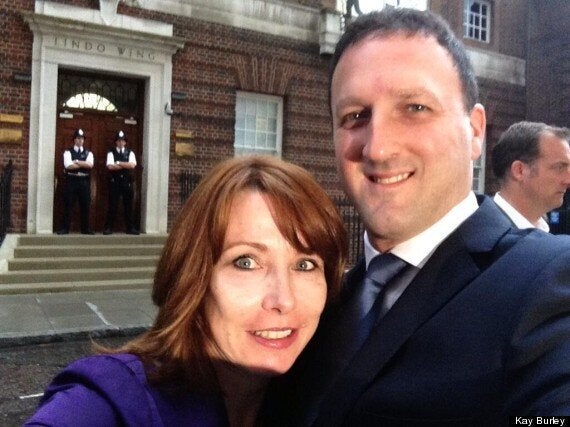 After the first frisson of excitement and with no news at all, my endless preparation and notes came into play. Sky's royal correspondent Paul Harrison hardly ever left my side (this is a selfie we took on day two of the great Kate wait) Together we informed our viewers around the world of what was likely to happen. How we would receive the news etc, etc etc.
We also took the opportunity to chat to the crowds gathered outside the hospital. Some hardened royalists had been there for weeks waiting for a first glimpse of the future king (or queen) and were keen to chat.
I'm sure many of you will have seen the tourist who thought it would be hilarious to suggest the royal baby was black. One of the challenges of live TV means you never know what the public might say. I scanned the crowd for others who wanted to offer their thoughts and moved on to them.
It was at the end of the first day of sweltering 34ºC heat that the news came. It's a boy. The crowd and the press outside the Lindo Wing went wild.
We watched as the announcement was rushed from the hospital and driven by royal courier to Buckingham Palace to be placed on an easel in the forecourt. An easel last used when William was born. Facts that kept us ad-libbing for another couple of hours until it became clear the royal couple would be staying in hospital overnight. Time to head home for a couple of hours sleep.
By the second day the world was desperate for an image of the future king. When we were told through palace aides that there would be no baby photocall until at least 6pm or maybe even the following day, Paul and I regrouped and began discussing for our viewers whether we could expect visitors. If so, who, when, how?
The Middletons arrived first in a black cab and stayed for an hour throwing a few words to a hungry media as they left. When the police presence increased it was obvious we were expecting royal visitors. Another fact that kept us ad-libbing for a couple of hours.
After two very long days one of the highlights for me was when Charles and Camilla arrived. HRH pointed towards me in the mass of media and said "you've had a long wait." It must have been my much-talked about orange blouses that made me stand out in the press pen.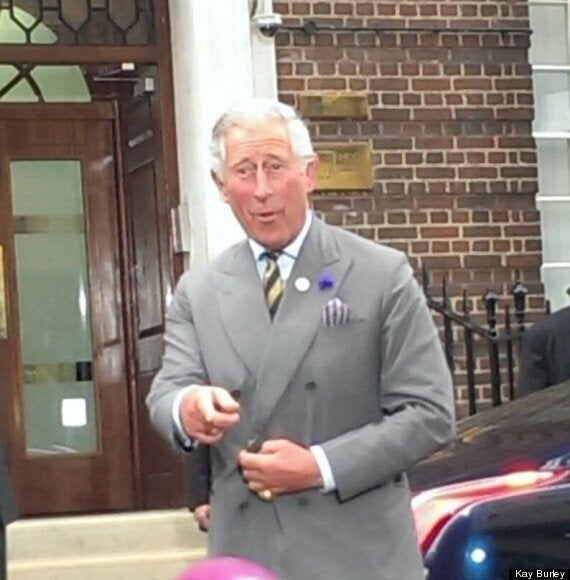 When Charles came out just a few minutes later and told us the moment we had all been waiting for was about to happen the press pen went wild. This was it.
We had a longstanding agreement with the press photographers that we would move out of their way. They wanted the money shot just as much as we did and we immediately ducked out of the way. I found myself sat in a puddle from the earlier rains. Oh, the glamour of TV broadcasting.
Even worse, it turned out to be a royal minute and Paul and I ad-libbed for well over an hour as we awaited the moment. Our cameraman's lens trained on the door, our helicopter hovering overhead.
Finally after more than 36 hours inside they emerged to be greeted by a wall of flash photography. The little prince stretching out his hands in what I will always describe as his first royal wave!
I had a ringside seat for that moment in history. Without question, its the best job in the world.
Related