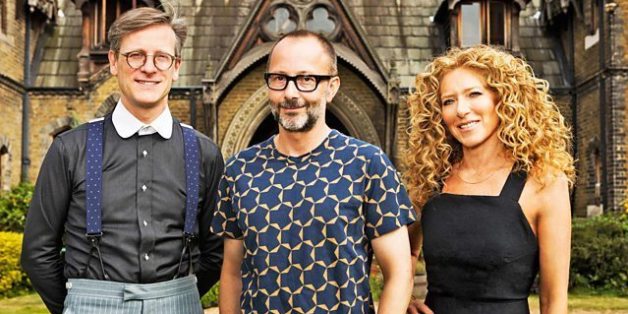 BBC
Being a judge on Great Interior Design Challenge was such a fun experience. So to see it all come to life on TV is the perfect start to the new year.
For those of you unfamiliar with the format, let me explain a little... Each episode, amateur designers are challenged to transform rooms following a brief from the homeowners. They have £1,000 and two days to get creative - winners go through to the next round.
It's so amazing to see how brave the amateur designers have been. Not only are they boldly going on the show to try out their interior passion, but they also have the cameras watching their every move, while they meet the home owners for the first time.
Interestingly, the contestants have never seen the rooms they intend to redesign (which is completely different than the norm). Within a short period of time and very little money, these interior buffs manage to completely transform spaces into modern liveable rooms.
To add to their stress, Dan Hopwood (director at the British Institute of Interior Design) and I are breathing down their necks.
We're loaded with questions but forbidden to give the contestants any advice, which was torture for me as I wanted each and every one to succeed so much.
I think one of the biggest learnings for the amateur designers is that they needed to learn quickly to edit people's wants. It's hard when you're new to the game. It certainly takes bundles of courage and knowledge to do this...I mean, you can't have everything in one room. No, No, No!
So here's a big hooray to all of the wonderful contestants - whether they've got through to the end or not - a massive congratulations for getting this far.
Can't wait for this week, when things heat up big time... and can I just say a huge heartfelt 'Thank You' for watching the show this far.
Tune in this week to BBC Two at 8pm on Tuesday, Wednesday and Thursday, and if you've miss last week's episodes. Pop onto BBCiPlayer to catch up.
Love Kelly
xx