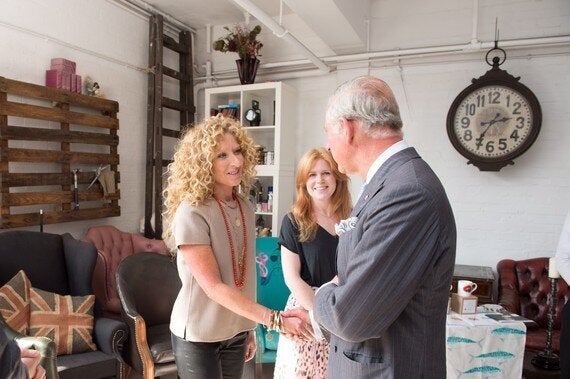 I had the absolute pleasure to spend the afternoon recently with The Prince's Trust and HRH The Prince of Wales visiting some amazing young designers being supported by The Prince's Trust.
It never ceases to amaze me how much passion and drive these young entrepreneurs have in relation to their business and they are so incredibly talented. I always walk away feeling truly inspired and lucky to have met them and be part of such an incredible charity.
These young people work so hard and realise that it's hard work that is required for their brands to succeed. Their utmost belief in themselves, their ability to think outside the box and that they are not afraid to take risks is massively inspiring to me. Their talent and determination is unfathomable and their minds are spinning so fast that I wonder how they keep up with themselves.
The Prince's Trust sees the potential in them and help support them see their business dreams become a reality. They provide training programmes, mentoring support and financial grants, all with the aim to build their confidence and motivation. The help they receive from the Prince's Trust is truly valuable and I am honoured to be an ambassador for them.
With London Fashion Week and the London Design Festival now in full swing, it's wonderful to see creativity being embraced which must be so inspiring for up and coming new designers. The London Design Festival is a fantastic platform where designers can showcase their work and get their brand out in the public arena. With so many aspiring designers and competition it's fantastic that they have these kind of platforms as well as the powerful tool that is social media, where they can reach a far bigger audience than ever before.
One of the things I encourage anyone in any type of business is to find yourself a mentor to help support and encourage you through the difficult times, and the good times too! Talking about what you are going through, what your goals and aspirations are and what you feel are your downfalls, with someone who has been through everything too is of huge importance to anyone trying to run their own business or break into an industry. Sharing with someone who has the experience and wisdom to help guide you through is really key to being successful. This is something I really enjoy with the companies I invest in on Dragons Den, it's really satisfying to see how your advice and experience can be sewn into someone's lives and business and watch them grow.
My mentor was and still is my Mother. Being a creative and a business woman herself there is nothing I haven't learnt from her along the way and although I have always believed in myself, my designs and what I do, being guided by her and her experience and practical skills have been invaluable to me. This is why I support The Princes Trust because they believe in and encourage mentoring, as well as offering lots of practical support and brand new experiences too.
Popular in the Community