I was diagnosed with breast cancer in September 2013, three days before my 40th party birthday. My partner, Roel, urged me to see my GP after finding a lump in my left breast. Seventeen days later, I found myself at the breast clinic. I went on my own, I didn't know what to expect. I thought it was just an appointment to see another doctor and they would refer me for further tests if needed. I had no idea it was a one-stop clinic. I had mammograms, ultrasounds and many biopsies. I think I was in denial at this stage, even when I was introduced to my breast care nurse, Sue.
Ten days later, I had Roel with me for the results. I don't actually remember what was said. I had two grade three tumours and needed a mastectomy the following week. There was no choice. Heading to theatre is the most horrible memory I have. I was sobbing the whole time they wheeled me in, Roel had to leave my side and there was a delay taking me into theatre so I was left crying on my own in pre-op.
Thankfully the operation went well and by the next morning I was dressed and keen to get home, the hospital agreed and let me go later that day.
Fourteen days later, I was back running and 19 days post-op I was back on the mountain bike. Normality for me!
The whole process of diagnosis, treatment, chemo, radiotherapy is physically, mentally and emotionally horrendous. I never for one moment thought, "Why me?" Why not me? My main support came from my amazing partner, Roel. We've been together for 15 years but this experience pushes even a good relationship to the brink. There were times I thought we weren't going to make it.
My parents live close by so helped with food parcels and supported me. Amongst my friends, I had support from six women who I run with and also from a gang of mountain bikers with whom Roel and I ride every week, come rain or shine. I continued to run and bike throughout treatment, chemo and radiotherapy but I got slower and slower. My friends boosted my morale, lifted my bike over obstacles and generally looked after me.
Outside of friends and family, I used the services of Breast Cancer Care. It was valuable to have another outlet for worries and questions without burdening those close to you even more. I attended a Younger Women Together event in Nottingham just after finishing treatment. It was a two day event with other ladies diagnosed who were under the age of 45. It was fantastic, so much support and positive information to help you make sense of things when nothing made sense anymore.
Just when you are starting to feel more on an even keel, the question of reconstruction appears. I was not offered immediate reconstruction so was living unilaterally flat-chested and using prosthetic implants in my bra. I was in tears after my reconstruction appointment. The realisation was that as a young, active woman, there was no technique that I was suitable for (e.g. not enough fat on my abdomen to create a mound) or that would suit my active lifestyle. I've ice-climbed in Norway, I've run 100 miles off-road and I've cycled 1,000 miles down Italy - but any surgery would potentially have an impact on my ability to continue in the activities that I love and shared with friends.
How could I put myself through 12 hours of surgery, long recovery times, potential complications and not be able to do everything that I enjoyed at the end of it? Would that really be worth it just to have a lump of flesh on my chest which would never be a replacement breast? No. This took me a while to come to terms with but I needed something constructive to happen as I hated looking at my scar. I'd even cover myself up in front of Roel so he couldn't see it either.
I came up with the idea of a tattoo after seeing internet pictures but it took me some time to decide on a design. An Iris. My paternal grandma was called Iris, she also had breast cancer at around my age and survived into her 80's. After much research, I found a tattoo artist called Anna. Her beautiful design, incorporating irises and other details to sit on my chest in a natural curve to mimic the female shape, was perfect.
A few weeks later I was booked in for the tattoo. I absolutely love it! It has elevated my self-esteem more than I could ever have predicted. Now, when I look down, I see a beautiful piece of art rather than a scar. It was a very positive experience and has certainly helped me feel like I'm moving forward.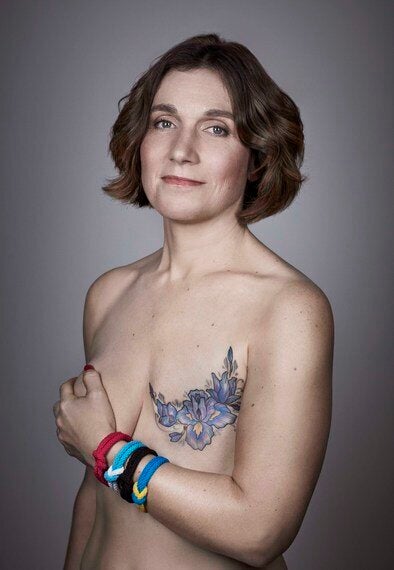 What happens now? You try and look to the future. I still find it hard to plan too far and I still have a black fear that my cancer will return but you can't live like that either. So I fill my time with running, biking (work in there somewhere too!), appreciating friends, family, time and the little things. I'm training for a 100km run so that will keep me out of mischief for a while!
Wear a Unity Band on World Cancer Day, 4 February 2016, and be a part of the generation that transforms the lives of millions who are affected by cancer. Specially designed Unity Bands are available now from Cancer Research UK, the Movember Foundation, Anthony Nolan and Breast Cancer Care for a suggested donation of £2. Find out more at www.worldcancerday.co.uk