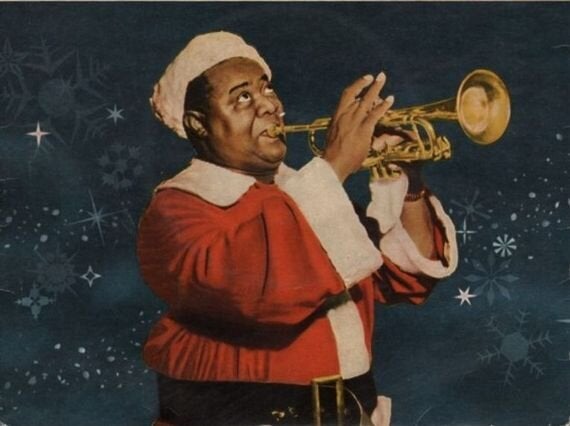 Image Credit: Brunswick Records
Christmas music gets such bad press and unfairly so given that most people have only dipped their toes into about 1% of what is available. So in an attempt to redress the balance here is a list of 10 Christmas songs that you probably have never heard before but will soon be occupying your annual playlist of cherished favourites. For the most part these songs are from artists you should already know but have been so poorly circulated it's a wonder that their tiny beating hearts haven't given up the ghost years ago.
James Brown - Santa Claus Is Definitely Here To Stay
You might be surprised to learn how genuinely taken the soul man was with the season. So much so that he recorded three full length Christmas albums with this one taken from 1970's Hey America. A strange name for a Christmas album but did you ever think you'd hear Brown in such restrained form? Suits him well too and gives the cool brass parts plenty of space and time to work their magic.
Frank Sinatra / Bing Crosby / Fred Waring - We Wish You The Merriest
Given the constituents involved and the way they go at it with happy festive socks it is a plain and simple mystery why We Wish You The Merriest isn't belting out of every store come Christmas time. Unfortunately it has been forgotten and that may be partly down to the fact that it was tucked away on a 1964 album called 12 Songs of Christmas which was somewhat overshadowed by other releases by the gents involved. The time for its re-emergence begins now.
Ray Conniff - Christmas Bride
Ray Conniff was a bandleader extraordinaire with a love for the sounds of Christmas and in 1959 he recorded an album called Christmas With Conniff containing this most precious of songs. With the Ray Conniff Singers in full flow the festive love story expels enough emotion in less than three minutes to power the whole 12 days with happiness and light. A genuine lost classic.
Ella Fitzgerald - Good Morning Blues
If anyone was capable of giving us a swinging Christmas it was Ella Fitzgerald. And her 1960 Christmas album was packed full of classy numbers that could give Christmas music a good name all by itself. A standout was her rendition of Count Basie's Good Morning Blues, a jazz number par excellence designed to kick-start any festive gathering.
Dennis Wilson - Morning Christmas
While Morning Christmas is often attributed to the Beach Boys it was actually the work of just one Wilson brother. Dennis needed space from his quarrelling brothers and locked himself away in a studio to craft this gentle delight. Shorn of most of Beach Boys signature sounds Morning Christmas is spoken in hushed tones in music circles but has yet to break into the affections of the mainstream.
Louis Armstrong - Christmas Night In Harlem
With Benny Carter pulling the orchestral strings Louis Armstrong recorded Christmas Night In Harlem in 1954 and in the process added another piece of cool yule to his bulging festive catalogue. For the most part Pops is struttin' and smiling just as much as the gals and their beaus that he sings about.
Brenda Lee - Christmas Will Be Just Another Lonely Day
Forgotten amongst the unbridled fanfare that was her biggest hit Rockin' Around The Christmas Tree is a scattering of Christmas gems from Brenda Lee that are equally as impressive. Her voice had matured by the time Christmas Will Be Just Another Lonely Day arrived in 1964 but she remained her flamboyant self amongst the dramatic orchestral playing.
Aretha Franklin - Kissin' By The Misletoe
This is one of Aretha's earliest recordings and has such a happy disposition you might not even notice how much it sounds like Winter Wonderland. Released in 1961 on a compilation called An All-Star Christmas few would have guessed that it would be a full 47 years later before Aretha would release her first Christmas album!
Perry Como - Christmas Eve
Along with Bing Crosby and Andy Williams Perry Como is rightly regarded as one of the true voices of Christmas. His The Perry Como Christmas Album featured the Ray Charles Singers on backing vocals with the master crooner extolling the magic of Christmas Eve while an orchestra played sumptuously in the background. This is so good you are free to tear up because that's exactly what great Christmas music is meant to do.
Burl Ives - The Seven Joys Of Mary
What is often forgotten about Grandfather Christmas Burl Ives was what an impressive folk singer he was in his own right. Much of his huge catalogue of Christmas songs are forgotten given the impact his big hit A Holly Jolly Christmas has had but this religious tune taken from his first Christmas album Christmas Day In The Morning is a staggering illustration of his talent. Who'd have thought that an artist like Nick Drake could have been influenced by Ives but on the evidence of The Seven Joys of Mary it is quite clear that he was.
Kevin Hugger is chief writer for YulePlay, a website dedicated to Christmas music.