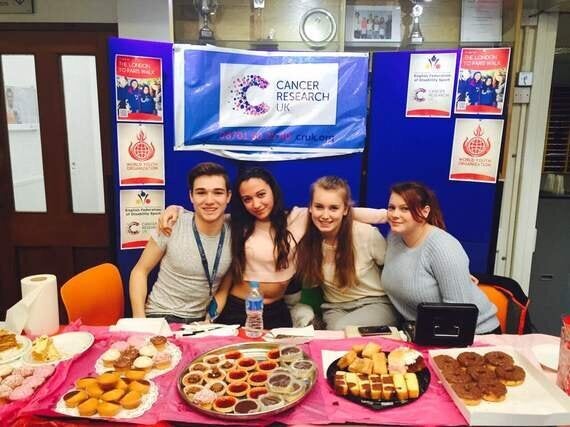 Left to right: Kieran Goodwin, Jaylan Ashton, Molly Lindsay and Lucy Jewell
In preparations for the London to Paris Walk which is starting on the 28 March 2015, students at Palmers College in Grays put together a bake sale to raise money for the 200 mile walk.
The London to Paris Walk team is a group of 4 teenagers from Essex, United Kingdom. They plan to walk from Croydon in London all the way to the finishing mark of which is the Eiffel Tower. An 8 day stretch of marathon walking day by day to raise money for Cancer Research UK and The English Federation of Disability Sport.
Newly formed Student Executive at Palmers College stepped in to help the team raise the money they needed to complete the walk. Student Executive includes Molly Lindsay, Michael Webster, Lucy Jewell, Jaylan Ashton, Nikki Akhtar, Nico Pike, Ashleigh Yetman, Sophie Cackett and Kieran Goodwin. Palmers Student Executive is a group of dedicated students who represent all students, raise awareness of key issues, fundraise for local and national charities, promote inclusion and tolerance, showcase students talents, organise social events in response to interests of students, support student clubs and events, act as a link between the student body and members of staff as leaner voice.
Here is what a few of the executive say about the group and it's aims within the college:
''I like being in the student exec because it's a good way to interact with lots of different people, also I particularly enjoy working with a group of people I consider my good friends to raise money for great causes''
Lucy Jewell, Learner Voice Representative
''I think Student Executive is good because it's a good way of making new friends, I wanted to be able to make a change. I like that everyone is so understanding and gives everyone a chance and we all come to the same conclusion, and I love the fact we can raise money for charity whilst having loads of fun!''
Michael Webster, Team Leader
''I enjoy being a member of the Student Executive because I have made lots of new friends who I probably would have never of spoken to if it wasn't for Student Executive. I have not been a member for long but have already had amazing opportunities such as Bowles. Many of the tasks at Bowles are also challenging such as when I had a mental breakdown and started crying halfway up the rocks because I was both scared and stressed but everyone on the team was very supportive and helped me to make it to the top which has only made me feel much closer to them. I'm looking forward to future charity events and opportunities with Student Executive. It's nice to feel like I am a part of something''
Sophie Cackett, Tutor Quiz Coordinator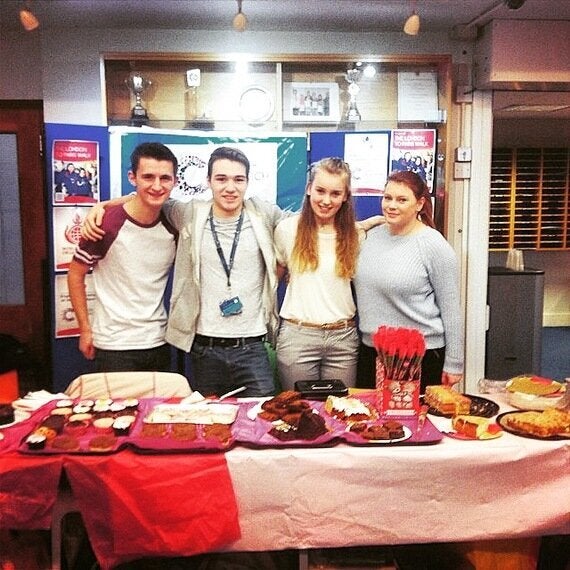 Left to right: Michael Webster, Kieran Goodwin, Molly Lindsay and Lucy Jewell
Nikki who is also part of the Student Executive says ''Which we showed today with the bake sale in supporting Kieran with the London to Paris Walk, we always look out for each other when we need help or support''
The World Youth Organization said that 'It's great to see the support and generosity given towards this charity fundraiser. We hope to see more of this from other teenagers across the world creating a positive image of teenagers''