I always knew that going on holiday with my good friend Linn would be an absolute blast. We like the same things and have the same weird sense of humour. I have always been a very visual person; I love scenery and usually snap everything in sight. Being blind, Linn experiences things in a different way and as a writer has an amazing way of describing what she is experiencing.
With this in mind, we decided to go on a mini-break to Llandudno Wales, a sensory adventure where we could snap and chat as we went...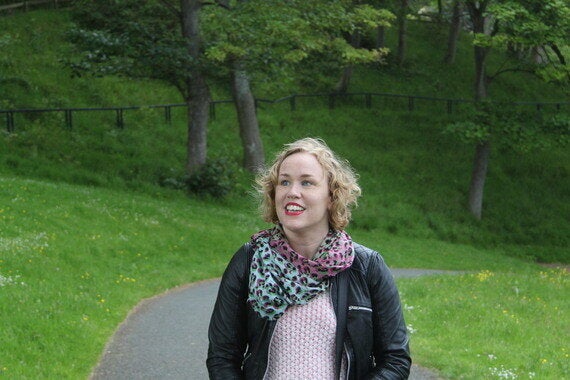 As we step out from the station in Llandudno I can see for miles, which is the first real shock to my system. Living in London means being surrounded by tall buildings (most of the time), especially at ground level. Llandudno is green, really green. Linn on the other hand notices the fresh air first and the fact that Llandudno is completely quiet. In fact, apart from a few seagulls the place feels almost deserted.
Our first day is a bit of a wash out (literally), our plan to ride the famous tram and cable car comes to nothing, as we are told that the cable car is cancelled due to a storm heading its way towards us. We are not surprised - given the clouds overhead. This said, the threat of rain takes nothing away from the wonderfully fresh air and the blissful serenity of Llandudno - something we both agree on.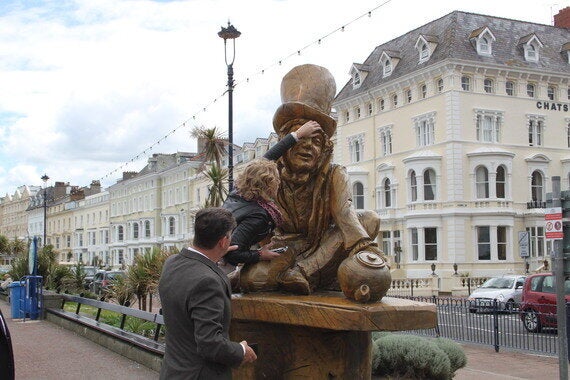 Being a writer, Linn is truly passionate about literature. So, when I suggest we visit an Alice in Wonderland tour it's right up her street. Llandudno was the holiday destination of the real Alice - Alice Liddell. Alice was the inspiration for Lewis Carroll's Alice in Wonderland books, hence the many references to the book and characters throughout the town.
Having read a recent article about the tour and a brand new app which can be downloaded with it, it seemed like a great idea. We had heard that the app would add both visual and audio elements to the tour, so would appeal to the both of us. Unfortunately, it was only on arrival that we realised the app would not be available until the end of the month!
Thankfully, the people responsible for the 3D 'Alice Origins' app, Simon Burrows and Barry Mortlock were local and on hearing we were in town, agreed to take us around the key points of the tour. Score!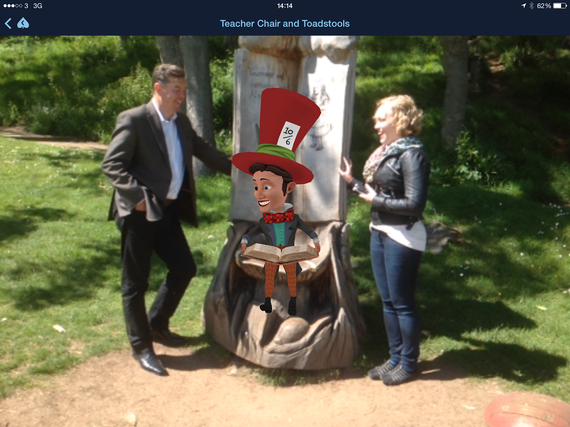 The 3D 'Alice Origins' app can be downloaded onto a smart phone or iPad and combines GPS positioning, augmented reality and digital animation. Tourists can swipe quick response (QR) codes with their devices to make characters from the novel appear in 3D in front of them.
Whilst Linn listened to the app's audio and used touch to 'see' the sculptures, I happily snapped away and used my ipad to take photos of Linn next to a digitally animated Mad Hatter. In fact, the most surreal thing about the app is that it provides photo opportunities, so people can have their picture taken with the Mad Hatter, March Hare, Alice or even the elusive White Rabbit!
The tour is a real tourist attraction in Llandudno and brought out the child in both of us - especially with the app adding character voices and digital images along the way. For fans of Alice Wonderland or those who want a real sensory experience, I would say a visit to Llandudno and the Alice in Wonderland tour is an absolute must - just don't count on perfect weather.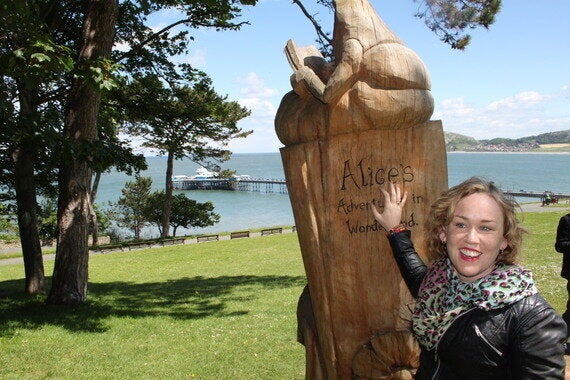 All photography by Kiesha Meikle.
Related