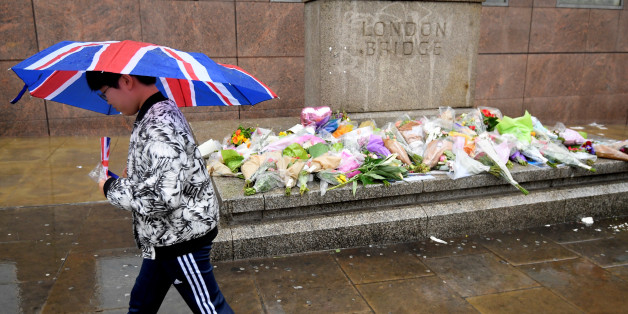 Toby Melville / Reuters
"Mum, I'm ok. Turn on the news... There's been a terror attack outside our bar, but I'm ok, I'm hiding, I'm ok."
I was sitting underneath a thick marble table in a bar saying something I never thought I'd need to say. And, something no parent wants to hear.
It was a great night up until 10:02pm. My best friend from Edinburgh was down and we were warming up for a night in The Shard at London Bridge. The rain had forced us into the closest pub outside London Bridge Underground Station. Packed. We moved 10 meters further down to the closest pub, on London Bridge. Perfect. "Gin and tonic please."
Shock. The sheer panic in the man's face next to our table said it all. Something bad had happened outside our bar window. We quickly turned round to see a man jump off the wall outside the bar. Odd. After he'd jumped down, a woman lying on the road was revealed. Was she drunk? Was there a fight? Did a car accidently run her over?
A small crowd quickly gathered. 999. Help. Through the crowd I could see another body on the road. Something wasn't right - car accidents don't happen like that.
The services arrive to help the woman on the road, 10:06pm. CPR. Not looking good.
The bar staff continued to serve..."here's your bill".
"Here's your jacket darling"... people left the restaurant, onto London Bridge - down towards Borough Market.
10:07pm. Twitter. Possible van attack. Confusion. "What do we do? Where should we go?" "Look, look over there, the crashed van."
Screams as someone runs towards our bar. "Is the door shut? Is it the police or a terrorist?... Is this it?". Call home.
"Close the door, close the door." 10:11pm. We ran into the kitchen and I looked for the back exit. Found it. "Where's my friend?". Got him. "Get down under the table, faster, if they've a gun or a bomb we can lift this up over us". It feels like forever.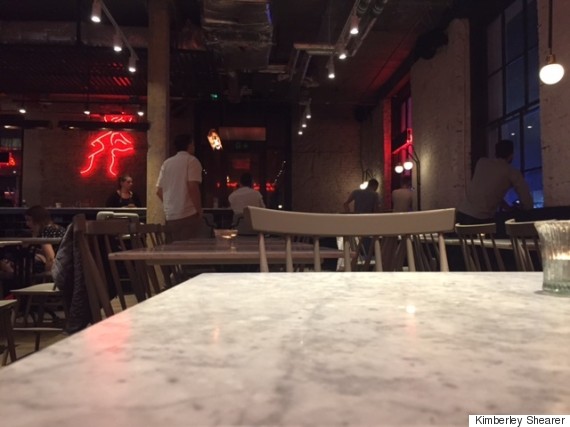 10:16. Bang. Bang. Bang. Silence.
"Was that the police or the terrorists shooting? Quick, check Twitter."
Evacuate. "Move, move, move, run left over London Bridge, move!".
Running past the carnage, the debris, and the stains of where the lady had died. "Is it over? Are the terrorists dead?". "Don't know, just keep running".
Home. Shock. Lucky. Sad, so sad.
We were lucky, so many others weren't and so many others witnessed far, far worse than us. So, with such an easy attack to carry out, is it a question of when rather than if it will happen again. I hope it's not the latter, but I and the public know the answer.
There is one simple change that I believe could be made to help save lives. It absolutely could have saved lives and the volume of injuries at London Bridge that Saturday evening. Quite simply, more information. A warning.
Emergency services were on the scene within minutes, which was incredible, but, people continued to leave the underground, leave bars, and walk towards Borough Market. Right into the terrorists path.
Nobody knew initially what was going on. The emergency services were on the scene very quickly, but everyone was immune to the sirens and thought it was a road accident. Bars kept their doors open and people continued to walk into the attack.
We didn't know how many terrorists there were or what weapons they had or where they were going. They ran the streets for almost 10 minutes. What would have happened if it had been 15, 20 or 30 minutes? There was panic and confusion. Nobody knew how to react.
If a different siren had been used on the emergency service vehicles, whilst they were in the area of the attack, it would have categorically bought vital minutes to close doors, run inside, hide or run the opposite way. Our door would have been closed the minute we heard the siren and not almost 10 minutes later after the van had mown people down outside our bar.
This is why I am calling upon the services to add an additional siren to their vehicles. If they are at a terror attack (or suspected terror attack) they could sound the siren and people could have more time to react. The siren should only be used when very close to or at the scene - as to limit widespread panic.
We're immune to sirens (especially in cities). Sadly. Think about the sirens used around the world to alert of tsunamis. Think back to the World Wars and sirens used then to alert people. They worked then. Why not now?
I've emailed the Police Commissioner and MPs. But they need to listen and act quickly. This simple change could be made quickly and cheaply. An introduction of 2,000 tasers and 1,000 police on the ground will not be enough. Assistant Commissioner Mark Rowley said on the 21st June that we are "at risk" with the over-stretch of the Police. The Police are not operating at "full-strength". So, can we really afford not making simple, effective changes?
If you agree with me, and want to make a nationwide, or indeed a worldwide change, sign my petition here.