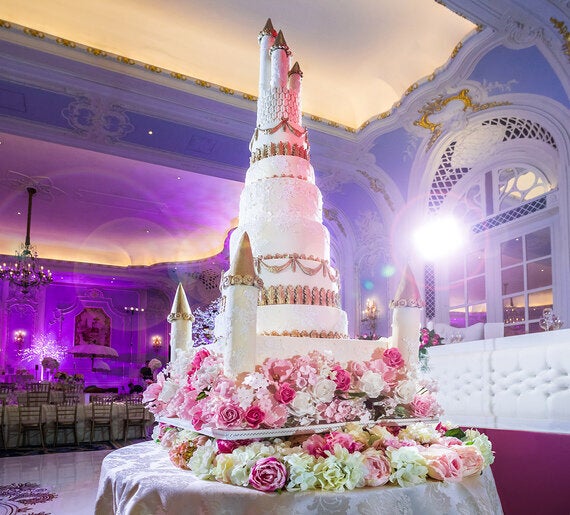 A lot of parents go overboard when it comes to their children's birthday parties - but this latest trend truly takes the cake!
Believe it or not, this dazzling eight-foot cake you see here was made for a child's birthday party and anything similar would set you back up to a whopping £10,000.
It's the latest trend in cake design - a return to a fairy tale theme castle, with everything but a moat! More than two thousand handmade sugar flowers adorn the base, and the tiers are decorated with mouth-watering turrets and baroque embellishments gilded in 24 carat gold.
This sugarcraft sensation is the work of award-winning luxury cake designer Elizabeth Solaru, who realizes that parents who spend this kind of money on their kid's birthday cake are walking a fine line between devotion and decadence.
"It's crazy in a way, but rich people can be very competitive," says Elizabeth.
"They have money to burn, and if they hear about a birthday party where someone had a seven-foot cake for their child, they'll go that extra mile to order an eight foot cake."
Elizabeth has recently been making similar cakes for weddings. "There has been a noticeable trend in fairytale castle cakes," she says. "A lot of my brides have been ordering these stunning fairytale cakes this season. It makes sense when you think about it. A wedding is the ultimate happy ending to any fairytale!"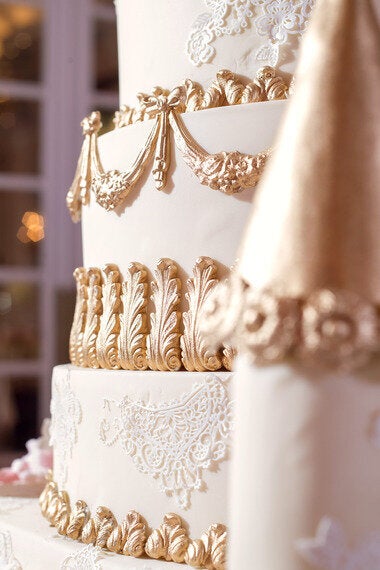 The numbers involved for a cake this grand are staggering: Fifteen kilograms of flour, twenty bags of sugar and more than five hundred eggs went into this eight-foot wonder.
It's the tallest cake Elizabeth has ever made - but records are made to be broken.
"I wouldn't be surprised now if someone asks me to make a nine-foot cake for their child's birthday party!" she says with a laugh. "People can get really competitive!"
Elizabeth's newly-released book "Opulencia" reveals the cake-making secrets that have kept her at the top of her game for the past decade. Known as a specialist in sugar crafting Elizabeth admits she's a perfectionist who is always looking for ways to improve on her spectacular designs.
'I am never satisfied!" she admits. "However well my cakes turn out I am always thinking maybe I can improve on that next time."
She's taught royalty how to bake and gained worldwide fame with her dazzling wedding cakes, which are often sent by private jet to locations all over the world.
"Such a precious thing cannot travel in economy!" laughs Elizabeth. "There have been occasions where my cakes have travelled first class while I am back in economy!"
"People have a hard time believing it, but sometimes the wedding cake costs more than the dress. Think about it - it's the only guest at the wedding that gets its own private table!
"I have had brides who have built their whole wedding around the cake design. That happens a lot."
And as for this latest trend in luxury children's birthday cakes, Elizabeth has these words of advice for parents prepared to drop ten grand on this eight-foot sensation:
"Don't let the kids climb up the cake, and don't set it up near the bouncy castle!"
www.elizabethscakeemporium.com