Simply super stylish summer date ideas, hand-picked just for you.
Dinner Date: Bronte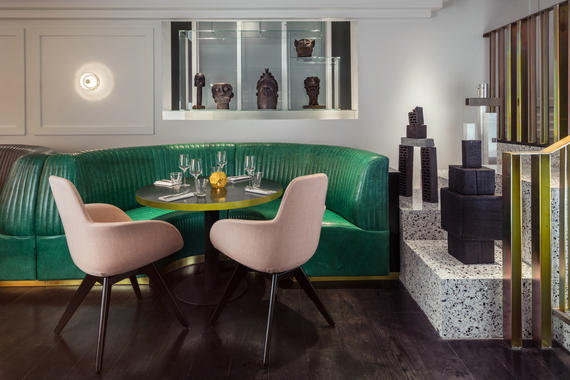 Photo Credit: Bronte
Dinner. It's not reinventing the date-wheel but you can't go wrong with a thoughtfully chosen spot. Added impressibility comes by way of finding a hot, new opening with maximum Insta-ability, if your dining partner is so technologically inclined. Enter Bronte on London's Strand. The menu offers an outrageously-inviting selection of small and larger Pacific-Antipodean plates - the rare beef and paw-paw salad; scallops with garlic and yuzu; and salt baked celeriac with truffle sour cream and crispy shallots are not to be missed. Herbivores shan't be disappointed. But what makes this newcomer particularly stylish is the stunning space itself created by Tom Dixon.
Named after neighbour Lord Nelson (AKA the first Duke of Bronte) there are nods to his naval career throughout with with collected treasures, lots of Dixon's signature gold, deep leather booths and a pewter bar. It's light, it's opulent and the imposing Trafalgar Square terrace backdrop makes for quite the romantic digestif spot.
WEAR: Paul Smith Checked Coat
Bronte, A, Grand Buildings, 1-3 Strand, London WC2N 5EJ
Music Date: Ron Arad's Curtain Call at the Roundhouse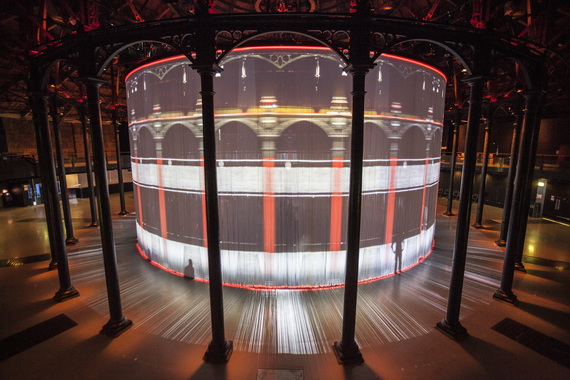 Photo Credit: Stuart Leech
If you want a date that packs a visual punch, then check out the performances at The Roundhouse this late summer. Returning in celebration of the venue's 50th anniversary, artist Ron Arad has re-installed his stunning 360° blank canvas performance space Curtain Call. A ring eighteen metres across, made of 5,600 silicon rods within the Roundhouse's main space will play host to artists and musical performances, not least the BBC Proms, with custom projected visuals for each. Guests are encouraged to meander through the dimly lit and moody space to get the most out of the experience. Pretty romantic huh? August's 11th's Manga's Akira-inspired immersive experience with grime artist Gaika is one date I'm particularly excited about.
WEAR: Creed Aventus
6th-19th August, Roundhouse.org.uk
Movie Date: See a movie at the House of Vans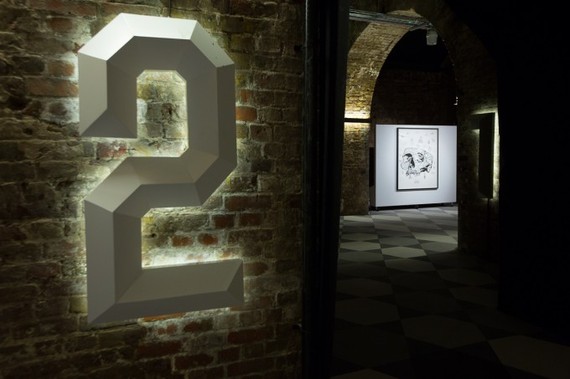 Photo Credit: House of Vans
Forego obnoxious tweens and an offensive bill at the local Odeon and instead head down to the House of Vans at Waterloo for an altogether more intimate and, indeed, stylish movie date. The late summer line-up includes includes iconic style flicks Dazed and Confused and Pulp Fiction but as no 'Most stylish film...' list would ever be complete without Anthony Minghella's The Talented Mr. Ripley, you'd find me there. And it's no more on-trend than it is right now, with Cuban Collars and resort shirts a-plenty on the catwalks and sidewalks alike this summer. Oh and did I mention that it's totally free? More kitty money for the Italian sojourn, she'll be insisting you whisk her away on.
WEAR: All Saints Tsuru Short-sleeved Shirt
Saturday 15th August, HouseOfVansLondon.com
Drink Date: Songs From Above at The London Edition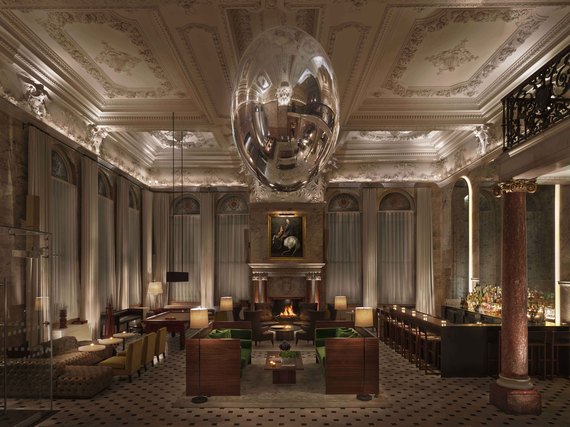 Photo Credit: Edition Hotels
Every Wednesday throughout August, the London Edition is presenting its inaugural Songs From Above series which will see a beautifully curated selection of musical performances grace the mezzanine overlooking the hotel's Lobby Bar. The House Gospel Choir will be serving up covers of Disclosure and Labrinth on the 17th and contemporary Billie Holiday ALA.NI will be joining forces with with the all-female Deep Throat Choir (ahem) to wow with numbers by Amy Winehouse and Bjork on the 31st, amongst many great others. And most lovely of all, no fee or booking required, subject to space in the bar.
WEAR: Fred Perry X Raf Simons Polo Shirt
9pm 3rd-31st August, The London Edition, 10 Berners Street, London, W1T 3NP
Arty Date: Exhibitionism: The Rolling Stones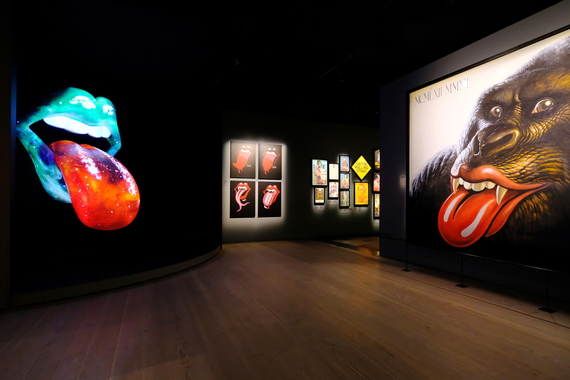 Photo Credit: Exhibitionism
If you haven't already been, you still have a month to get down to the Saatchi Gallery for Exhibitionism: The Rolling Stones Exhibition before it skips across the pond to the Big Apple. The first major and most comprehensive presentation of the band's personal archives sees nine themed galleries house photography, video, costume, stage sets and, of course, the instruments themselves. Keep an eye out for collaborative works from Andy Warhol, Alexander McQueen and Martin Scorsese.
WEAR: Hudson Shoes Watts Chelsea Boots
Until September 2016, StonesExhibitionism.com
Active Date: Exercise in the City at Coq d'Argent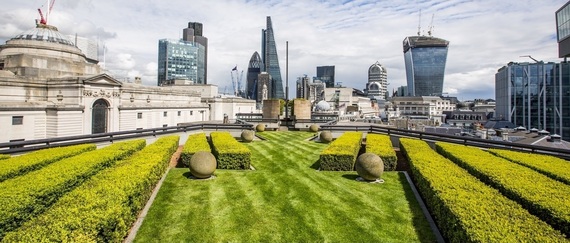 Photo Credit: Exercise In The City
If working up a sweat with a bit of downward dog is more your kind of date, then be sure to book in for one of Exercise in the City's al fresco, panoramic pilates sessions. This August they've taken up residency at Coq d'Argent offering early morning classes every Wednesday and Friday on the restaurant's rather spectacular roof space. What's more, class participants can stay and enjoy breakfast on the terrace with a rather lovely discount. Now what is it they say about the early bird?
WEAR: A Pedicure! Trust me.
£10, ExerciseInTheCity.com/CoqDArgent
Show Date: Groundhog Day at The Old Vic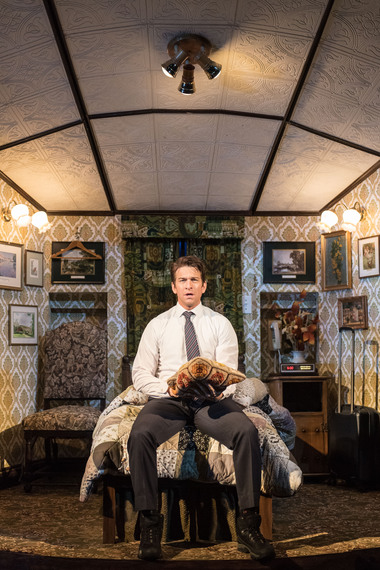 With a limited run this Autumn and September, the theatre production of the 1990's contemporary classic smash Groundhog Day at the Old Vic is tipped to be one of the hottest shows of the year. Reimagined for the stage by the dream team behind Matilda the Musical Matthew Warchus, Peter Darling and comedian Tim Minchin, you can rest assured there'll be no lulls in the lols on this date. Tickets selling fast, get 'em while they're hot!
WEAR: River Island Slim Fit Utility Blazer