It's now over a decade since the UK saw its highest ever temperature of 38.5C, or a whopping 101.3F if you prefer the big numbers (the media does like to express summer heat in Fahrenheit and winter cold in Celsius). That record was set on 10 August 2003 at Brogdale near Faversham in Kent.
We weren't the only country to experience record heat in Summer 2003; across Europe it was the hottest summer on record since at least 1540.
Unfortunately high temperatures come at a price, with health crises in several countries and widespread drought leading to a crop shortfall. The death toll across Europe due to the excessive heat was estimated to be 70,000, with around 2,000 of those in the UK.
Why was it so hot? The immediate reason was that an area of high pressure remained pretty stationary over most of western Europe. This meant dry and settled weather so little cloud, lots of sunshine and warmer than average temperatures.
The position of the high and the circulation patterns of the atmosphere mean we dragged in hot, dry tropical continental air to the UK.
This weather set up isn't unusual, and is often responsible for our warm summer weather. So why was 2003 so much hotter than normal? Part of the problem is the high stayed in place for a long time, and that could be due to a combination of factors, such as a change in global sea temperatures and unusual conditions in the tropics and tropical area of the Indian Ocean that year.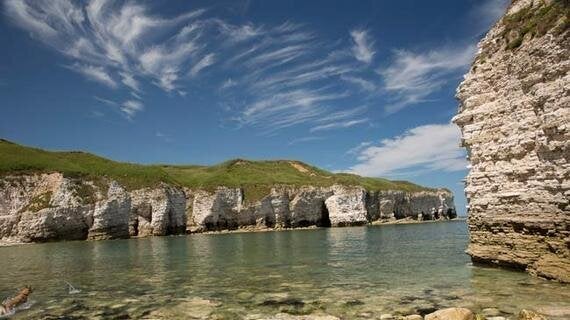 How are things going this year? We had some pretty decent weather in July 2014, making it the 8th warmest July in our national records, and it was also sunnier than average.
It might not have been as warm as last July (3rd warmest) or indeed July 2006 (1st), but it's interesting to note that this July was the eighth month in a row with warmer than average temperatures for the UK. Will this warmer weather last for August, and could we get another scorcher?
You've probably watched the weather forecast on TV and then compared the predicted high temperature to your garden thermometer or even the one on your car.
Chances are you got a higher number, especially if your thermometer is in direct sunlight. There are tales of a weather station recording lots of high temperatures, way above the rest of the UK, until they realised they had placed it next to an air conditioner vent.
That's why official temperature measurements all have to be taken in the same way with the thermometers stored in Stevenson screens to allow ventilation, sited far enough from buildings and at the same height off the ground (grass not concrete). Ensuring temperature readings are taken under the same conditions means we get the most accurate data possible and this in turn feeds into the forecast models to produce more accurate forecasts.
Did you know the hottest time of day is not midday but a couple of hours later? This thermal lag is due to the balance between incoming heat from the Sun and outgoing heat from the Earth.
At noon you have the most direct sunlight and that will heat up the atmosphere. But just as a pan of water doesn't start boiling the second you put it on a flame it takes time for the atmosphere to heat up. Similarly our lowest temperatures aren't reached at midnight but about half an hour after the sun rises.
This thermal lag also explains why the summer solstice marks the beginning and not the peak of summer warmth. June may be when the days are at their longest but it takes a couple of months for our atmosphere, land and seas to warm up so we tend to get our highest temperatures in July and August.
Ingredients for a scorcher
What do we need to get high temperatures? Location is key, with coastal or mountainous areas less likely to reach high values thanks to sea breezes or the cooling effect of altitude.
Inland towns and cities are warmer than the countryside though sometimes it's the areas just downwind of an urban heat island that will break the temperature records.
Summer is the ideal time of year with long sunny days, light winds and short nights to allow the heat to build. Clear skies at night will allow more heat to escape so ideally a little bit of cloud at night will trap some of the heat built up by day.
As the ground dries up a higher proportion of the sun's energy will heat the air as it's no longer being used for evaporation. Most importantly, in order to get the heat in the first place we need to drag our air in from a warm direction, usually the south or southeast.
The ideal set-up for this is an area of high pressure that will bring in the very hot and dry tropical continental air, plus if it remains stationary then the air stagnates and the heat builds up over a few days or even weeks.
Are we likely to see any records broken this year? Back in 2003 before the unrelenting heat of August built up, the UK had experienced a warm summer until a cool and wet spell at the end of July and very beginning of August. Rather similar to what we've had this year.
However, the immediate forecast for the UK is looking rather wet and windy with the tail end of ex-hurricane Bertha heading our way.
Let's hope we're not about to break some rainfall rather than temperature records...
Highest daily maximum temperature records
38.5 °C 10 August 2003 Faversham (Kent)
35.2 °C 2 August 1990 Hawarden Bridge (Flintshire)
32.9 °C 9 August 2003 Greycrook (Scottish Borders)
30.8 °C 30 June 1976 Knockarevan (County Fermanagh)
12 July 1983 Shaw's Bridge, Belfast (County Antrim)