Cities can be exhausting places for the tourist; crowds, confusion, vast distances between expensive monuments and a general sense that it's not what it looked like in the pictures. Portugal's second city, Porto, is not such a place.
On an August Saturday the city is lively but you will never feel as though it's crowded and you can do what this city is fantastic for with ease - strolling. Despite its size, you don't have to plan your day with military precision, like in London, in order to see everything. Instead, Porto's beauty lies in its streets and views across the river Douro. Without a plan you would still discover mesmerising architecture and landscapes no photograph could do justice.
Start your morning picking up a city map and port wine map from the tourist information centre next to the city hall on Avenida de Aliados and then walk down until you find a street cafe in which to get a coffee and a feel for the city. Unlike many large cities, Porto has never relinquished its originality and culture and is still made from an endless labyrinth of cobbled streets and colourful, narrow buildings with flaking paint.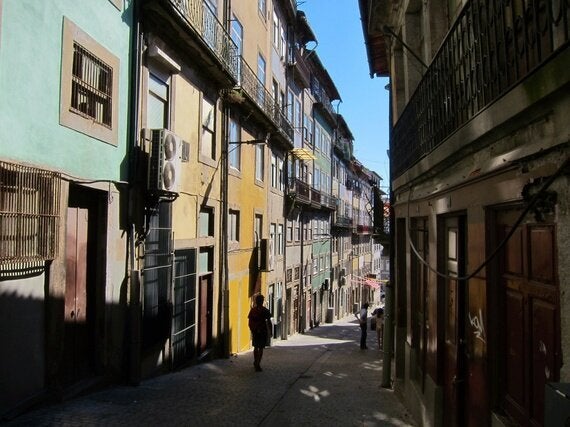 Spend your morning discovering the numerous churches set amongst tiled houses and make sure to nose around the AXA art centre on R Clube dos Fenianos and the Centro Portugues de Fotografia (Portuguese Centre for Photography) near Pc da Cordoaria. Choose the smallest streets to explore for a totally unadulterated view of this UNESCO World Heritage site as you make your way to the cathedral just up from the Sao Bento metro station. From the cathedral entrance you'll be at a height that gives a view across the entire city and still, you'll only be joined by maybe twenty others.
Head down huge stone steps and find yourself on Porto's famous Ribeira historical quay where you can get a good lunch while looking across the river to the afternoon's fun. A street market extends along the Ribeira front but its wares are aimed solely at tourists. However, if the sun is wearing you down, you can get a decent hat here for €5 or less.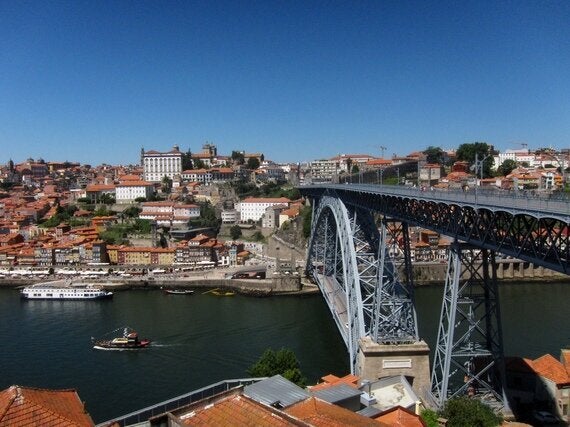 The Ponte Luis I bridge that spans the Douro at the end of the Ribeira is your next stop and you can choose to go across the bottom or the top. If you want a magnificent view then the top route is undoubtedly the way forward but if you're too full from lunch to go up the hill, just jump on the funicular at the bridge's base. This ingenious piece of transport will whisk you back up, close to the cathedral and you can get onto the bridge from there.
You'll be sharing the bridge with two lanes of metro tracks but the metro isn't as regular as the London tube and you can happily cross the tracks to see the other side. At 45m high, this is where you will stand in awe of the landscape around you, from the steep and historic city to your right, to the rows of port houses down to your left and the strong Douro gliding between. Despite the view of a lifetime, you won't be jostling others for position and can take your time crossing the 172m span.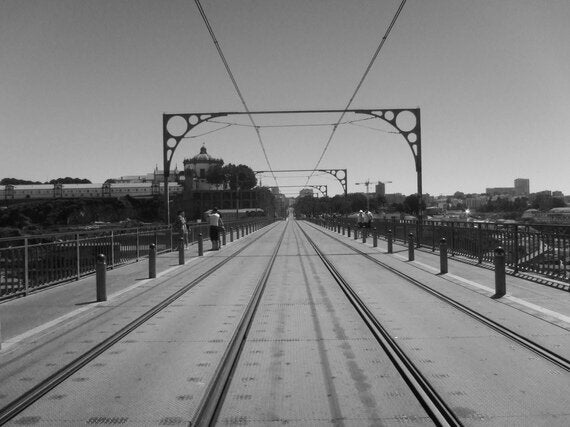 The southern side of the river is Vila Nova de Gaia, the home of port and a place that you must not miss even if you've never cared for the wine. Get the teleferique (cable car) down to the waterfront or walk down a steep but short hill. This waterfront can be busy and the port houses that sit on it, full of tourists. If you don't mind more meandering streets, then head south a few minutes to one of the out of the way houses such as Croft, Taylor, Cockburn's, Barros or Offley Forrester. Here you can enjoy tastings without any queues.
All the port houses offer tastings and almost all offer cellar tours which are really the most astounding part. All their port matures in barrels of various sizes in these old granite buildings and the tours around them are offered in several languages with friendly and passionate guides. On any given tour, at any given time, you may well find yourself surrounded by millions of litres of port - some young, some decades old.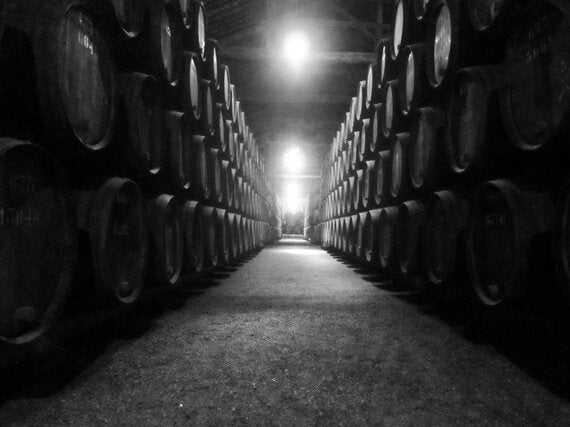 Tours and tastings are inexpensive with a three port tasting plus a 30 minute tour at Croft coming in at just €5 per person. Should you find yourself enamoured with a particular type, many houses offer delivery to your home abroad and they also have small shops within them should you require a vintage for a riverside picnic.
Once you've sampled Portugal's fortified wines, you can get on the metro back into the city or walk along the bottom of the bridge back to the Ribeira. There are plenty of museums, cafes and tours to keep you absorbed whether you stay in Oporto for a day or a week. River tours also run regularly from Cais de Ribeira and there is lively shopping near Cafe Majestic and Bolhao metro station.
The best way to really discover the intricate wonder of Porto is by foot but there is plentiful public transport to pick you up when the hills are too much. There is a metro line from north to south which is quick, uncrowded and cheap to use. This metro system also serves Porto airport, which means that flying from the UK to Porto and getting into the city couldn't be easier.
There is a limited bus system within the city and three tramways if you want to see the city San Francisco style. For real novelty, taking the funicular and teleferique are great experiences with wonderful views. Buy yourself a Porto Card in order to use transport without any tickets and to get discounts on tours and free entry to many attractions. Otherwise the Oyster-like Andante metro card is valid for use on buses and the funicular as well as the metro.