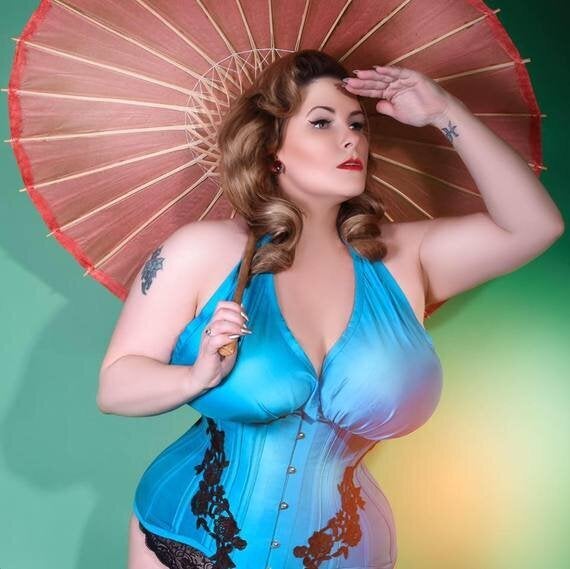 I was lucky enough to run into Louise Varns a couple of weeks ago. I've been a fan for a while. As someone who's always struggled with being larger, I watch the plus size models in awe. I think I'm brave if I dare to show a bit of leg above the ankle or a hint of cleavage, and yet, there they are strutting their stuff, seemingly without a care in the world. No apparent body image issues; not worrying what others think.
It's a state of being that most women can only dream of, with the opposite being almost inherent in many females today.
One of the reasons I love Louise is that she keeps it real. As well as seeing the stunning work she produces alongside some very talented teams of professionals, we also get the 'make-up free, Sunday morning, tired and feeling crappy pics too', (a large sigh of relief from us mere mortals). I have to add that she is sickeningly pretty even without the makeup ... made only worse by the fact that she's a really lovely genuine person too. (Urgh! I know right!) She actively flies the flag for positive body image and won't tolerate any shaming of any women, regardless of their size.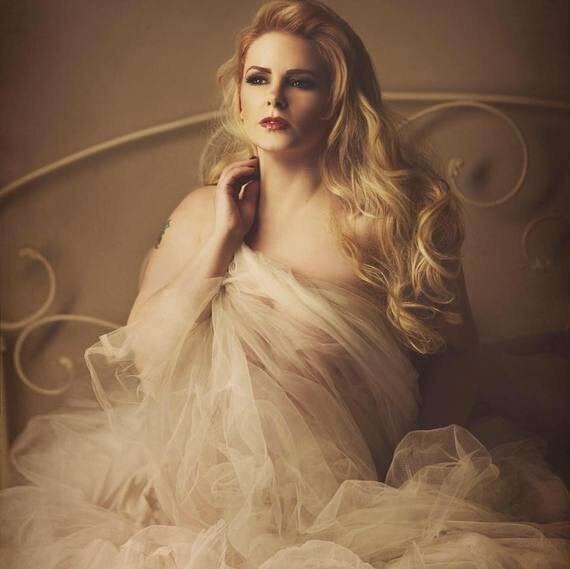 Kindly, she granted me a few minutes in her crazy schedule (she has 7 children!!!) to answer a few of my questions.
You come across as being incredibly comfortable with your body. Has this always been the case?
Sadly no, it's not. My weight has fluctuated since my 20's. Pregnancies, illness, and general bad habits have led me to go from a size 10 to size 22 then down to a size 16. I was always disgusted with my own reflection. I dressed down in baggy clothes and laughed it off. The change was a light bulb moment. In 2014, my stepfather was diagnosed with lung cancer. Also I moved from my hometown to a place where I knew no one. It was an extremely hard time for me. Seeing how it hit my stepfather, made me realise how short and fragile life was; and that we don't have the luxury to waste time. Life doesn't wait for us to feel happy or beautiful. It's happening right now. I didn't want to waste it worrying about what I looked like or what other people thought about me. I don't want to wake up one day and realise that my time had run out and I'd done nothing but worry about things that didn't matter. So now I live my life and take every opportunity. I want my life to be full of memories that make me smile.
Clothing sizes are so variable size wise - store to store and range to range. Are there any hidden gems you can share with us?
I confess, I'm a lazy shopper. I hate shopping It's a struggle to find the right size on the high street that's affordable so I shop online. For last minute items, it's Amazon. My favorite brand of bras, Gorsenia, are there too. They go up to a size K and don't resemble my grandmother's lounge curtains either. Everything else, it's Boohoo and Asos.
You look amazing in all your photos but do you have a favourite to date?
The Fallen Star by Laura Donohoe. It's simple but ethereal. I've had many great shoots, it's hard to pick just one. My favourite styles are the creative ones, I love trying something that has a WOW factor.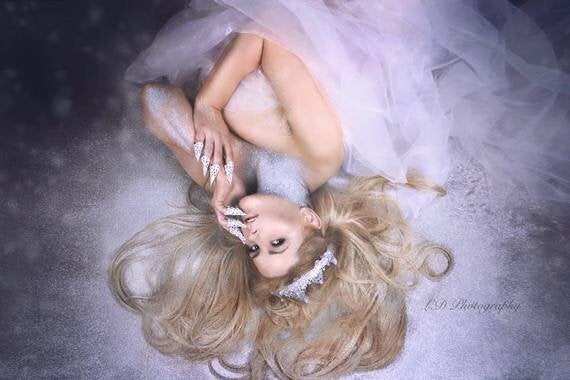 You have fabulous skin. Any top tips or is this a genetic blessing from the Gods?
Definitely not genetics. I get my share of bad skin moments, dry skin, and pimples every month. I'm careful about the products I use. I'm a huge fan of coconut oil for a make-up remover and I add it to my moisturiser. I also exfoliate twice weekly and drink lots of water. On bad days I hit the heavy duty concealer!
Understandably you get a lot of attention from the guys on Facebook, how does your fiancé deal with it?
I'm very lucky in my relationship. Paul and I have a very open and honest relationship, he knows about the messages I get but he also knows how I respond to them. He's more upset over negative comments and unnecessary nastiness. He understands though that it goes hand in hand with being in the public eye, and he trusts my judgment on how to cope with situations.
How do you handle the haters?
At the beginning, I was subjected to some cruel remarks, but over the last year it's become less of an occurrence and for that I'm grateful. I've seen the damage that it can cause. I've found those who make negative remarks, tend to expect retaliation rather than politeness. They'll go about their life and forget all about me and their words. I don't take it personally and don't let it affect me. I remind them that whilst they may not like my image, I am still a person with feelings. I may not be to their liking, but I am to others.
There will always be those who just want to upset others. I simply delete and try to shrug it off. You have to have a thick skin being in the public eye.
Are the majority of your fans male?
Yes, the majority are. But recently I've noticed an increase in women, I'm grateful for them all of course. I get satisfaction from those who contact me for advice, and men thanking me for helping their partners see themselves differently. Yesterday I had a lovely email from a single father with a daughter who struggles with body image. He's pointed her towards my work and hopes it'll help her to realise her body doesn't define either her beauty or person.
What does the future hold for Louise?
Everything! I'm going through a yes phase with every opportunity that comes along. Next year I'll be traveling outside the UK for shoots. I'd love to try my hand at TV - acting or presenting. I did drama when I was younger and loved it.
How did you get into modeling and what advice would you give to any aspiring plus sizers?
I was lucky, being a make-up artist the transition to modeling was easy. I had contacts in the industry. My advice is always to pay for your first couple of shoots. You'll be offered free ones later on, but paying guarantees you have control over the images. A good professional photographer will help style and direct you on how to pose well. Secondly, TF is a popular term which stands for "trade for" (trade your time in exchange for images). Just because it's free doesn't mean you should. Research your photographer. References and safety are important. Set your limits, if you don't want to do nude work, don't let anyone talk you into it. Look at their portfolio, is their style what you want? Remember once that image is online, potentially thousands will see it.
Louise's fan base is increasing week on week and it's easy to see why; it looks like 2017 is going to be an exciting part of her journey. If you would like to follow her, she can be found on Facebook.
Related