Well it was hard to find where to start! So here goes.
I was diagnosed with Breast Cancer in August 2015. My appointment was five minutes long. I was told I had cancer. Blah blah blah followed! I was told i would have a double mastectomy as I had invasive lobular cancer and it was in both breasts. I would also have a reconstruction. All I heard was cancer. I was 45 with a lovely family and great friends. But my breast care nurse said they were looking at a cure. So I thought new breasts, no cancer. What a deal!
At my mammogram they tried to check my lymph nodes but they did not play out, so they checked them whilst I was having my op. So op day. Six hours in surgery and I wake up looking like a mummy, thought nothing of it, woohoo no cancer and new boobs!
Then they told me it was in my lymph nodes. The scan after the test showed it was in my bones. So stage four incurable. That hurt. Really bad. I looked on the Internet. I felt worse! Self diagnosis prognosis... not a good thing!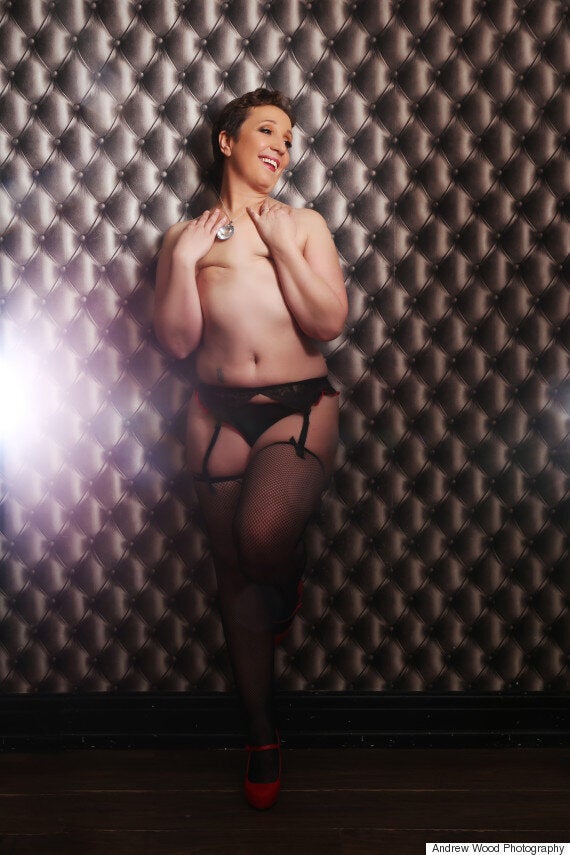 Over the next few months though my new breast did not play ball. Left one first - leaked and infected me. Removal of implant for a tissue expander. A horrid thing that got infected too. Removed. Then the right one. Yes, you guessed it. Infected so removed. But this time I asked for all remaining skin to be removed. This made it impossible for implants to ever return. Nine operations for my vanity. If my appointment had been longer and I had time to digest, I may have made a different decision. So after chemo and radiotherapy we are a year on.
Scrolling Facebook one afternoon I entered a competition... not looking at what I was entering. It was a Burlesque Photoshoot! Some asked why as I have no breasts! I ignore these comments. I know I have no breasts! Four weeks later I received a phone call from Andrew Wood Photography in Chorlton, Manchester. I had won! A hair and makeover with props and photoshoot and free print! I explained to the receptionist Michael that I was a mastectomy lady and he said fabulous! 'This will boost your confidence', he said!. I then looked at the photos they had taken of others. I was not disappointed. They had recently had Vicky Balch, the lady who lost her leg at a recent funfair accident. They were stunning.
I have echoes in my mind of am I still woman. Still Me? Still Sexy? The day then arrived. I took my hubby and we sat in reception drinking bubbly looking at amazing pictures of... BREASTS everywhere! I then gulped my bubbly and asked for another!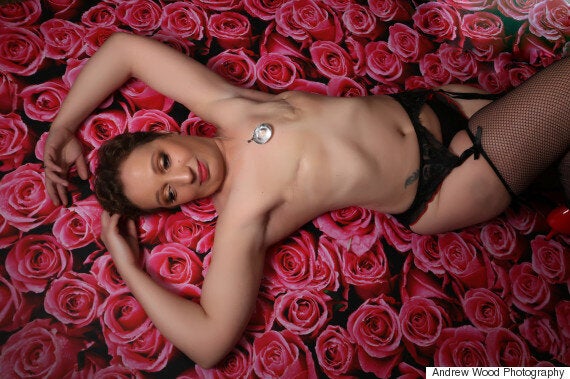 The make-up artist, Kycie took me to a dressing room and made me look amazing, whilst calming my fears, telling me once i had my hair done i would be fine. She was not wrong. I was excited.
Laura, the photographer was fabulous, and when I told her I was not going to cover up, she was thrilled.
Then I did it. I had only shown my scars to my five year old niece and my hubby. So fishnet stocking and shoes to match my lips did it. Laura was so good. Complimenting me and showing me each picture. Each compliment made me braver, I then loved showing me. I looked great if I do say so myself!
So my message has always been the same. First checking every week. Let someone else check too. It was my hubby that found mine, just a different position showed my dimple. I had 53 lumps. It is in my bones and will eventually end my life. So check yourself. I get the same reason when I ask people: 'Oh I don't know how to check', well just research that stuff. It is easy. Ring your surgery, there are nurses who can help. Doctors cannot save us if we do not help ourselves.
Second. Breasts do not define who we are. Think about recovery and saving your life before vanity. Embrace yourself. Life is for living. I am still alive. I am still woman. I am still sexy. Cancer has not ruined my life, just made me live it!
Thank you again to Andrew Wood Photography, your approach was truly heartwarming.