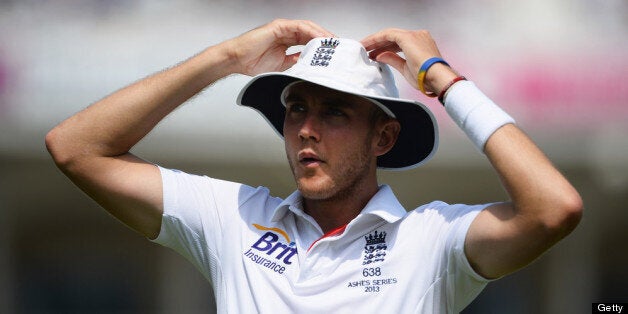 Of course humanity, sport and particularly cricket have more shades of grey than an second hand book store. This is not helped by the most ambiguous set of 'rules' in any sport "the spirit of cricket".
The spirit of cricket is not a cocktail that drives Freddie Flintoff into a pedalo at past midnight, or convinces David Warner he is actually David Haye. It is a moral code enshrined in the preamble to the law of the game - professional players can be fined and banned for not upholding it.
It mentions dissent, aggression, physical violence, accepting the umpires decision, respect, appealing when clearly not out and distraction as some points. The first and controversial Ashes test certainly had breaches and fine examples of this spirit.
Clarke aggressively approaching the umpire after Broad had thick edged a ball off Agar via the keeper to slip, being the former. Trott quietly walking off when he was let down by the third umpire and the operation of technology being the later. Broad not walking, I'm afraid not.
Whilst you could cite not walking is in breech of "the game and its traditional values" it would require a convention of walking which even in the most rose tinted PG Wodehouse history of the game hasn't happened. Batsman have for as long as the willow been wielded fallen into three camps.
1) Always walk (often keepers, except Brad Haddin)
2) Never walk and wait for the umpire (often Australian's, including Bradman and excluding Adam Gilchrist)
3) Tactical walkers - will walk for a thick edge and stand their ground for a thin one. This came about as batsmen who got a reputation for standing their ground got given out more by umpires.
Stuart Broad is in a long line, perhaps the majority of number two's and now everyone knows it, but calls for fines or bans have no precedent.
To create a convention of walking would require a sea change in the culture and convention of the game.
Broad's behaviour - it is just another nail in the coffin of fair play in lucrative professional sport, awash with the kind of "un-gentlemanly" conduct which has existed for a long time.
Un-gentlemanly is a good phrase for the cricketing storm in a tea interval cup that has occurred. It invokes an idyll. A time when gentleman of leisure walked and pro's (or proles) stood their ground.
Video evidence walkers and non walkers