As you can probably tell (or most likely have seen or read for yourself, depending on how closely you involve yourself with the show milieu), the street style thing of late has transcended to a whole new dimension of CRAY. So much so that this season I even witnessed a former Sidewalk Queen declining would-be paps (but then again maybe that was because we'd ALL seen that Christopher Kane embroidered bomber before...). Even Anna Dello Russo seems to have calmed down, changing only three thrice daily instead of five times and even lowering the altitude of her headgear. That being said, in the last season or two, I've noticed a shift in the ubiquity of "trend" from being designer and runway led to street style championed. These days, there seems to be more diversity amongst catwalk creations than there are individuals loose on the sidewalks -something of a fashion industry irony. As show orbiters pin down the rules of street style attraction to a fine science, the result is a gamut of items and trends, from "edgy" and hipster to the power luxury and editor, that have been overexposed. So below I've collated 10 trends which I sincerely hope, come next season, are relegated to the archives in every sense of the word.
1) The Neon Cambridge Satchel
They've been around for at least three seasons now, probably reaching their apex in appropriateness in September or even during the menswear shows in the summer. At first they were punchy, then they were personalizeable and now they're pariahs. Not that I don't love a good Cambridge Satchel, but the neons/stars/polkadots--it's all too much. Just give me classic brown, put some books in it and basta.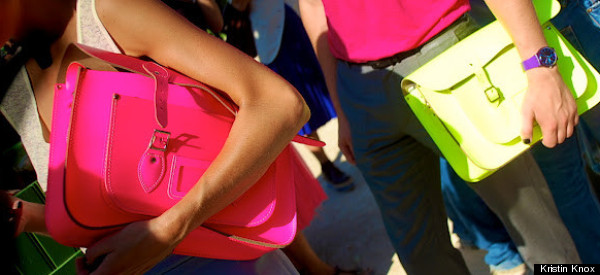 2) The Glitter Booty-Miu Miu or Otherwise
I'll be the first to admit I was head over glitter heels for these booties when they first shimmered onto the circuit about a year ago. In September, I swear there were more glitter boots on the loose than street style photographers, leaving a trail of sparkling sidewalk like Lucky Charms wherever they went. This season, I have to say (and I HATE this phrase but here goes) they just looked so last season. I am a firm believer in the myth of the trend, that is to say, I believe you should just wear whatever you want when you want, it's all a question of how your style it. But sometimes, pieces with such strong personality negate excessive styling and so what you end up with is an army of similarly simply clad girls all boasting the same statement bootie. Thus the time for all tinkerbell inspired footwear to go back in the box has come.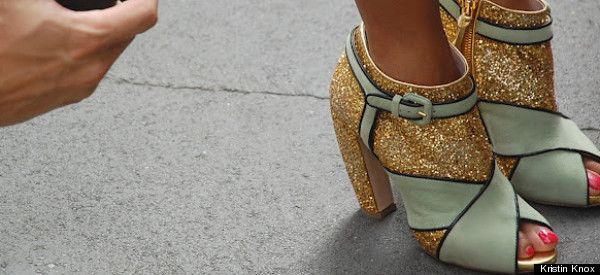 3. Versace for H&M
By the time fashionistas were queuing round the world during all hours of the night to get their hands on the stuff, I was already sick of Versace for H&M, having had more press releases about the incremental implementation of the collaboration than had Kate Middleton stepped out in public hand and hand with the Queen having forgotten her flesh-tone tights. Yes, really. Hence why yours truly was slumbering peacefully in her bed while a good portion of the fash pack battled it out all over the globe, their brave early morning tales clogging up Twitter whence I woke. And where, pray tell, did all this sold out Versace for H&M go? It went straight to fashion week. Be it the printed tops and skirts or, even more prevalent, the studded mosaic biker jacket, Donatella's foray into fast fashion was the uniform of the season. Just remember they call it "fast" for a reason.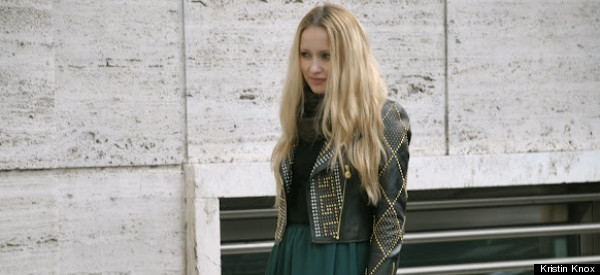 4) Bright Dip-Dye
I will concede, about this time last spring I was practically in tears when my hair stylist refused to sear bleach into the tips of my hair to then dunk it in auburn to create what I was convinced would be the most ah-mah-zing ambre dip dye ever, refusing to "destroy" my natural color and texture. Fast forward six months later, and I revoke the title I bestowed upon him of London's grinchiest hair stylist who doesn't know what the hell he's talking about. The dip dye thing was so visually exciting when it first trickled like spilled Kool-Aid across the tresses of the so-called "hipster sect" of the fash pack, making for great photos against derelict brick walls, all the more so as cool kids were quick to match their tangerine locks to their tangerine trousers, their green tips to their green tops, and so on and so forth. But since we tipped the new year, it's felt a bit dipped out to me, with only the subtler dip dye jobs--such as varying shades of honey blonde--still registering chic in my book. Time to whack off those ends and start again, ladies.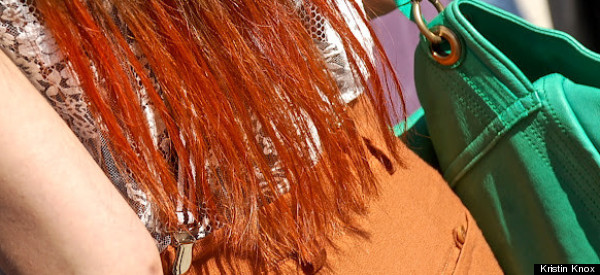 4) Blue Hair for Him & Her
On the subject of hair, I'd like to say: blue is not the hue. This season, on the crops of both men and shortly shorn ladies, blue hair dye was seen on way too many individuals. Tavi went for the grey/blue granny-meets-cookie-monster look what feels now like years ago and was not lauded for it then. Come on boys, back to the salon you go.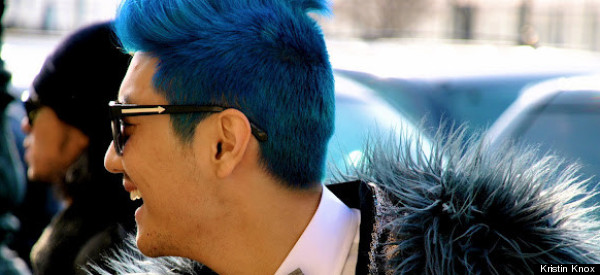 5) Prada Creepers
They're EVERYWHERE, on men and women alike, Prada's raffia woven brogue flatforms are now a scourge on our sidewalks. Personally, I've never really warmed to the flatform, preferring to either wear (call me old fashioned) flats or platforms. Even the miniature of Marc Jacobs at his own exhibition with Louis Vuitton features the designer sporting a pair. I feel a flatform intervention coming on...creep away, creep away (and take your little blue stripe with you please).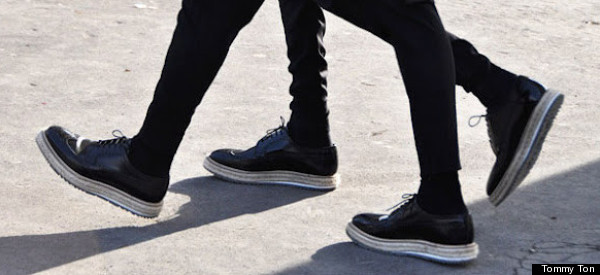 6) Side Plait
As much as it pains me to say it, its time to untwist your side plaits. While I still personally love a good braid, especially when one does not have time to wash one's hair between fashion partying straight into one's 9AM show, we're now coming up on year two of the trend and I find myself drawn to sleeker pony tails than braids these days.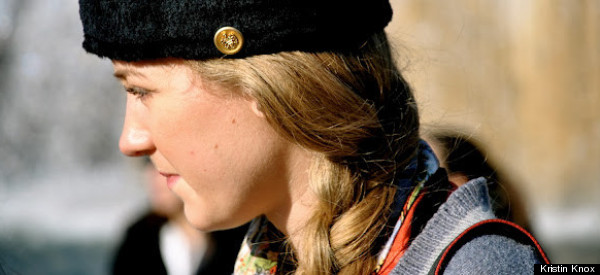 7) Celine Luggage Totes
Some of you may try to hack my site for this one, but I do think the Celine luggage tote could benefit from a short bow out. Celine is like crack for street stylers and over the seasons, editors, bloggers, buyers and models off duty have discovered that a Luggage Tote in any size, shape or color will land you on someone "Best of Fashion Week X" list. So what began as a sort of 21st century edition of a Birkin-status bag, that is to say, heirloomable bags so expensive and so exclusive they can only be obtained by long waiting list, now feels over saturated. I'm not saying the loose the Luggage indefinitely, just check them into the baggage hold for a season or two.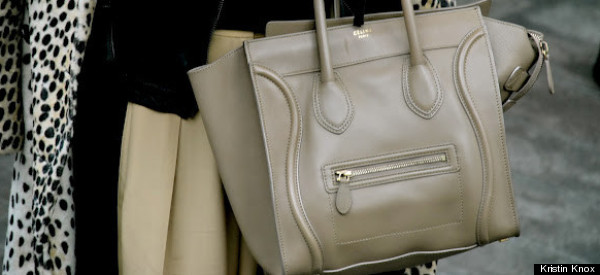 8) Valentino's Studded Patent T-bar Pumps
Somewhere on the road, I overheard someone say that you can tell who's having a moment by the footwear most spotted during fashion month, a useful line of reasoning which I filed away til now. Following this logic, the designer of this season would have to be Valentino, because his studded t-bar pumps were spotted on some of the most stylish feet from New York to Paris, so much so that I'd say they're on the cusp of overexposure. That is to really say, fine for February, stash away for September.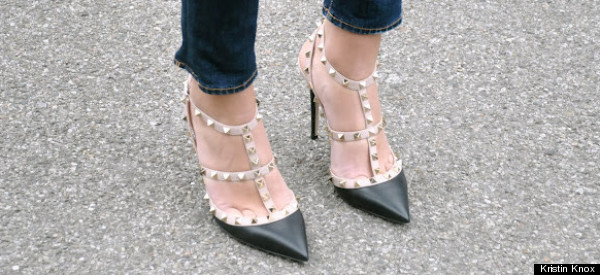 9) Le Petit 2.55
I still kind of want one, but I will hold back as long as I can. These pocket-sized Chanel 2.55's have been cropping up on all sorts of arms this season, and I can totally see why. They're cute, collectable and CHANEL (not to mention their quaint jersey quilt costs the same as a pocket of a regular leather sized 2.55). On some refined editors, the little 2.55 was a new variant on a classic accessory of which you know they have the better part of an army stashed away at home. On others, it screamed: "I Chanel because I can." And that's not a covetable label for anyone.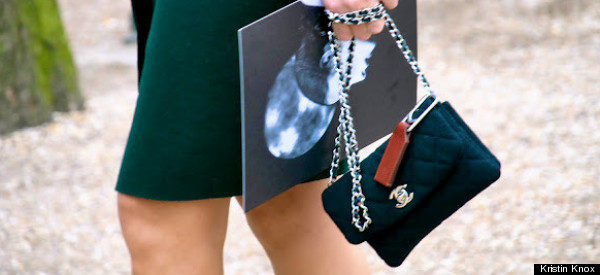 10) Novelty Cameras
Thanks to folk like Lomography and retailers like Urban Outfitters, novelty cameras and things to put on your camera have become the kitsch must have of bloggers worldwide. However, having tried very unsuccessfully to wrangle one myself, I can confirm that they are not the handiest of things for having with you at shows, and you wind up posing more with it than you do behind it. My fashion week camera philosophy is thus: if it doesn't improve your image quality, do you really need it? The same goes for "cute" camera cases and things resembling necklaces supplementing for camera straps.