It's now less than four weeks until the third annual AIM Independent Music Awards takes place, and last night we were finally able to reveal this year's nominees. And what a fine bunch they are! Our judges have done a terrific job this year of shining a spotlight on the wealth and diversity of talent supported by the UK's thriving independent labels. Where else would you find household names (Macklemore, Vampire Weekend, Passenger, Alt-J) alongside lesser-known but equally brilliant talent such as The Computers, TNGHT, Ghostpoet and John Grant?
It's hard to believe the awards are in their third year already, and how much both the awards and the independent sector as a whole have grown in that time. In 2010, when we first starting discussing the idea of shining a spotlight on independent talent through an awards show, Adele was well on her way to being a Global phenomenon, but other independent acts struggled to dent the charts and rarely cropped up in industry awards shows.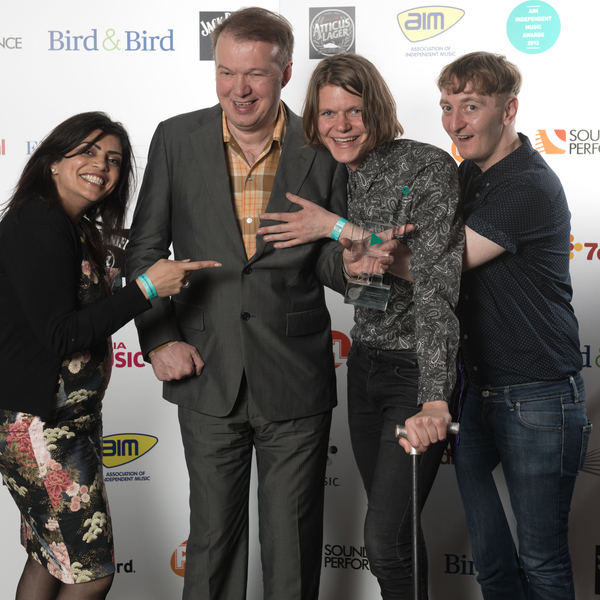 (The legendary Edwyn Collins received his AIM Award from Frankie & the Heartstrings and Kameil Sattar from sponsor eMusic - at the 2012 AIM Awards)
Now three years on, the independent sector looks to be in excellent health. As the major labels have further consolidated (EMI was bought by Universal last year), the independents have focused on doing what they do best: supporting great music. In the first half of 2013, indies made up almost 25% of the physical albums market, and this was made up of a huge number of albums from many different labels rather than a few big releases.
With such a strong year for independent music, our judges had a very difficult job to come up with this year's shortlists. For Independent Album of the Year, they simply refused to select just 5; insisting a final 10 nominees was necessary to adequately demonstrate the strength of this year's releases. And getting them to agree on the final 10 was nearly impossible! Our judges spent many hours listening, reading and debating in order to select the final list of nominees for this year, and we are incredibly grateful for their dedication. It is only a shame that these choices had to be made at all!
But made they were, and last night XFM's John Kennedy (himself a nominee for the Indie Champion award!) unveiled the nominees list at a private press launch at Gibson Guitar Studio in London. It was an honour to have Pioneer Award recipient Geoff Travis (Rough Trade) and Outstanding Contribution to Music recipient Billy Bragg present, and I can't wait now to see them pick up their prizes, alongside all the other winners, at the ceremony on 3rd September.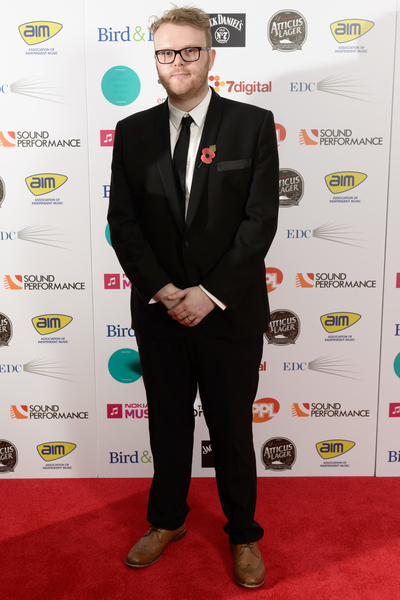 (Radio 1's Huw Stephens returns to host the awards once again this year, with BBC 6Music's Steve Lamacq)
So here they are, the 2013 AIM Independent Music Awards nominees. Some you may agree with, some you may not. There may even be a few you haven't heard of...in which case why not take a few minutes the check them out, you just might discover your new favourite band. A free sampler CD, featuring 10 incredible tracks from nominated labels, is available in all good independent music stores from today.
To all the artists and labels on the list, congratulations and good luck!
(For more about the AIM Awards, visit the AIM website, follow the AIM Awards on Twitter, like us on Facebook or check out my personal Twitter account.)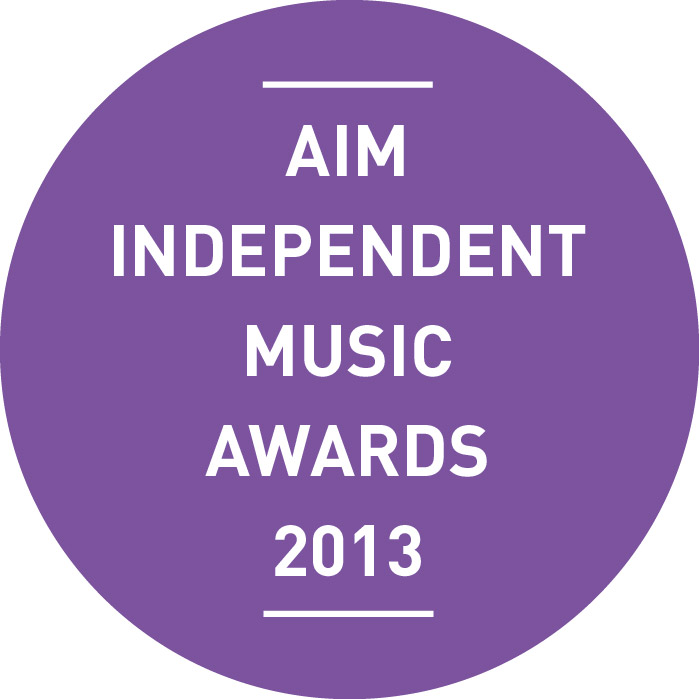 AIM INDEPENDENT MUSIC AWARDS 2013 NOMINEES:
Best Live Act (in association with The Fly)
Bellowhead
Bonobo
Enter Shikari
Johnny Marr
The National
Independent Breakthrough of the Year (in association with 7digital)
The 1975
Daughter
Macklemore & Ryan Lewis
Palma Violets
Passenger
Public Service Broadcasting
Hardest Working Band or Artist 
Alt-J
The Computers
Enter Shikari
Frankie & the Heartstrings
Sam Lee
Best 'Difficult' Second Album (in association with Xfm)
Ghostpoet - Some Say I So I Say Light
John Grant - Pale Green Ghosts
Major Lazer - Free The Universe
Villagers - {Awayland}
The xx - Coexist
Best Small Label (in association with Disc Manufacturing Services)
Alcopop! Records
Gringo Records
Hyperdub
Rocket Girl
Too Pure Singles Club
Special Catalogue Release of the Year (in association with Amazon)
Bonobo - The North Borders
Interpol - Turn On The Bright Lights 10th Anniversary Edition
The Horrors - Higher
Various Artists - Kenya Special
Various Artists - Scared to Get Happy: A Story of Indie Pop 1980-89
Golden Welly Award for Best Independent Festival
(in association with UK Music and This is Fake DIY)
Hebridean Celtic Festival
In The Woods
LeeFest
Truck Festival
Y Not Festival
Indie Champion Award (in association with Consolidated Independent)
Gilles Peterson - BBC 6music
Joe Sparrow - A New Band A Day
John Kennedy - XFM
Lauren Laverne - BBC 6music
Lawrence Montgomery - Rise Music
Independent Video of the Year (in association with Vevo)
Childhood - Solemn Skies
David Byrne & St Vincent - Who
Django Django - WOR
Grimes - Genesis
Macklemore & Ryan Lewis - Thrift Shop
The Ramona Flowers - Lust & Lies
Independent Track of the Year (in association with Spotify)
Daughter - Youth
Jagwar Ma - The Throw
Palma Violets - Best of Friends
Passenger - Let Her Go
TNGHT - Higher Ground
Vampire Weekend - Diane Young
PPL Award for Most Played New Independent Act
The 2 Bears
Alabama Shakes
Alt-J
Django Django
Macklemore & Ryan Lewis
Independent Album of the Year (in association with Record Store Day)
Daughter - If You Leave
David Byrne & St Vincent - Love This Giant
Ghostpoet - Some Say I So I Say Light
Jagwar Ma - Howlin
John Grant - Pale Green Ghosts
Jon Hopkins - Immunity
Nick Cave & The Bad Seeds - Push the Sky Away
Public Service Broadcasting - Inform - Educate - Entertain
Vampire Weekend - Modern Vampires of the City
The xx - Coexist
Independent Label of the Year (in association with Coutts)
Bella Union
Cooking Vinyl
Matador
[PIAS] Recordings
Warp Records
Pioneer Award (in association with The Orchard) - Geoff Travis (Rough Trade)
Outstanding Contribution to Music (in association with eMusic) - Billy Bragg