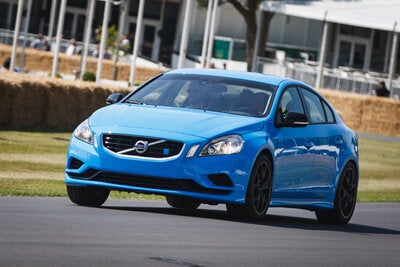 "I want to do that again, can we do that again?" I scream through my racing helmet as Alex Storckenfeldt passes the finish post in our deceivingly fast All wheel drive, Volvo S60 Polestar Concept car, with a horsepower of 508 and speed of around 146 miles per hour on the straight, is it any wonder that I would want to do the hill climb again?
"It is too short" Alex replies. We both agree that it is too short and he calmly drives the car to a standstill on the top of the hill where, we are greeted by many curious faces to see what might possibly look like a 4 door Volvo in Rebel Blue and why the Volvo is on the Super car Run session? Before turning off the ignition, Alex revs the throttle a little simply to prove that he certainly is in a machine that deserves the recognition of the accompanying 'Super Cars' of the Ferrari 458, Aston Martin CC100, Bentley Continental GT V8 Speedster and so forth.
The Swedish Polestar driver Alex Storckenfeldt had already been up the hill 21 times yesterday with the moving motor show - taking public passengers up the infamous hill,
"So where do you think you came, time-wise today then?" I ask eagerly.
"This was really quick as we have new boots so our tyres are working really well now. We were faster than yesterday, you can come flat out after the left-hander, where there was a chicane in front of the house yesterday. It was quick today ...was a bit short thought let's do it again... should be twice a long." He smiles.
Alex will do the climb another 5 times this weekend with different passengers on the Super Car Run and after a quick lunch in the drivers club at the top of the hill we precede to return to the bottom of the hill. Throughout the return journey, I make photos and Alex plays on the brakes - then throttle, then brakes, to see if I am paying attention!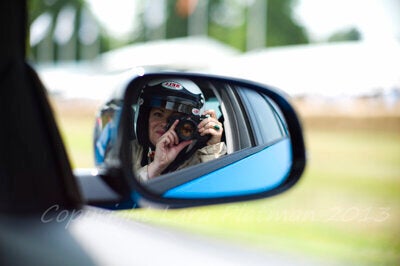 The Volvo S60 Polestar Concept is a really great car with its 4wd, it held the road well, the voice of the engine was deep and the comfort of the drive was more like a 4 door road road car than a 146mph hill climber. The combination of a lowered, widened and reinforced chassis, a tuned Haldex all-wheel-drive system, and Öhlins suspension makes the car uniquely suitable for both high-performance driving and long-distance traveling.
That is something that Goodwood Festival of Speed is superb at delivering: cars with tremendous history, interesting concepts and hidden talents. After visiting Festival of Speed for the past 10 years I really had thought that I would omit FOS 2013 from my visiting schedule, so when Volvo invited me to take a day with them and be a passenger up the hill - well - how could I possibly refuse?
For the first 8 years, I had stayed over on the 'participation' side of Lord March's garden, with drivers and hospitality suites where, as for the past two years I had ventured 'over the bridge' and discovered the most gigantic almost 'Geneva Motor Show' in the Sussex Downs. Every car company with a fleet of cars to prove, have a showroom from Audi and Land Rover to Electric and 'Fostech' tents and a superb performance arena of 2 wheeled extravaganzas called 'GAS'.
Walking into the Volvo showroom was a welcome delight, they had decked their 'Swedish hill side cabin' out with snow, an ice sculpture and were handing out snow cones to crunch on when you really did get too hot, as once again Lord March kept his deal with God and the sun was penetrating all weekend. The Volvo community had the lucky chance to play a personal selection of music and their café kept a very funky après ski vibe running for the weekend. Festival of Speed is a super chance to sit in cars, push buttons and dream about your next car........ or dream about your dream car.
Stepping over the bridge this year allowed me to go and visit some car companies who have contemporary women drivers in their affiliated race teams, such as Beitske Visser in the Infinity / Red Bull F1 Young drivers team, where I hope to incorporate her into my 'GIRL RACERS' publication I am making with Unbound Publishers.
"Hope you enjoyed it?" asked Alex as I got out of the car............ "oh yes!" I nodded, "oh yes!"
Photos courtesy of Volvo UK and Lara Platman
Related