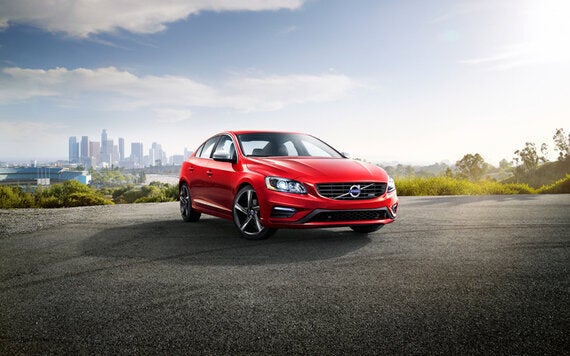 When I asked Volvo if I could take one of their cars 'up north' for my Distilleries book project, they asked what car would I like, I suggested an AWD Cross Country or something that showed a bit of ruggedness. So when they offered me the similar model of car that I had driven up the Goodwood Hill (as a passenger with Swedish Polestar driver Alex Storckenfeldt), the Volvo S60 T3 R Design in bright red, I knew I would be in for a good ride. Despite the fact that this car had somewhat fewer horsepower than the Polestar 508bh, I was happy to take the front wheel drive up the motorway and continue shooting the photographs for my book, 'Spirit of Land - the distilleries of Scotland'.
As soon as I opened the boot I could see that all of my kit would fit inside: I had camping and camera equipment and three sets of weather precautions (one never knows what happens during the summer months in Scotland). I love the colour - mainly because on a campsite it is terribly easy to spot, however more importantly, I had not seen many bright red cars on my journey and this certainly made my car stand out. The stylish and comfortable design of the interior ensured that this photographic trip would keep my back from hinting at me and I felt extremely happy to allow my penchant for tail lights to come into play knowing I had the crème of the crop.
The journey involved a lot of hills, hidden dips and blind summits to which the S60 reacted well, allowing the start stop function to be un-noticeable, easy fluid gears and brilliantly reactive steering. I understand that slight alterations to the chassis and functionalities of the model are adapted from the Swedish Touring Car championship however, that because of this, the S60 has become such an intuitive car to drive on such challenging roads. . I secured an average of 46 mpg with a tank capacity of 67.5 litres. The Co2 rating is 139g/km - (which I must admit, I have only just started to begin to look at this factor of the other cars on my journey and also of which I wonder if this number is similar to mentioning how many pixels there are in a camera body -to those of you who are not photographers, means next to nothing).
As I look back on my two weeks with the S60, trouping up over 1000 miles, this car is perfect for fleet and family use. It is smart, well designed and effortlessly sophisticated. Space is ample and the technology side is well equipped: Bluetooth and very manageable satellite navigation system all worked fluently. I loved the space behind the central consul at the front, for my torch and water bottle - which believe it or not seemed to have been the most used pieces of my kit these past two weeks.
So now the car must be returned as I continue my Distilleries book project. Thank you Volvo, I will miss my bright red car, it is indeed a fabulous car for a travelling photographer.
Photo courtesy of Volvo Media