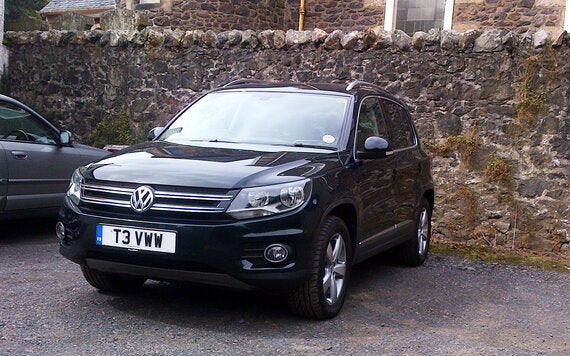 Today when we wanted to load up the race car on to the trailer to visit the roll cage fitters, the trusty long-term towing vehicle had decided to give up the ghost. Using the gentle form of pleading with neighbours to use their vehicles (with tow balls) was, to no avail, we realised we were right royally stuffed. Alas, our beloved race car would have to have the bespoke roll cage fitted another day whilst I looked for a suitable towing vehicle.
This is where the Volkswagen Tiguan Escape 2.0-litre TDI fits perfectly into the musings. If only I had this BlueMotion Technology 4Motion140 PS 7 speed Diesel pulling machine (up to 100kg) in my procession today - as this rather sneaky vehicle, would do the job perfectly and with ease, I would imagine.
I do have to eat my hat - if that 'saying' means anything at all, when I drove this car through the Scottish Highlands, whilst on my Distilleries photographic project in the late Summer, camping along the way, I had not given this car too much attention. In that, I appreciated the amazing low fuel consumption (average 47mpg), enjoyed the stability it held to the roads (supposing how World Rally Champion Sebastien Ogier might have gripped the tarmac) and overhearing endless conversations from the campsite neighbours about how this car would make for a great Caravan companion. When, in fact it really would. It would indeed be a great towing companion for my race car, working on 4 wheel-drive only when you want it to be.
I say that I need to eat my hat because, I had in my mind that the Tiguan Escape is a properly good family and ... well ...dare I say it, a good retirement car, when - actually, it is a really good car. Full stop.
The exterior design works well and the interior trim is smart too with no fuss. I had the Venetian Green Pearl with Titan Black 'Vienna' leather and 'Pandu' cloth upholstery, leather trimmed three-spoke multi-function steering wheel and gear knob. It looked the part for any 'youngster' wanting to cut the crowd, especially with such good off road capabilities (all the rage these days with our changing weather cycles).
This car would be perfect for me today. Right now, to tow my race car and I am single without a young family and ... not very old.
At £28,395.00 on the road, the Tiguan really does allow you to escape. Something that today I was being reminded of.