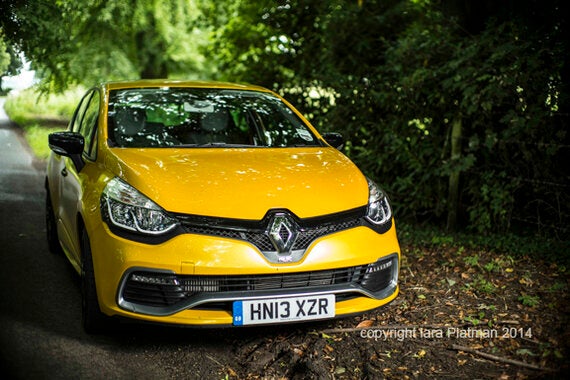 I am at the Silverstone roundabout, just about to turn into the motoring circuit and it is the Friday practice for the British Grand Prix, driving a Clio Renault Sport 200 Turbo EDC LUX, Liquid Yellow in colour and I feel positively vibrant and raring to watch the practice day from the British Racing Drivers Club Farm. I park up and remind myself that the last time I drove a Renault Sport, was here at Silverstone taking my ARDS exam.
It is not by chance that I am once again in a Clio RS, as Renault has raced for almost as long as the company has been alive. In 1902 a Renault Type K won its first victory in the Paris-to-Vienna road race, propelled by a four cylinder engine producing slightly more than 40 horsepower. It beat the more powerful Mercedes and Panhard racers (because they broke down), proving very early on that to finish first, first you have to finish. In that same year Renault patented the turbocharger, something it had not forgotten in 1977 when it was the first manufacturer to race a turbocharged Formula One car.
The RS01 was initially nicknamed the 'Yellow Teapot' by amused rival teams, but intensive development eventually saw it scoring fourth place in the 1978 US Grand Prix, and a pole position the following year. Within three years of the Yellow Teapot's arrival, most rival teams were also using turbochargers. Today the Renault Sport engine is still highly advanced, with a 1.6-litre turbocharged V6 featuring a pair of powerful energy recuperation systems that feed twin electric motors. These include an Energy Recovery System that harvests Kinetic energy, and a second Energy Recovery System that captures Heat. The aim is to deliver the same power as the 2013 V8 engine delivered using a V6 turbo and twin electric motors (which also uses 40 percent less fuel).
The new Clio Renault Sport 200 Turbo EDC employs a host of technology and equipment that has derived from the Renault's F1 race car: Paddle shift controls, dual clutch gearbox, and on this spec, three driving modes: Normal, Sport and Race, (I kept it on sport and race) allowing gear changes of just 150 milliseconds. In Race mode I instantly noticed the sharpened response along with the grumble of the 1.6 200 HP Turbo engine, the car let me think I meant business.
I had driven a previous model of this car two years ago and although I understand that handling improvements had been made such as the R.S. Diff, which counters under steer and improves cornering grip and performance. I must admit, I was too busy enjoying the lightness of the car with a basic weight of 1,204kg and the immediate speed from standing start (Zero to 62 mph takes just 6.7 seconds) to notice every finely improved detail, and there was certainly a great deal to take note of.
The car park for the Formula One practice certainly had a good racing pedigree waiting patiently for me on my return from enjoying the day (followed by a Guild of Motoring Writers dinner at the British Racing Drivers Club, Clubhouse, accompanied by rather more experienced drivers than I, such as F1 winner David Coulthard and Le Mans winner Allan McNish). The race elements of the exterior design on the RS Clio 200 Turbo such as the diffuser and rear lip spoiler: both were designed to work together, just as they are in a single-seater race car, to ensure the best possible aerodynamic performance. The diffuser contributes 80% of the extra down force generated at the rear, while the upper spoiler accounts for the remaining 20%.
I went off to watch those Renault engines go round the Silverstone Circuit knowing that my journey home would be perhaps less speedy, but certainly equally on a par with performance values. This, I think has been the first time that I have actually got more involved with looking beneath the surface of performance and of testing a car. It really has to be only to credit Renault with their engineering standards.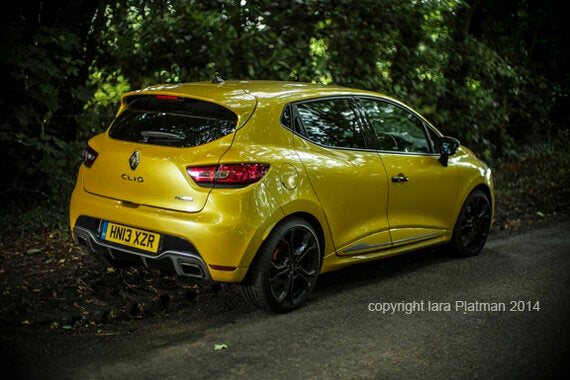 I drive home after an amazing day and evening at the British Grand Prix, Silverstone, buzzing from watching a spot of race practice, stories from the drivers and learning about Renault engines. Next up on my travels is Ladies Day at Glorious Goodwood, where I am hoping to see a group of lady jockeys race... with a somewhat different kind of horsepower.