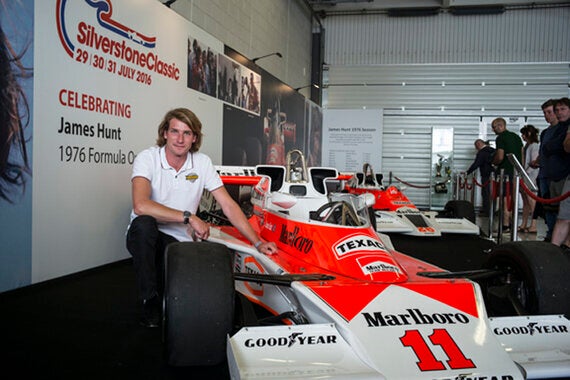 Watching an historic formula one race from the mid-seventies to early eighties, above the start line at the new Wing complex with a guest during the Silverstone Classic weekend, I suddenly realised that the world I have become accustomed to, is quite exhilarating. After the start of the race whilst the cars roared passed our ears, I looked over to my friend, whose smile was so aghast, I could feel he was in total awe of the utter visceral noise, vibrations and flashbacks of vivid memories of his childhood streaming before his eyes. The first race that my guest was watching here at the historic motor racing weekend was so poignant and utterly perfect.
Void of today's circus antics of fuel, tyre and driver bureaucracies, historic racing is always about speed, tactics and performance of the car. There is overtaking a plenty, there is room for error and there is total professionalism, perhaps because these cars are privately owned and cost a small fortune.
For me, I prefer even older cars, from the nineteen thirties right up to the nineteen sixties and with sports cars rather than single-seaters as the vehicle type, however, looking at the faces of the crowd around me I can see this formula one race is bringing grown men to tears.
I was fortunate to catch up with Freddie Hunt this weekend who, was celebrating 40 years of his father, James Hunt, winning the F1 championship. Chatting with Freddie it is clear that he has got the racing bug, something that stifled him at first, with all the pressure of eyes on him and expecting results. I show Freddie a list I hold of other racing dynasties, with names on it such as Piquet, Fittipaldi and Verstappen, explaining that he is not alone with the young drivers in their racing family each feeling the pressure.
These days, he is enjoying every race and for one season raced with Matthius Lauder, realising the interest that these two sons would stir, a documentary has been made which is soon to be completed. Alas, with Matthius now working with Aston Martin, Freddie, is working towards a seat in the WEC Le Mans 24hour race, and as with all drivers, speed and finance is required. Good luck Freddie on your quest, I cannot wait to watch your car come into the pit lane at 3am for a splash and dash at Le Mans where, my camera will be waiting.
Back to my guest who, by now had accustomed his emotions to that of pure joy for all things racing, we take to the Silverstone circuit in a Maserati course car, in between a race, to check the road surface of oil and debris. Crazy to think this is what we were doing when the car was pulling some speed round the bends. We picked up a ton of rubber on our road tyres, mislaid from the race cars, some flying up hitting the side doors. Perhaps this is why we hear so much about tyre fall-off in today's modern F1 racing.
On then to Terra Ferma, my guest and I walk around the paddock bumping into people who I have photographed and written about over the past 15 years, people who I now consider to be my friends. On introduction they immediately start to tell him anecdotes about me! But I move the conversation on almost immediately to their race, their car, their performance this weekend - always an easy subject.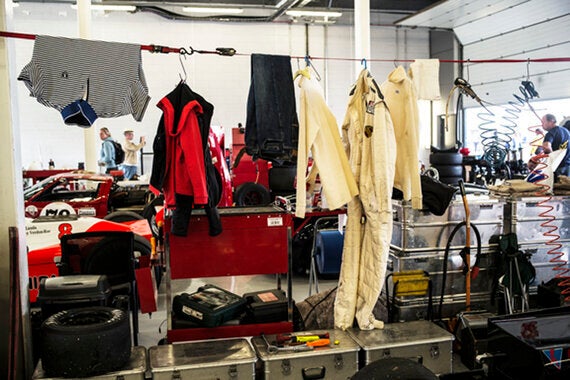 On reflection, the people in the paddock are a family, a community of like-minded fellows who, all love the smell, the need for perfection and the ultimate goal of getting the best out their car, themselves and winning. It is all really positive, all fuelled, (pardon the pun) by the traditions, the history of their car and the stories that occur on the circuit.
Freddie Hunt is very much a continuation of the story that his father and the other historic racers began. My guest for the first time witnessed this and on the reflection of his expressions, I can see this is quite some story.
Another brilliant weekend at Silverstone Classic.