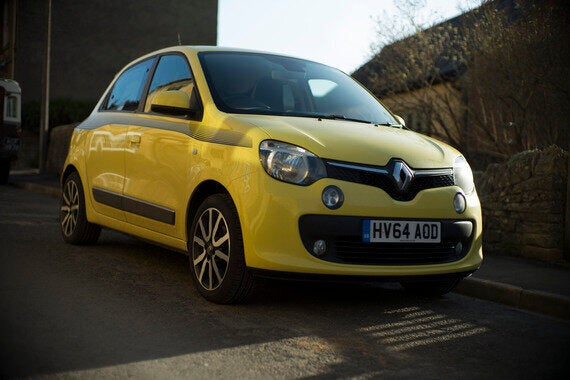 A gust of wind is something of an understatement to the weather that we had last week, more like gale force and almost verging towards the hurricane, but still my little Renault Twingo glided through on the motorway with indeed some notice of the wind, but in fact we handled the weather pretty well.
With that in mind, the country roads of the Cotswolds and the city roads of Oxford, all of which I travelled along with my bright sunny Twingo, I felt at ease. One day we attended a funeral, and this little ray of sunshine brought smiles to the faces of the bereaved.
My usual line of "I need to carry wrinkle cream with this car!" went down well. It is a line I repeatedly say when I am driving a car that makes you smile with aplomb.
Today however, as I write this, the sun is out and the trees are still, and somewhere on the roads my bright bumble of a yellow Twingo is driving along some other road making other people smile. And that can only be a good thing.
Renaults immediate competitors, the fiat 500 and the Mini, also attract the smiles, but with the starting price of the Twingo at £9495 (the car I was driving was £12,500) owning this car you would need more wrinkle cream for the happy faces all round.
Features I rather liked on my Twingo were: Departure warning system (something that you usually find on bigger cars) 15 inch alloy wheels, leather steering wheel, cruise control along with a great adjustable seat. Inside the car was funky with the metal (ist) interior, and the super smart phone cradle worked perfectly for a car that does not add on the pennies with technology it allows you to provide your own. My model had heated door mirrors and variable power steering, again, something you usually find on more advanced models.
In fact the 'R&Go' smartphone application turned my cradled phone into a touch screen dashboard and added navigation to my Twingo. It took me a while to join this all up as I did not feel very confident letting my phone 'go'. But when I connected it to the vehicle via blue tooth, my phone's screen provided an ergonomic and intuitive access to the features to the car's stereo, and navigation application system. This type of smart thinking allows us to use our own preferred navigation systems, our own music and our own devices without having to buy the functions on the car and obviously keeps the pennies down. Smart thinking indeed.
I have now driven a few cars within the Renault range and understand their philosophy of wanting to make the driving experience as fun and as safe as possible utilising their engineering standards from racing, safety at the foremost and good functional design as a standard format, the Twingo stacks up with the rest of the small city cars on parade.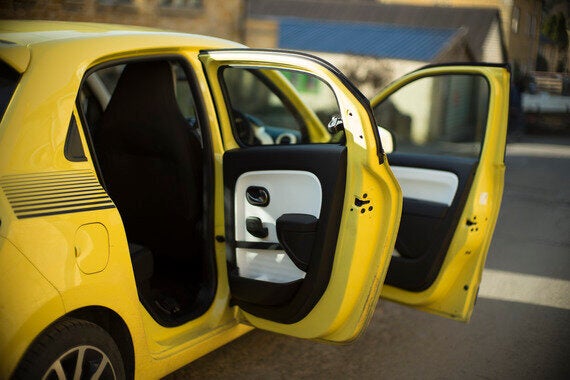 This car is fun, brilliant at the driving part and although being so small, actually fitted a lot of my photographic kit in the boot. Along with a bell tent and the basic 'gubbins' that accompany the tenting weekend. It really did surprise me and those who opened the boot.
For those looking for a small city car with motorway driving to do, the Twingo is your car. They are making the exterior personalised with stripes and colour ways, so you can feel as funky and smart as you like.