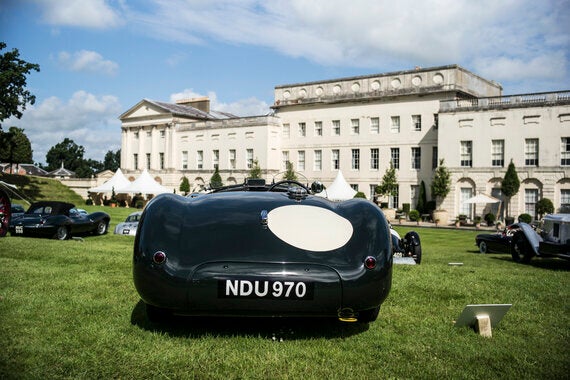 The vision of an Adonis (Colin Firth), walking out of the lake in an adaptation of Jane Austin's Pride and Prejudice, may have made a young lady tingle with goose bumps in the early nineties, and to this day, us female species all look for that romantic moment in our lives. Perhaps it has rather a lot to do with the surroundings, the grounds of Chatsworth House in Derbyshire where the scene was filmed, or the likeable nature of a fine English novel, but as with most Austen adaptations, the landscape of Lancelot Capability Brown triumphs throughout (with the added bonus of a good looking actor).
Walking in the formal gardens, part of a 5000 acre estate, at Heveningham Hall for the annual summer fair, I looked for my own 'Darcy' moment, for I was standing in the grounds of a sumptuous Grade 1 listed Georgian Suffolk mansion similar to Lizzy in Austen's Pride and Prejudice. The Hall was designed and built by Sir Robert Taylor in 1778, incorporating at its core part of the earlier house dating from 1714, with interiors by James Wyatt, a vast parkland landscaped by Capability Brown some 300 years ago, one begins to feel the scope of the grandeur designed by this infamous landscape designer.
This year celebrates the Tercentenary of Brown, countrywide, twenty years of the annual fair at Heveningham and this, the inaugural year of the Concours d'Elegance of fifty cars dating from 1904 to 2014, on the recently added terraces at the rear of the Hall, some precariously parked, with wheels just touching the edges, available for all of the public attending the fair to view.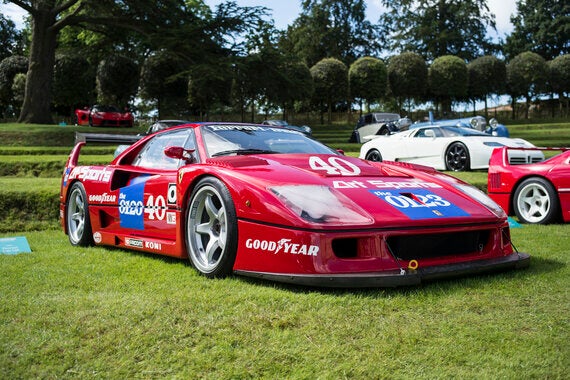 In 1764 Brown was appointed to the gardens of Hampton Court, Richmond and St James as head Gardener, soon after he took residence at Wilderness House, Hampton Court. Cunningly, he applied to work at Hampton Court to be able to say on his profile that was commissioned by Royal Appointment, something that to this day advances any career. This of course worked along with Brown's very optimistic attitude and detailed way of applying his design shaping vast parkland. When assessing a new garden project one of his favourite phrases was 'This garden has capabilities for improvement' acquiring the name 'Capability' hence famously known as Capability Brown.
Under his influence, gardens became wide open expanses with views and vistas, strategically placed clumps of trees gave interest and water an essential feature. The lakes he designed as a serpentine with waving irregular edges and rivers were encouraged to snake through the grounds.
Terraces were abolished as these were considered unnatural, however at Heveningham, the steep banks behind the Hall have been newly installed, arranged as a semi-circular amphitheatre to allow for such a sublime display of pre-war and current models of cars such as the Heveningham Hall Concours winning 1926 Maserati 6CM, Jaguar D Type and the 1987 Ferrari F40 GT (celebrating 40 years of the Leonardo Fiovoranti design) amongst some rather exciting examples of four wheeled luxury travel.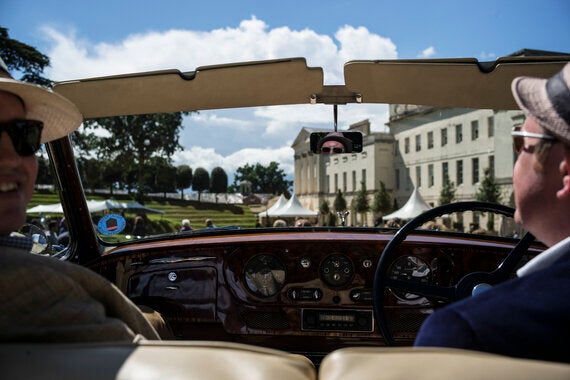 With such a setting such as these delightful terraces, on an equally sumptuous sunny weekend, watching two gentlemen sit all day in their Rolls Royce Silver Cloud, only raising the roof when a cloud could be spotted, I would have loved to be a fly on their windscreen to listen to their 'gentlemanly catch up'. I wonder if they too thought about the juxtaposition of these 'modern' cars with the Grade 1 mansion or if a woman on horseback would gallop past as if in another Austin novel?
Helicopter and a speed boat (with a Formula One Engine) rides around the lake, along with plenty of quirky stalls at the fair, complete with a sheep fashion show, not to mention the array of historic aeroplanes landing on the private air strip made the twentieth Heveningham Hall fair a perfect weekend to celebrate Lancelot Capability Brown.
Brown was buried at Fenstanton, in Cambridgeshire, the only place he is known to have owned property and where he became Lord of the Manor. Three centuries have passed since his death, however over 150 of the 260 landscapes remaining associated with his name, are worth seeing today. The images that Brown created are as deeply embedded in the English character as the paintings of Turner, the poetry of Wordsworth and of course, Mr Darcy.