Holding a miniature glass bottle of diamond paint up against the light, sparkling with tiny shiny particles glittering onto my studio walls, I have a vessel of all things McLaren Automotive in my hand. Although this might seem somewhat exaggerated, I do feel that this has helped encapsulate my two days with the British manufacturer; something very special indeed.
Whilst Jenson Button joins the sales and marketing team present to their new McLaren 675LT at the 85th International Geneva Motor Show this week, offered as a coupé, the new 675LT will be the most track-focused model in the McLaren Super Series. It has been inspired by one of the purest GT sports racers of all time: the McLaren F1 GTR 'Longtail' (the car which dominated the 24 Hours of Le Mans in 1995). With 2015 design and technology; the 675LT produces 40% more down force than the 650S, prominent carbon fibre front splitter, sculpted carbon fibre side sills, new larger (but lighter) carbon fibre 'Longtail' Airbrake... the carbon fibre list of parts continues accompanied by a host of integral and improved mechanics, a significantly enhanced M838TL engine (with 50% of new components including new turbos, new camshafts and connecting rods, a faster-flowing fuel pump and delivery system, and detailed changes to the cylinder heads and exhaust manifolds), producing a power output of 675PS. Obtaining 0-62mph taking just 2.9 seconds.
This however, is where I jump off the technology jargon and explain why I am so interested in the McLaren brand: Diamonds are a girl's best friend after all.
An engineer at heart and passionate about racing, Bruce McLaren in 1964, built the first true McLaren sports car, the M1A, then the M1B, which became a top contender in sports car racing both in Europe and America. These cars were faster than the then current Formula 1 cars, but it was in 1967, that saw the start of one of the most dominant episodes in motor sport history. I suppose, it is here where I start my account of the McLaren Automotive brand. A competitive driver but his legacy is the engineering and development of technology that continues to this very day.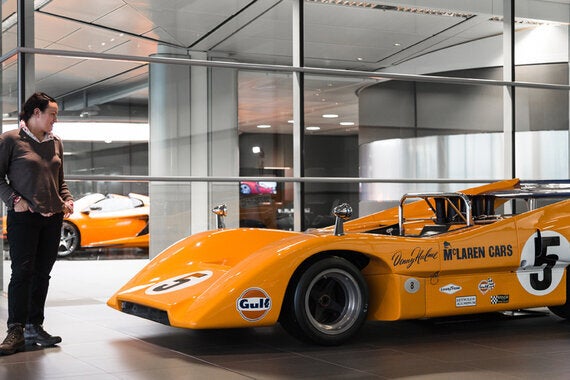 He was known to do timed or even race laps and pop back into the garage to make adjustments such as repair flapping fuel fillers and cut away whole sections of bodywork to achieve better aerodynamics whilst resolving initial problems. Turning faster lap times and learning from the 'experiments'. After those early races with the on track modifications, came the "nostrils" that have been a key McLaren design feature, even in the McLaren F1 road car, now twenty years old.
"Life is not measured in years alone, it is measured in achievement." Quote by Bruce McLaren.
We can see the progression of automotive development in the extended line-up of the winning McLaren cars, at the McLaren Technology Centre in Woking. Designed by Foster and Partners, the building provides a headquarters reflecting the company's design and engineering expertise. It includes design studios, laboratories, with testing and production facilities for Formula One and high-performance sports cars. The structure is semi-circular, the circle being completed by a lake, which forms an integral part of the building's cooling system: in essence, the building really does reflect the modern technologies of McLaren Automotive.
The winning cars are accompanied by winning trophies, displayed in a vast cabinet sprawled across the wall from the entrance hall siding onto the lake facing café, where everyone and I mean everyone eats and takes their breaks. McLaren HQ has a 'clean desk' policy. It was when I visited the ladies toilet that I discovered an engineer, who works in the sports car development team. She and I chatted over the Dyson 'movement sensitive' integrated water tap and hand dryer.
"Technology is infectious here" I said to the female engineer, "so inspiring".
She had come over from another car manufacturer and found that the atmosphere at McLaren suited her skills and was encouraged by an utterly mixed gender of the workforce, something, I regard is extremely important in what can seem on the surface, a male dominated environment.
So what of the Diamond paint? In 2010 the company launched MSO, the McLaren Special Operations division, and are able to create a car and program specific to your requirements for the F1, P1, 650S and today, with the 675LT, specialising in one off creations which can adapt to your unique way of using the car.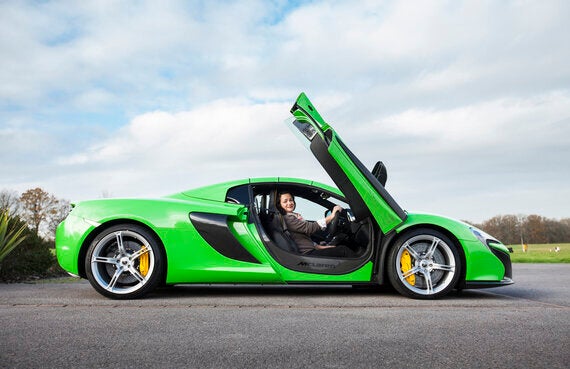 I was lucky enough to take a 'track day' with the 650S at the McLaren testing facility (aka the Dunsfold 'Top Gear' track), accompanied by a driving tutor, to develop my own personal driving style and learn to utilise every functionality of the car, something that was previously only offered to F1 and P1 owners.
And the diamond paint? Well, as each car is bespoke, why not have paint with diamonds glistening to create that perfect colour? Seriously though with these light weight tiny molecules, sparkling today on my walls, and within the surface of the car body... keep an eye on this, as I already mentioned, technology here is infectious and diamonds are not just a girl's best friend, they are friend of technology and I am looking forward to seeing how their sparkle really shines.
(All photos McLaren Automotive media)