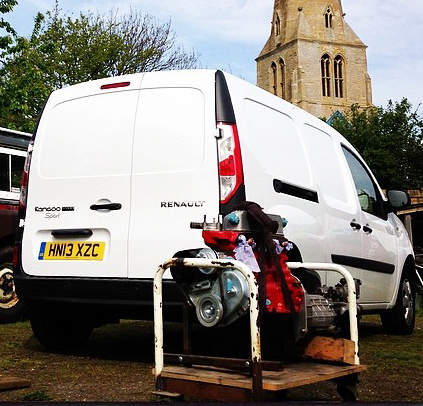 I have started to look at commercial vehicles, partly because I am delivering mechanical parts for my race car to and fro, but also because I am looking to find a vehicle that can tow, whilst having a good internal space to kit out with 'overnight' facilities.
It took me only two days to realise that the white van driver has a lot to live up to. All those people expecting me to cut across them, all that traffic light fraught... the wolf whistling with elbows hanging out the windows, alas, I am in the Renault Kangoo Maxi Energy dCi 90 Sport and I really don't feel like I am in a van. I mean I have the storage capacity behind me, and I am missing a rear view mirror, so I do realise that I am in a van. But my engine front line bonnet is flat so I give onlookers the impression I am in a car, and that is rather satisfying.
This Kangoo employs technology derived from Formula 1, with regenerative braking, stop start and producing just 110g/km CO2 and providing 67.3mpg. Bluetooth and a decent Sat Nav as standard, at £17,000 this van delivers the goods on many levels.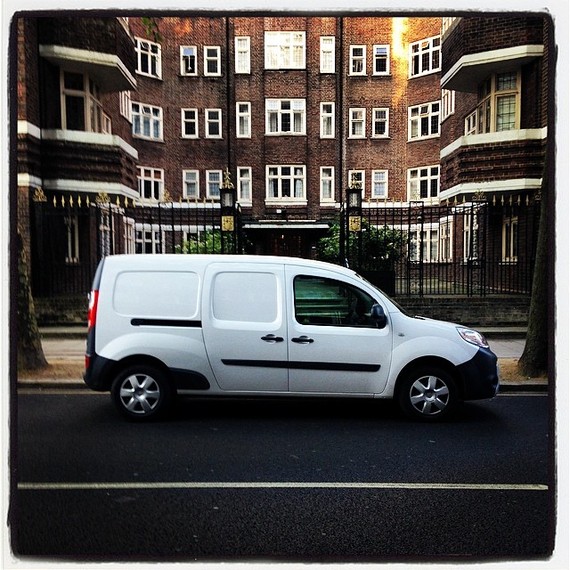 Parking was very very easy despite the filled in rear panels, the turning circle was a breeze to manoeuvre and my worry of a London delivery was put at ease when I fitted into a bay with room to play. Having 5 gears, my motorway run expected one more however the delight of a fluid stop start and hill hold balanced this out.
Mirrors and compartments are something I searched for. Do men really not look at themselves, or keep items close at hand, the cabin was quite bare and I remembered I was in a utility vehicle. Is a mirror a woman thing? Do only men drive these vans? What about... now here lies the fact I could be approaching sexist remarks if I hadn't before... florists and dog groomers, hairdressers and interior designers.... You know, those trades synonymous with the female tendency... shall I step out of the whole I was digging...? However, I do love the double opening on both near and offside panels as well as the rear double door opening. I still would like a mirror in the cabin, I for one like to provide a professional appearance after a sweaty journey in London.
This van was perfect for my small deliveries and I can see this is a vital fleet van for small and medium sized businesses. It does what it says on the tin and that after all is what a van ought to do.