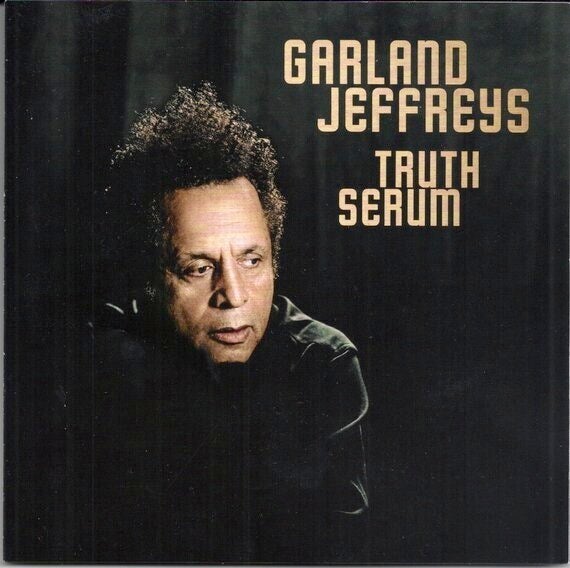 Garland Jeffreys, one of America's most underrated singer-songwriters, celebrated his 71st birthday on 29 June. A critics' favourite with a solid catalogue of recording work that's perhaps more appreciated in Europe, Jeffreys is on a roll, having recorded two albums in three years, the latest being Truth Serum, among his best, and hitting the stage with more regularity these days.
When you listen to Jeffreys's music, two constants emerge: the humanity in his lyrics, and New York - never forgetting from where he came.
This septuagenarian is one of the notables to emerge from the rock 'n' roll generation to deliver late in life recordings (e.g., Bob Dylan) and concert performances (e.g., Leonard Cohen) that ranks with their best work, much in the same way bluesmen and jazz musicians before them have toiled their craft and trade as elder statesmen.
When asked if the reason why he sort of fell out of the public eye in the early 1980s after a string of well received albums for major labels A&M and Epic/Columbia was because he was sick of the music business, Jeffreys diplomatically responds: "It was a combination of things." The major factor was his desire to be a hands-on dad with wife Claire to raise their daughter Savannah, who is getting ready for college in the fall, as a testament to their 33-year marriage. Claire manages Garland's career through their Lunar Park Records.
As previously mentioned, Jeffreys didn't want to be always on tour and miss his daughter growing up. Savannah's a chip off the old block, a talented songwriter in her own right, as you can see on YouTube. When her dad was ready to rejoin the much changed music business in 2011 to release The King of In Between, the Jeffreys preferred to run things themselves. "The music industry rarely knows what it's doing," he explains, adding that the mainstream music business is generally not interested in the subject matter of his songs.
"Everybody needs care, love and guidance," says Jeffreys, in response to my suggestion that humanity is a recurring theme in his songwriting. He credits his working-class background (father was African-American, mom Hispanic) with giving him a solid foundation. "My dad made sure I went to college," which ended up being Syracuse University, where he studied art history. At a recent live show he dedicated "She Didn't Lie" from his 1973 solo debut to his mom.
At Syracuse in the early 1960s he met Lou Reed, who was studying creative writing and plotting his music career. "At the Orange Bar, we would hang out almost every single day. We'd meet there around 4 o'clock, and hang out with [writer/English professor] Delmore Schwartz."
Two kids from Brooklyn, Jeffreys and Reed fast became kindred spirits. "What bonded us was the music we liked and heard like street-corner doo-wop. Frankie Lymon was my idol." That friendship lasted 50 years, and Jeffreys has dinner with Reed two weeks before he died last October.
Here's Reed joining Jeffreys at a Belgium stadium show in 2007 for Jeffreys's "Hail Hail Rock 'n' Roll."
"He was a sweetheart of a guy; he was a mensch," Jeffreys says, noting that Reed was Savannah's godfather and the two of them shared a backing vocal on Jeffreys's 2011 track "The Contortionist." To illustrate perhaps the unknown Reed, Jeffreys tells a story about Reed joining him on stage for a tune at a Joe's Pub show in New York.
"Lou had to leave; he had another place to be. When he got off the stage, I started singing a cappella 'I'm Not A Know It All', a [late 1950s doo-wop song by The Students] that we both loved. Lou turned around, got down on his knees, bowed down to me as I sang a few lines of the song," closes Jeffreys's 1992 album Don't Call Me Buckwheat. Jeffreys also sang it at Reed's 70th birthday party.
Not surprisingly, Jeffreys's mixed heritage informs much of his writing. "Too white to be black/Too black to be white" from "It's What I Am From," a ballad he sings on Truth Serum. The catalyst for the aforementioned Don't Call Me Buckwheat, his first album since 1983, was an ugly incident at Shea Stadium, where he was trying to enjoy a New York Mets baseball game with some friends.
As Jeffreys got up to get some food for his friends, some yob yelled, "Hey, Buckwheat! Get the fuck out of the way." A shaken Jeffreys made the mental connection to the black kid on Little Rascals, the film and TV series that dated back to the 1920s. He processed the racist epithet at the concession stand.
"It went right through me. I had experienced that [racism] my whole life one way or another. To use it like a nigger word with that kind of force, it was very upsetting. To myself, I said 'Don't Call Me Buckwheat', and I wrote the song after the game."
Unlike Reed, Jeffreys didn't start thinking about playing music as a livelihood until the mid-1960s, and spent time living in Italy after Syracuse learning fluent Italian. Much to his parents' chagrin, he didn't go to formal graduate school but studied art history there on his own. "I romanced my wife in Italy," says Jeffreys, who has a large following in Europe. In fact, his 1997 Wildlife Dictionary album was only released in Europe.
Jeffreys will be playing four concerts in France this 11-19 July. "Europe has always been a great place for me," says Jeffreys who played five UK dates this past February and March, and he's planning another UK tour that will also take him to France, Holland, Germany and Belgium.
"My song 'Matador' was No. 1 all over Europe. It continues to get massive airplay since 1979. There's a blessing in my life. It's one of the things that supported our living style." Here's a 1981 performance on Top of the Pops.
In May 2012 in Holland, Jeffreys joined Bruce Springsteen and The E Street Band onstage for a performance of ? and the Mysterians' 1966 hit "96 Tears," which Jeffreys had covered on his 1980 album Escape Artist and is a concert staple for him, as is his signature "Wild in the Streets."
"I'm ready to live another 20 years," Jeffreys tells me. And by the looks of the outdoor concert performance he gave on 27 June in Huntington, New York, in which he delivered 90 minutes of powerful material from all his phases of his career, he's not planning to slow down any time soon. Here's to 96 Years!