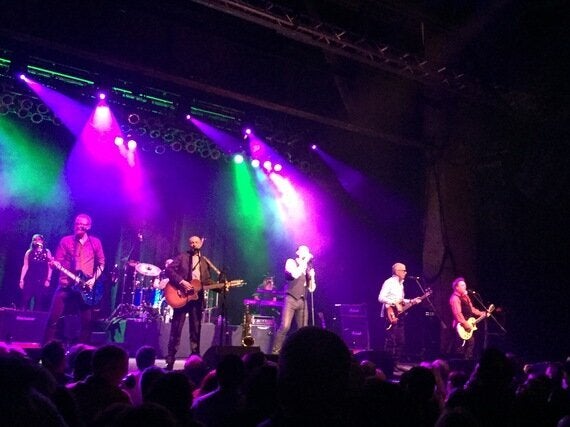 Tony Visconti (second from right) leads Holy Holy at The Paramount, Huntington, NY, Jan. 17. Photos: Larry Jaffee
A week removed from the shocking news that David Bowie had died, Holy Holy's performance on 17 January in Huntington, Long Island, surely wasn't the solemn affair that the Tony Visconti-led band's gig in Toronto two nights after his death surely was. We had a week for it to sink in.
Playing Bowie's The Man Who Sold The World album in its entirety, much of the SRO audience appeared that it was hearing the 1971 record, which Visconti produced and played bass on, for the first time. Holy Holy began playing gigs in 2013. Adding to Visconti's credibility that this was no crass ploy to capitalize when interest in this music was at an all-time high, he also produced much of Bowie's catalogue as well as the new Blackstar, whose sales last week ejected Adele from the top of the US charts, his first No. 1 album, albeit posthumous.
Those at The Paramount expecting later hits like "Young Americans" and "Let's Dance" might have been disappointed, but the Bowie aficionados surely didn't mind because surviving Spider From Mars drummer Mick ("Woody) Woodmansey was anchoring essentially a crack tribute band when the hurt of loss was still raw.
Before kicking off the band, Visconti and Woodmansey took turns at the microphone explaining how the night was meant to be a celebration of Bowie, and how they were sure their former boss would have approved. They also paid tribute to Mick Ronson, Bowie's guitarist who died in 1993, whose parts were replicated on stage by three guitarists and keyboardist.
Handling Bowie's vocals was Glenn Gregory, best known for his early 1980s synth band Heaven 17, not trying to imitate the original but rather using his own strong, interpretive voice, similar to Paul Rodgers stepping in for Freddie Mercury in Queen or Mick Hucknall for Rod Stewart in The Faces.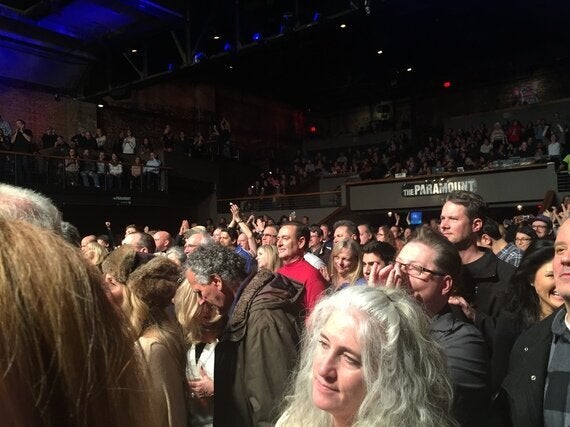 The Paramount audience spanned high schoolers to 60-somethings, and many appeared to have waited patiently for hearing something with which they were familiar - seven songs in - the album's title track, which most no doubt knew from Nirvana's MTV Unplugged performance in November 1993, about five months before Cobain's death.
The second half of the two-hour Holy Holy show provided better known, yet vintage material, such as "Changes," Life On Mars," "All the Young Dudes" (R.I.P. Mott the Hoople drummer Buffin, who died 17 January) "Ziggy Stardust," "Five Years," "Suffragette City" and "Rock 'n' Roll Suicide," leaving everyone satisfied.
At the end of show, Woodmansey told the audience, "I know David would have liked this."
On 8 January when Holy Holy played Manhattan's Highline Ballroom, Visconti called Bowie on his mobile so he could hear the audience wish him a happy birthday. David apparently gave his blessing to the project when it started a few years ago.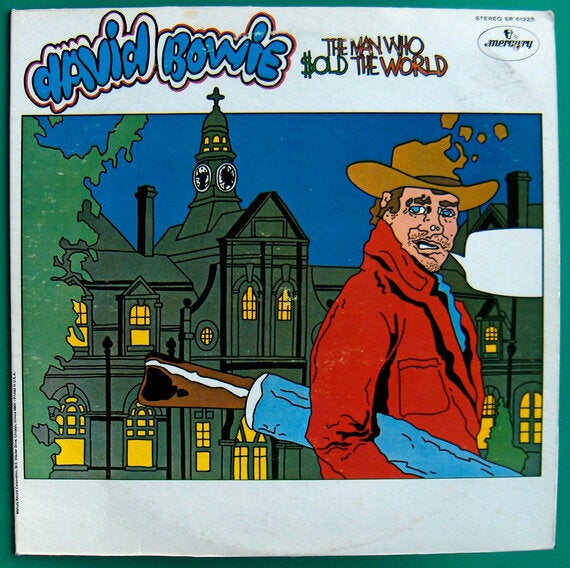 The Man Who Sold The World was the first Bowie album I ever heard after buying in 1974 a cut-out LP for $1.99 in a now-defunct department store a few miles from the concert venue. It literally changed my life in hearing new musical possibiities, and is said to have inspired many future goths.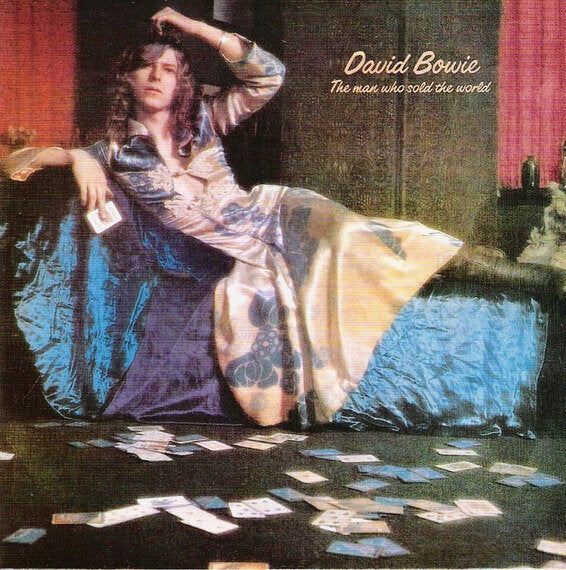 The original American version on Mercury was adorned with a comic book-style cover, not the UK's Bowie lounging-in-a-dress sleeve. Even a year-and-a-half later when he switched to RCA, the reissue featured a tamer looking Bowie to not scare off the stateside puritans. But there was no escaping the beckoning flamboyant alien Ziggy soon to touch down.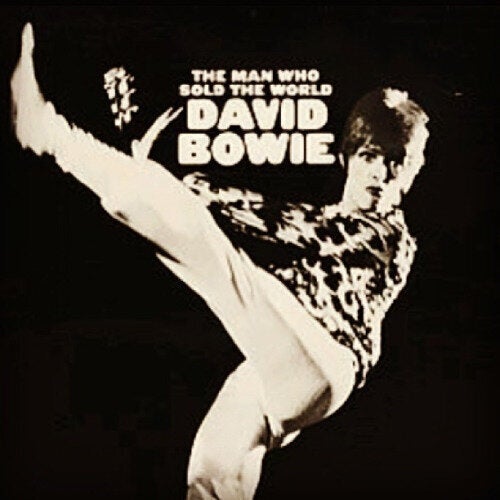 A week after Bowie's 69th birthday, about 50 fans gathered at Union Square Park, singing and dancing to his music for a shared experience that probably won't let up for a while. Bowie's musical Lazarus closes in New York on 20 January.